Suzanne Somers Reveals Her Key To Confidence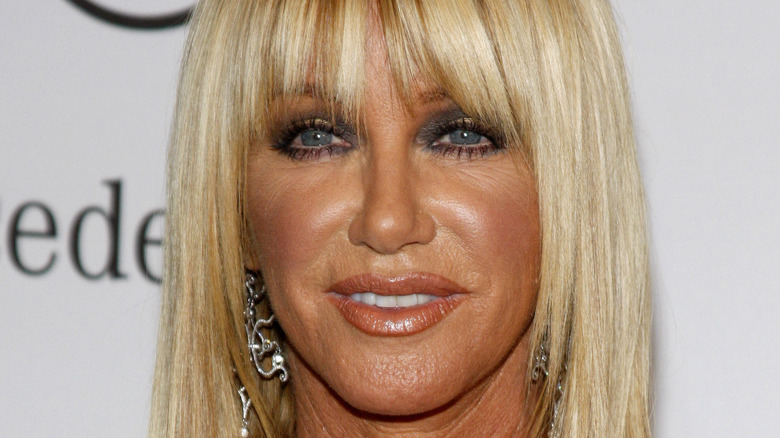 Tinseltown/Shutterstock
The oldest fans of actress and author Suzanne Somers remember her iconic role as Chrissy Snow on "Three's Company," a sitcom that rose to major popularity in the late '70s and early '80s. Another generation of fans can likely recall her time as the gorgeous Carol Foster Lambert on the 1990s television series "Step By Step," as well as for countless roles in tons of popular films and series. These, of course, include "The Nutty Professor," "The Simpsons," and "Serial Mom" (via IMDb). With a career spanning decades dating back to the late 1960s, the 76-year-old star has managed to cement her place as a household name.
If you've wondered where Somers is now, you may have missed out on her author journey. Somers has published twelve books, all of which are available on her website. Most of the titles focus on aspects of beauty and wellness, and each contains well-researched and beautifully written accounts of Somers' wellness journey — and her outlook on beauty. Titles such as "Suzanne Somers' Ageless ‑ The Naked Truth about Bioidentical Hormones" and "BOMBSHELL: Explosive Medical Secrets that will Re‑define Aging" focus on the process of aging, while "BREAKTHROUGH: Eight Steps To Wellness" is a collection of general wellness advice gathered from the author's interviews with medical professionals. 
In addition to knowledge, Somers has confidence, and she's recently revealed her secret to maintaining a confident demeanor.
Suzanne Somers loves to feel her best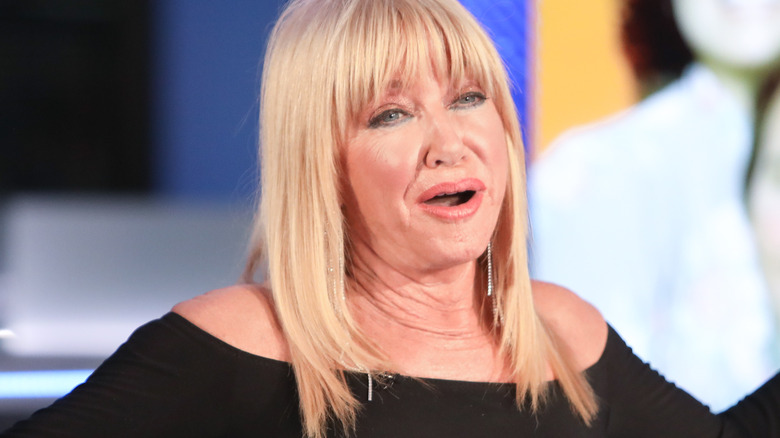 Paul Archuleta/Getty Images
Many women are nervous about the aging process. Suzanne Somers, however, is not one of those women. In fact, the 75-year-old actress told Park Magazine, "Aging is amazing. Aging is something you should aspire to and look forward to and want." As Somers has advanced in both career status and age, her confidence has only grown, and it turns out that she has a trick up her sleeve to continue feeling fabulous.
According to the "Three's Company" star, the secret to confidence is putting in a bit of effort everyday. Furthermore, as noted by the Daily Mail, Somers strongly believes in the power of taking the time to maintain a beauty routine and apply makeup every single day. If this sounds like a bit much, don't panic just yet. Just a subtle look created with only a few products is enough for the "Serial Mom" bombshell. Just "a little" will do, she says. For Somers, it's not about the glamor of it all. It's a commitment to self-care.
In an interview with Yahoo! Lifestyle, the actress revealed her routine. "A beauty regimen is so important as you age, because you want to present your best face not only to yourself and your husband or your family, but to the world," she explained. She went on to add that the routine is what has allowed her to maintain confidence, saying, "It's part of my self-esteem to present the best face that I am capable of presenting."
Suzanne Somers is all about a good routine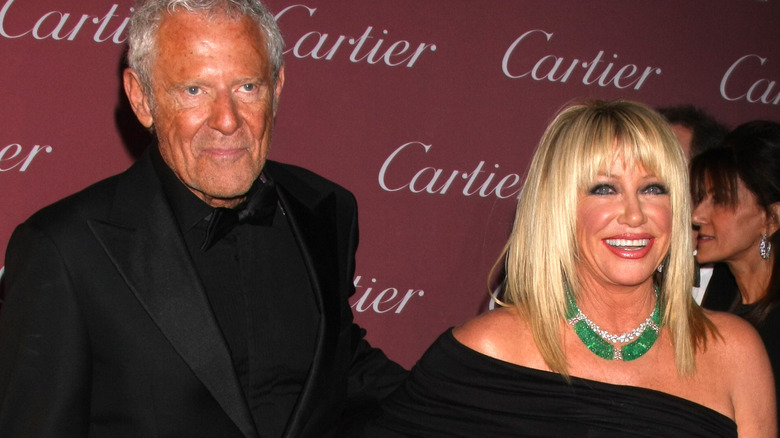 Kathy Hutchins/Shutterstock
Suzanne Somers considers the actual products that you use as important as the daily routine of applying makeup. "The biggest beauty mistake women over 50 make that I see is continuing to do the make-up they did when they were in their 20s," the actress said in an interview with Yahoo! Lifestyle. As she's aged, she's updated her products to better align with her skin and beauty concerns. Somers also recommended snapping a quick selfie on your phone to see if your makeup is working for you. She explained, "At 50, 60, 70, 80, it starts looking thick and heavy because you have to put on more."
Somers, who claims that she has never received a facelift and has only tried fillers once, also puts a great deal of care into her skincare routine. The routine, which includes products such as liquid oxygen, ageless serum, glutathione serum, and CoQ10 moisturizer, keeps her feeling healthy and confident (via Women's Health Magazine). Skincare routines can even affect your mental health, so all of this sounds great to us. Somers also squeezes in a few yoga sessions a week to maintain her shape, proving that age doesn't have to hold you back when it comes to health and beauty. Ultimately, though, all women are beautiful, and this is just one woman's routine and advice.