All Of The Surprising Items Aboard Putin's Yacht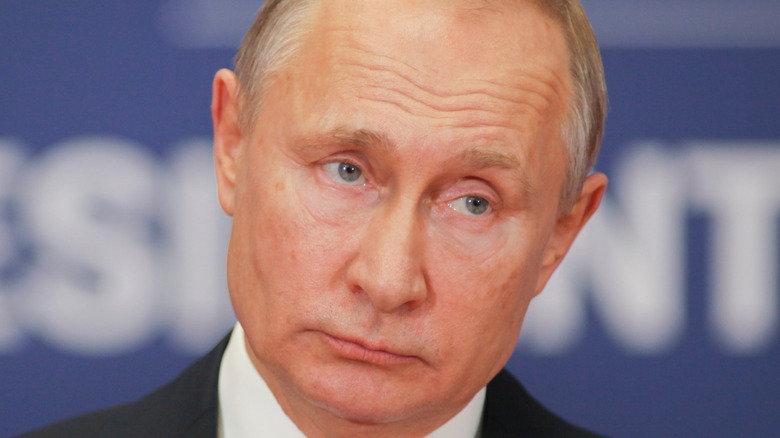 Sasa Dzambic Photography/Shutterstock
As the Russian economy remained relatively stagnant for years, according to Carnegie Moscow, the country's longtime leader, Vladimir Putin, became known as one of the richest men in the world (via the New York Post). While Putin has always preferred to be shrouded in secrecy, not revealing information about the way he lives or details about his private life, leaks have occurred to give way to stories about an opulent lifestyle fit for a man who says he earns a modest $140,000 a year and lives in a modest apartment.
According to The New York Times, that alleged $140,000 paycheck is no reflection of his true fortune, as the outlet estimates he is worth billions as it reports on an estate known as Putin's Palace, located along the Black Sea, as well as other luxuries, including two yachts. There is one called Graceful" reported to be worth approximately $100 million that was seen departing Germany for Russia not long before Russia invaded Ukraine in late February.
There is also a second yacht believed to belong to Putin, Scheherazade, that The U.S.Sun reported to be valued at close to $1 billion. That yacht sits in the waters of Italy, as of this writing, and there is pressure for Italy to seize it, with one former crew member telling the outlet, "Russian people paid for it. Putin needs his head flushing down that golden throne."
Putin's yacht is like a floating palace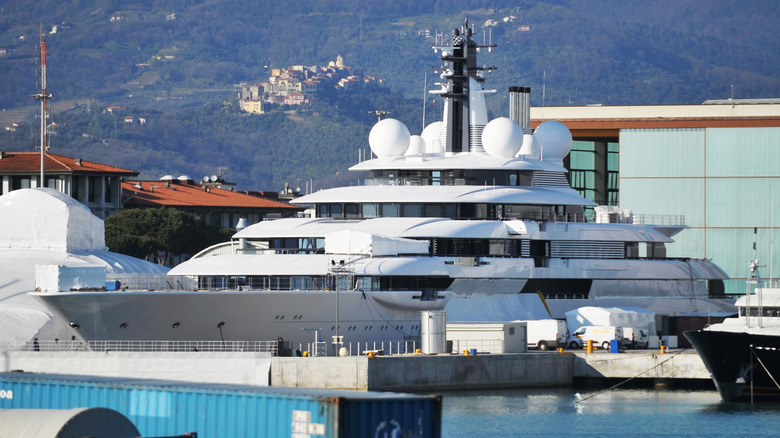 Laura Lezza/Getty Images
While the international community, including the United States, tries to cripple Russia's economy with sanctions as a response to Vladimir Putin's invasion of Ukraine (via BBC), the Russian president continues to live a life full of riches. The yacht Scheherazade, believed to be his, seems more like a cruise ship, according to The U.S. Sun.
This floating palace seems fit for a king as it boasts six decks, gold toilet paper holders, a dance floor that drops to become a swimming pool, a jacuzzi accompanied by another pool that boasts an inflatable slide, an aquarium, multiple large-screen televisions, a Judo gym perfect the martial-arts loving Russian president, a movie theater, two helipads, and its own military-grade security system that can attack drones.
As countries have seized the yachts of various Russian oligarchs since Ukraine was invaded, the yacht remains untouched. "All over the world yachts owned by oligarchs are being seized but the Scheherazade is sitting there in plain sight in a marina in Italy," a former crew member said. "It just doesn't seem right."