Kate Middleton Puts Her Own Twist On A Vintage Outfit In Jamaica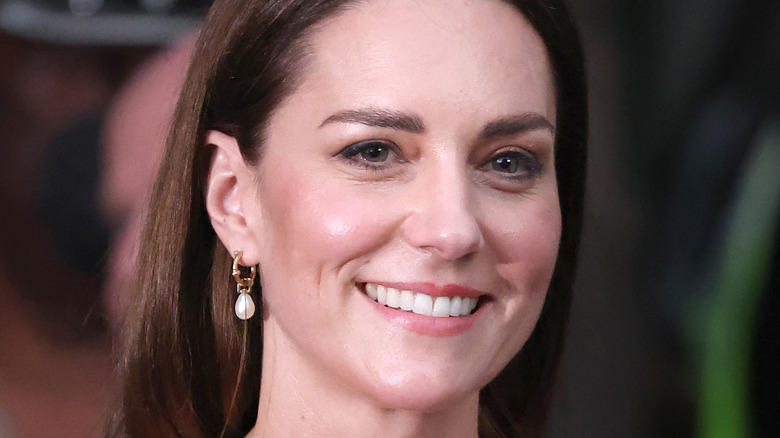 Chris Jackson/Getty Images
Kate Middleton is known for her impeccable fashion sense, and she's even worth a lot to the British fashion industry. In fact, people take notice of what she wears and want to dress like a duchess, too. Dubbed the "Kate effect" — that is, when Middleton wears an item that the everyday person can buy, according to Marie Claire UK — it causes fashion websites to crash, items to sell out, and brands to get international recognition. So, naturally, people are noting the outfits she's wearing while on the royal tour in the Caribbean alongside Prince William.
With an itinerary that ranges from formal receptions to visiting a Mayan archaeological site, Middleton had to pack an impressive array of outfits. She's also been seen wearing some serious and sentimental bling. Queen Elizabeth loaned her a set of emerald jewelry for a dinner in Jamaica, and Middleton wore jewelry once owned by Princess Diana on two occasions (via Town & Country). Now, that's an interesting fact about Middleton you may not have known!
While she's stepped out in some new outfits, Middleton has also worn some vintage pieces. She wore a brightly colored striped blue, turquoise, red, and yellow cotton dress from the 1950s, for example, but she didn't wear it right off the rack.
Kate Middleton wearing the vintage dress made a dream come true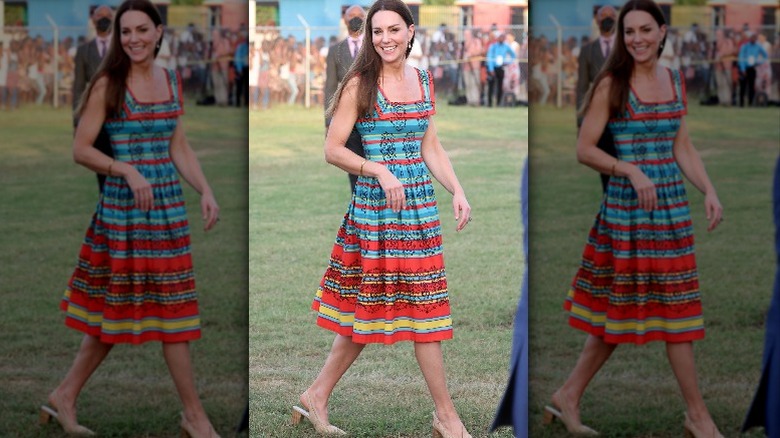 Chris Jackson/Getty Images
Kate Middleton's vintage bright summer dress was from Willow Hilson Vintage, a boutique in Cheltenham, England. The 1950s dress cost 369 pounds, per Willow Hilson, and it originally was designed with spaghetti straps. Spaghetti straps aren't really Middleton's style, however, so, using a matching shawl, the dress was reworked to make the sleeves wider and cover up her arms a bit more (via People).
Hilson, the boutique's founder, was absolutely thrilled that Middleton wore a dress from her shop on her royal tour. "I've been doing this since I was 21," Hilson told People, "and all I ever wanted was someone like Kate to wear a dress of mine!"
The Duchess of Cambridge wore the dress to visit Jamaica's historic Trench Town, home of reggae, where she and Prince William met members of the Jamaican bobsleigh team (via the Daily Mail). They also visited Bob Marley's former residence — now the Trench Town Culture Yard Museum — and tried their hands at playing the drums (via Harper's Bazaar).