If You're A Capricorn, This Nail Art Trend Is A Must For You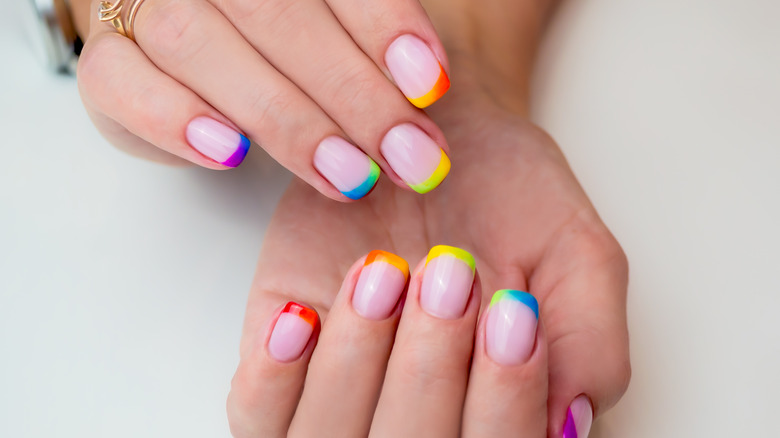 Yuliya Ufimtseva/Shutterstock
Anyone who's ever worked with a Capricorn should consider themselves lucky, as Capricorns typically have excellent work ethics. Born between December 22 and January 19, Capricorns are intelligent, driven, and reliable earth signs (via Horoscope). While their responsible and practical nature may make them seem a bit stubborn or uptight, they can be lots of fun with a great sense of humor with people they feel comfortable around.
An intellectual and analytical Capricorn will likely enjoy learning about their zodiac sign, as understanding their most prominent personality traits can help them learn more about how to succeed. If there's anything a Capricorn desires, it's to find success. Understanding your Capricorn characteristics can help you make fun decisions, such as which house plant you should get for your home. Furthermore, having a deep knowledge of who your sign is compatible with can help you make more serious choices, such as what type of person a Capricorn should marry.
Your zodiac sign also says a lot about how you dress. According to Stitch Fix, Capricorns are typically mature, so they enjoy dressing up, but their practical nature reminds them to make sure whatever they wear is comfortable. Capricorns are often drawn to versatile pieces and elevated basics based on what's trending. So, if you're a Capricorn looking for a new nail art trend to try, there is an excellent option for you.
This nail art trend is perfect for Capricorns
When it comes to nail art, Capricorns typically like to play it safe but stay trendy at the same time. PopSugar explained that a manicure with a vertical line at the side of the nail instead of the traditional tip at the top is perfect for a Capricorn. The side-tip look is sophisticated with an innovative spin on a beloved nail tradition.
Parade noted that Capricorns are incredibly focused and driven, and they look great in stylish, professional outfits. Known for being natural "providers," Capricorns may sometimes consider themselves workaholics, so it's only fitting that their new manicure is appropriate for their work setting. Luckily for Capricorns, the side-tip French manicure is versatile enough to wear anywhere, including the office, drinks with friends after work, or family gatherings. The simple yet sleek design makes it stylish enough to match any outfit in a Capricorn's closet.
Even celebrity nail artist Tom Bachik jumped on board this trend, and he previously posted a glittery variation of the side-tip French manicure trend on his Instagram — which you can try for yourself at home. 
How to nail this trend yourself
This nail art trend isn't too advanced, so determined Capricorn nail art beginners should definitely give it a go. A YouTube video by Cutepolish explained how to create a sideways French manicure at home if you don't feel like making the trip to a salon. First, they recommend that you clean your nails with a nail cleanser before applying a clear base coat. Then, add two coats of any color to your nail. Once it's dry, use another color to make a vertical stripe on the side of your nail. Apply that color to your nail until there's just a vertical tip of the other color on the side of your nail. When you're done, add a topcoat, and you're good to go. 
There are plenty of ways to rock this look, and you can find all the inspiration you'll need on Instagram. There are some subtle sideways French manicures, many dramatic styles that involve sparkle, and even an adorable polka dot French side-tip design.