Best Concealers For Dark Circles In 2022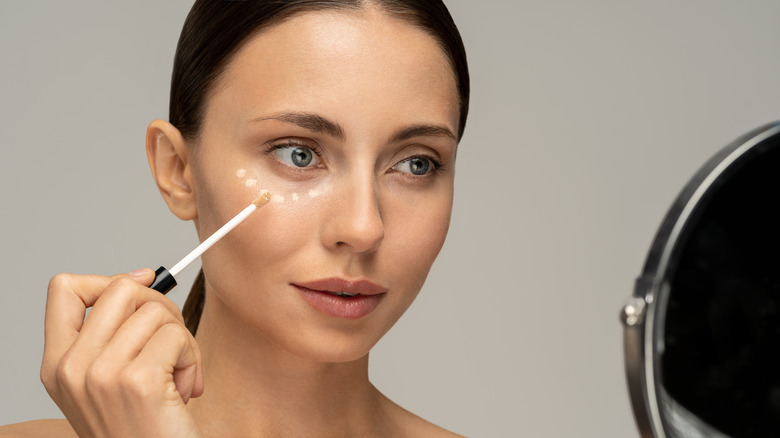 DimaBerlin/Shutterstock
Dark circles can seemingly appear out of nowhere; you may have seen them crop up after putting in overtime at the office or spending too many hours scrolling on TikTok, but it also might be down to your genetic predisposition. According to Healthline, it ultimately could be a combination of all of these things, as well as sun exposure, age, and the amount of water you drink. 
If you're not happy having pigmented skin under your eyes, there are a few things you can do to help combat the issue. Dermatologist Dennis Gross told British Vogue that "small changes in your diet like consuming less red wine and caffeine can reduce the appearance of dark circles under the eyes," adding that incorporating a Vitamin C serum into your routine couldn't hurt, either.
But if you're looking for a quick fix, a good under-eye concealer is the answer. It should be able to complement your skin tone, brighten and moisturize your skin, and play well with color correctors. It also needs to stay on there without creasing and coming off easily, which means that it'll have to pass the test on formula, coverage, application, and finish. Finding the perfect product is no small task, but don't worry — we've curated a list of the very best concealers for dark circles on the market in 2022.
How we selected concealers for dark circles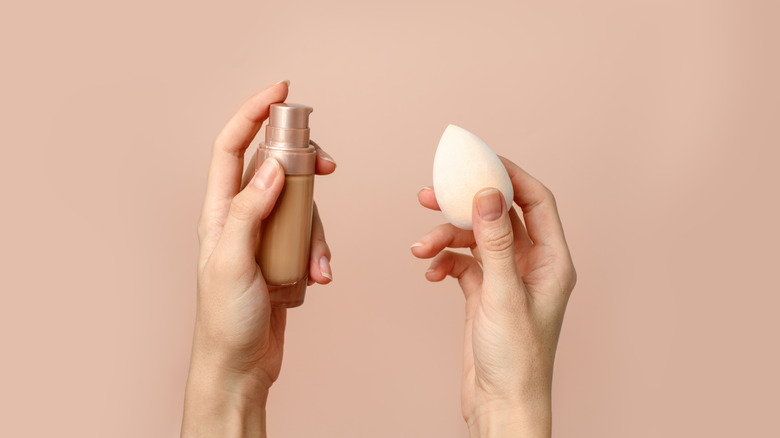 Katerina Morozova/Shutterstock
Every under-eye concealer in this list has been favorited, owned, and reviewed by countless beauty enthusiasts; they've won beauty awards, approval on the internet, and have at least 4 out of 5 stars on every website they're sold at.
Obviously, the products accomplish their main function of masking the pigment in dark circles. However, we've factored in everything from the level of coverage and the finish of the formula to how long it lasts and whether or not it has skin-loving ingredients to enhance your skin. 
Essentially, every concealer on this list wears the badge of versatility. Keep reading to find under-eye concealers for different skin types, price points, and concerns.
Best overall concealer for dark circles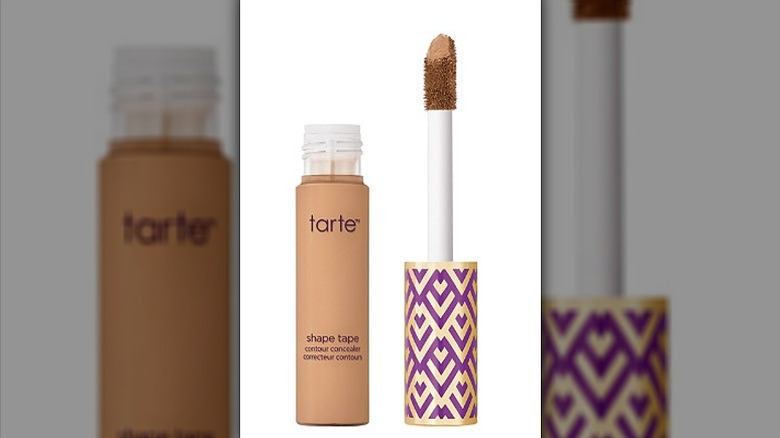 Ulta
Reviewers across the beauty world seem to unanimously agree that the Tarte Shape Tape Contour concealer can do no wrong. The creamy concealer has a loyal following, and the proof is in the fact that it's won Allure's Reader's Choice award three years in a row. The initiation ceremony into the cult begins the minute you click on add to cart.
While the Tarte Shape Tape Contour concealer can be used to contour your face overall, its full-coverage formula really makes it ideal for those puffy under-eye circles. Made with moisturizing ingredients like shea butter and mango butter, the concealer glides on easily, without irritating the thin skin under your eyes. It's also infused with licorice root, which has anti-inflammatory as well as melanin-inhibiting properties to brighten your skin. The finish is mattified and it can last for up to 16 hours — so, definitely past your bedtime. 
Of the 23,000 reviewers on the brand's website, 19,000 have given the product 5 stars. One reviewer said, "With my fair skin and dark under-eye circles, I had to constantly re-apply concealer — until trying this magical concealer! I use the lightest beige shape tape. And just a little goes a long way and stays all day, no touchups needed."
Buy the Tarte Shape Tape Contour Concealer for $30 at Ulta.
Best budget concealer for dark circles
For those who don't want to spend $30 on the Tarte concealer, this affordable Reddit-certified contender might be the way to go. The e.l.f 16 HR Camo Concealer offers the same creamy, full-coverage base that Tarte does but it comes at a significantly lower price point. We're not surprised, considering e.l.f is known for creating superior products for those on a budget.
You'd only be spending a few bucks to get a moisturizing formula that blends just as easily as it mattifies. The concealer balances out ingredients like avocado oil and kaolin clay, to keep your under-eyes hydrated but not too shiny. It also claims to be a "crease-proof liquid concealer that provides16-hour full coverage" and reviewers seem to be in consensus (via E.l.f). "Great coverage, stays on all day. Matte but not drying," one reviewer said. Another stated: "This is the only concealer I've ever repurchased. The price point compared to others makes it a win-win."
Buy the e.l.f Camo Concealer on Amazon starting at $3.
Best drugstore concealer for dark circles
You may have seen this concealer make countless appearances on beauty influencers. The #instantagerewind, which is dedicated to the Maybelline Instant Age Rewind concealer, has over 7.6 million views on TikTok. This TikTok-famous concealer has risen to the top of its ranks because of its flawless coverage, hydrating formula, and brightening effect.
The effect is compounded because it's infused with goji berry extracts and Haloxyl, a "peptide-based ingredient" used for targeting dark circles and reducing puffiness (via Miami MD). It's also non-comedogenic, oil-free, and fragrance-free for those with acne and sensitive skin concerns. The concealer has 132,000 reviewers on Amazon who give it an average of 4.4 stars out of 5. One top review said, "Great undereye and scar coverage! I have used this product for years under my eyes, and have found that it blends and covers much better using a wet brush to blend after using the sponge applicator."
Get the Maybelline Instant Age Rewind Concealer on Amazon starting at $7.98.
Best long-lasting concealer for dark circles
Even those who are hard to impress have been won over by Il Makiage's online skin tone matching tool called the Powermatch quiz. It asks you to answer a few questions, such as "What's your skin type" and "What happens to your skin when you're out in the sun?" Then, the tech-forward beauty brand predicts your concealer shade with scary accuracy. Taking the guesswork out of investing in a new concealer is definitely a plus, in our books.
But once they've been matched, what do people think of the brand's F*** I'm Flawless concealer? Almost 183,000 reviewers have given the long-wear concealer an aggregate of 4.5 out of 5 stars. One reviewer said, "Very lightweight but buildable coverage! Love how it blends and great color matching" while another noted, "I did have to use a bit more concealer than usual due to the purplish and dark bags under my eyes but again I couldn't [have] been more [in] love with the results from this and the foundation." YouTuber kissndMAKEUP also had only words of praise for the concealer: "Wow, I am just so continuously blown away at how well these products blend...this is just a product that you need to try, there's no other explanation."
If you'd like to get power matched with the Il Makiage F*** I'm Flawless Concealer, you get it for $31 at Il Makiage.
Best sweat-proof concealer for dark circles
Laura Mercier is in the business of crafting cult-favorite base products; the brand's tinted moisturizer is still one of its biggest sellers while the Laura Mercier setting powder remains a crucial step in every beauty influencer's "get ready with me" routine. In 2017, the brand launched the Flawless Fusion Ultra Longwear concealer and it was an immediate crowdpleaser that won Allure's Best of Beauty award the following year. It's easy to see why.
In addition to giving a long-lasting, dewy finish, the concealer is also super hydrating as it's infused with ingredients like macadamia and kukui seed oil. The lightweight formula also stays on for as long as 24 hours — and yes, that also includes a hot summer day. Made with "long-wearing flexible polymers [that] fuse to skin for up to 12 hours of wear that's transfer-, sweat-, humidity-, and water-resistant," the product is perfect for humid seasons (via Sephora). 
You can also pair it with the Laura Mercier foundation, which is just as sweat-proof. Beauty editor Nancy Einhart told PopSugar, "I recently wore this foundation to a hot summer outdoor wedding where I was sweating and dancing for hours, and my face looked just as great when the night was over."
Get the Laura Mercier Flawless Fusion Ultra Longwear for $30 on Sephora.
Best anti-aging concealer for dark circles
Natural aging can contribute to the formation of dark circles because you tend to lose collagen and fat as you grow older (via Healthline). IT Cosmetics addresses this concern by infusing skin-loving ingredients into its bestselling concealer. The Bye Bye Under Eye concealer is a highly pigmented product that is formulated in collaboration with dermatologists and plastic surgeons who have balanced the product's anti-aging properties with its ability to conceal.
Along with giving you full coverage, the concealer nourishes your under eyes with a cocktail of peptides, hydrolyzed collagen, hyaluronic acid, and vitamin E. All of these work in tandem to inactivate free radicals, moisturize deeply, and help with improving your skin's elasticity. Over 10,000 reviewers on Amazon have given the concealer 4.5 out of 5 stars, with a reviewer saying it's "not only amazing at covering under age dark spots, but also works great as a blemish concealer...It easily makes me look 5 years younger instantly." You'll also reap the benefits from this concealer long after the 24 hours it promises to stay on.
Get the IT Cosmetics Bye Bye Under Eye Concealer for $13 at Amazon.
Best concealer for dark circles with SPF
The off-duty supermodel look includes a standard white tee, a pair of cropped jeans, the ability to pretend the paparazzi don't exist, and the Clé de Peau Beauté concealer. The Japanese brand is a staple for many supermodels, and as a result, has become popular among the not-so-super, too. Rosie Huntington-Whiteley even told W Magazine that she wouldn't leave home without it.
The concealer in question is a stick formula that glides onto your skin, leaving it hydrated and covered. It promises to improve your skin's "smoothness, hydration, and radiance" after just four weeks of use since it's infused with ingredients like zingiber aromaticus extract, hyaluronic acid, and argan oil. You'd also be protected from harmful UV rays as the concealer has SPF 27 — Clé de Peau Beauté's concealer multitasks like no other. As one reviewer wrote, "It goes on like silk. Well worth the money. Lasts a long time."
Join the off-duty supermodel cult and get the Clé de Peau Beauté Concealer for $75 on the brand's wesbite.
Best color correcting concealer for dark circles
According to the National Library of Medicine, people of color are more prone to hyperpigmentation around the eyes, so adding a color-correcting concealer can become a game-changer. As beauty expert Cynde Watson told Byrdie, "Color correcting is really important for women of color because of our multi-tones and the fact that we get hyperpigmentation far more than any other skin tone. Not only that, we scar. Color correcting helps neutralize the appearance of hyperpigmentation and scarring."
The NYX Color Correcting Concealer palette has a range of colors that can be layered and blended to conceal any blemishes, redness, blue tones, and yellowness. The yellow, reds, oranges, and pinks help you neutralize purple shades, which are usually prevalent under the eyes, and the green and purple shades help reduce redness. On Amazon, the concealer has 4.3 stars out of 5, from over 13,000 reviewers. One reviewer declared, "If this won't work for you sorry but you're the problem," while another said that it's "definitely one of my holy grails. I wear it every single day on its own which gives you a nice illuminated under eye as if you got 10 hours of sleep."
Get the NYX Color Correcting Concealer Palette on Amazon starting at $8.90.
Best brightening concealer for dark circles
If the "barely-there" makeup trend had an ambassador, it would be Kosas. The brand formulates clean and nourishing makeup and skincare that really gives you the natural "I woke up like this" look. If you want to look like you woke up without dark circles, you should pick up a cute bottle of their brightening concealer.
The Kosas Revealer Super Creamy + Brightening Concealer is described by the brand as a "Concealer Meets Eye Cream" because it's infused with skincare ingredients like peptides, hyaluronic acid for moisturizing, arnica extract for reducing inflammation, and caffeine for brightening. The creamy concealer has fans across the web; Byrdie writer Tanya Akim said that she "applied it straight to dry, un-moisturized skin and it felt a dream." A reviewer on the brand's website said, "It's creamy, provides good coverage and most importantly for me, it never creases under my eyes. Whether I use a little or lot, this concealer melts into my skin and it doesn't look crepey or cakey on the skin.
Get the Kosas Revealer Super Creamy + Brightening Concealer for $28 on Sephora.
Best under-eye concealer for mature skin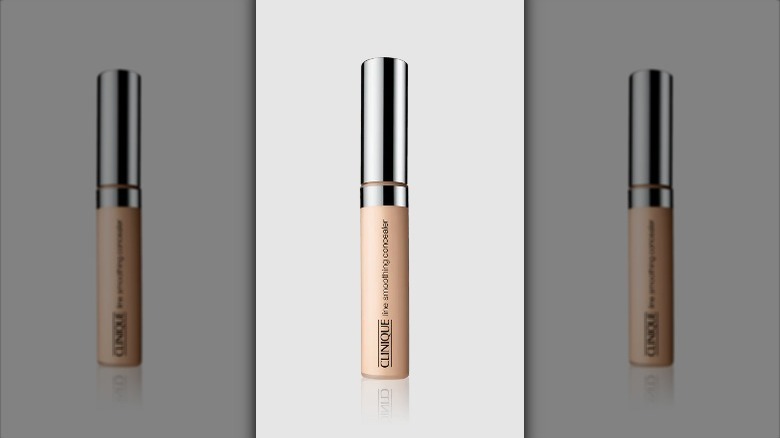 Clinique
Finding a concealer that doesn't commit the sin of creasing can often feel like an uphill battle, especially for those with mature skin. Clinique's Line Smoothing Concealer was made specifically for that concern and has quickly become popular for the way its formulation bridges fine lines. Its liquid and buildable foundation smoothens the skin while brightening it, which, according to celebrity makeup artist Kim Baker, should be on your concealer checklist. "When it comes to concealers for mature skin, liquid and creams are best as they contain hydrating properties to help decrease the look of lines and hyperpigmentation," she told Southern Living.
The concealer provides moderate coverage that's promised to be long-lasting and instantly firming, leading many reviewers to become loyalists. "My 50+ skin and crazy dark hereditary eye circles can't live without it! Stays put once blended well & barely creases... The best one out there for under the eyes, period," a reviewer on Sephora said. Another on Makeup Alley said, "I'm 62 and have tried every concealer on the market known to women, and to man...I've come to this ultimate conclusion: Less is more with this truly non-creasing concealer...It really is perfect. Non cakey, lasts all day, non-greasy, non-drying." The downside is that the brand makes limited shades but it could be a great brightening concealer to layer with, for those who want to try it out anyway.
Get the Clinique Line Smoothing Concealer on Amazon starting at $21.
Best matte finish concealer for dark circles
If your complexion strays towards the oilier side, you're going to want a concealer that doesn't give you shiny under eyes. Makeup artist Analisa Marie told Byrdie that "oil-free, non-comedogenic, long-wear, waterproof, and lightweight are all descriptors to look for when shopping for a concealer for oily skin." The Rimmel Stay Matte Concealer ticks almost all boxes (we're not sure if it's non-comedogenic).
The concealer comes in a creamy liquid formulation that the brand says is "humidity-proof, sweat-proof and heat-proof." It also promises the matte finish will keep your skin shine-free for 24 hours. It's been given 4.4 stars out of 5 on Amazon, so most reviewers agree that it does what it says it does. According to this reviewer, it provides "Very good coverage, [is] easy to apply and holds up to heat and sweat. I used it to cover dark circles and hide sun and age spots on my face. It stayed put all day despite several days of record heat." The fact that it's super cheap is icing on the cake.
Get the Rimmel Stay Matte Concealer on Amazon starting at $3.29.
Best dewy finish concealer for dark circles
If you want your skin to look like you've had a good nine hours of sleep even if you haven't, a dewy concealer is a must-have. Dewy finishes are especially great when you have parched or mature skin, but they can be great for anyone who wants to participate in the glowy makeup trend. The Yves Saint Laurent Touche Éclat All-Over Brightening Concealer Pen channels this trend like no other, and it's a product recommended by makeup artists, celebrities, and editors.
With a click of the concealer pen, you can paint your under eyes with a liquid formulation that gives you a natural brightening look without the shimmer. It also nourishes your skin with Vitamin E, Ruscus extract, and Moroccan calendula extract — all working together to reduce inflammation while anti-oxidizing free radicals. On Sephora, 4,500 reviewers gave the concealer a 4.3 stars out of 5, and most talk about the luminous quality of the product. However, this is a light-coverage concealer, so it's perfect as an additional dewy step to help your dark circles look less tired.
Get the Yves Saint Laurent Touche Éclat All-Over Brightening Concealer Pen on Sephora for $38. It's time to say goodbye to dark circles once and for all.