Kate And Anthony's Steamy Chemistry On Bridgerton Has Twitter In A Tizzy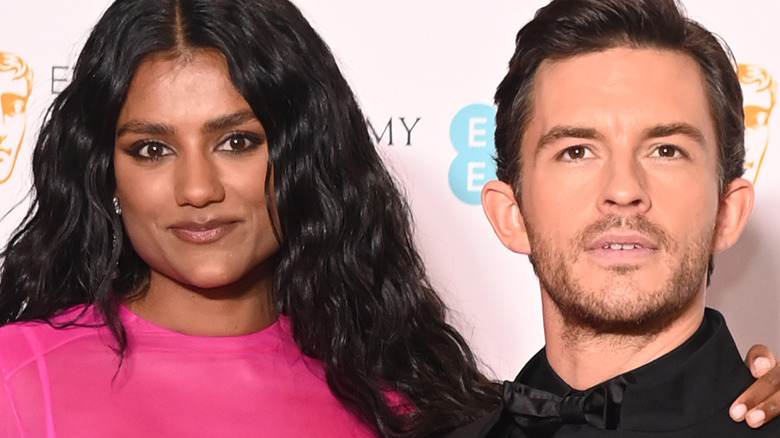 David M. Benett/Getty Images
Dearest readers, the news of Kate and Anthony's steamy chemistry in Season 2 of "Bridgerton" may not have come from Lady Whistledown herself, but it's juicy all the same. Twitter is in a tizzy over the premiere of the show's second season, and rightfully so. In the new episodes — released to Netflix on March 25 — viewers are plunged back into the lives of the Bridgerton clan. While Season 1 of the popular series focused on Daphne Bridgerton (Phoebe Dynevor), Season 2 is all about Anthony (Jonathan Bailey).
If you need a refresher on what's going on with Anthony Bridgerton heading into the latest batch of episodes, we've got you covered. After striking out with opera singer Siena Rosso (Sabrina Bartlett), Anthony is looking for love — possibly in all the wrong places — in the second season. Though it seems like Anthony would have women falling at his feet, the eldest Bridgerton sibling has found it difficult to meet his match, until now.
Enter the beautiful, confident, mesmerizing Kate Sharma (Simone Ashley). It isn't love at first sight when Kate and Anthony meet, though. There's some obvious tension between the two which becomes even more convoluted when Anthony starts to pursue Kate's sister, Edwina (per the Daily Mail). However, Kate and Anthony find their way into the throes of passion as the season progresses, and their interactions are positively sensational. 
Fans are enchanted by Kate and Anthony
Actress Simone Ashley clapped back at critics who harped on "Bridgerton's" sex scenes before the season even premiered. While some people find the sexuality of the show to be gratuitous, Ashley said these interactions are meaningful to both the characters and the greater storyline. Twitter is apparently in agreement with Ashley, as people are already clamoring about the noticeable chemistry between Kate and Anthony this season.
Twitter user @lvscarlets wrote, "ALL THOSE ALMOST KISSES AND LOOKS KATE AND ANTHONY SHARED DAMN." Lady Whistledown might not bestow her news upon the ton with such capitalized fervor, but we appreciate the added emphasis. Fellow caps-lock enthusiast @friendstoIover shared similar sentiments, saying, "THE WAY KATE AND ANTHONY BOTH WENT IN TO KISS EACH OTHER AT THE SAME TIME BECAUSE THEY WANTED EACH OTHER AND SENSED EACH OTHER OH THIS IS SICK????"
For those equally impassioned by the sexual tension between Kate and Anthony but more inclined to subtle messages, editorial director Arianna Davis said that Season 2 is actually "less steamy" than Season 1. However, Davis went on to mention that the chemistry between Kate and Anthony is "electric" and "palpable," which is evident from their first scenes together.
Now if you'll excuse us, we have some binge-watching to do.