Kate And William Were Welcomed To The Bahamas In A Super Sweet Way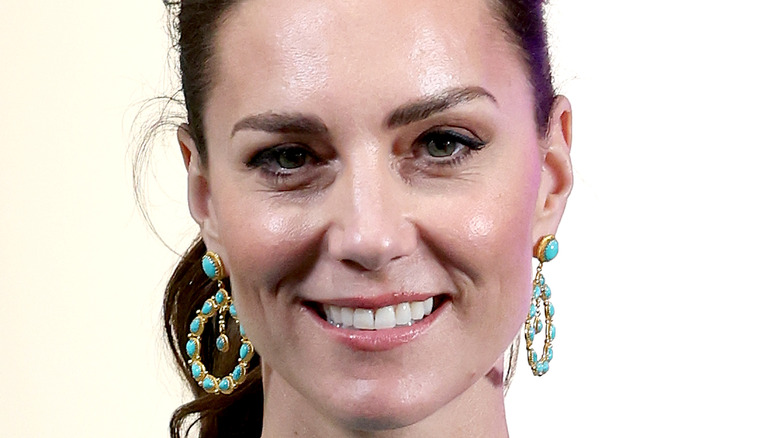 Chris Jackson/Getty Images
Prince William and Kate Middleton's much-talked about Caribbean tour is entering its third and final chapter. With previous stops in Belize and Jamaica, the Duke and Duchess of Cambridge have now arrived in the Bahamas, the last country on their itinerary for the tour commemorating Queen Elizabeth's Platinum Jubilee (via CNN).
While the royal tour has had its share of messy moments including protests in Belize and Jamaica, the Duke and Duchess of Cambridge have also greeted enthusiastic crowds. In addition, they've made connections with the citizens, such as when they danced with a Garifuna dance group in Belize (via People).
When the Duke and Duchess arrived in Belize, they were welcomed with musical salutes by the Belize Defence Force and greeted by the nation's governor general, per BBC. Meanwhile, the royal couple was met by a delightful representative of the Bahamas when they descended the stairs of their plane there. Kate wowed onlookers with her Emilia Wickstead dress, a breathtaking aqua-hued ensemble intended to coordinate with the colors of the nation's flag (per Marie Claire). But she wasn't the only one exhibiting outstanding fashion choices at the event.
Aniah Moss is a girl with a message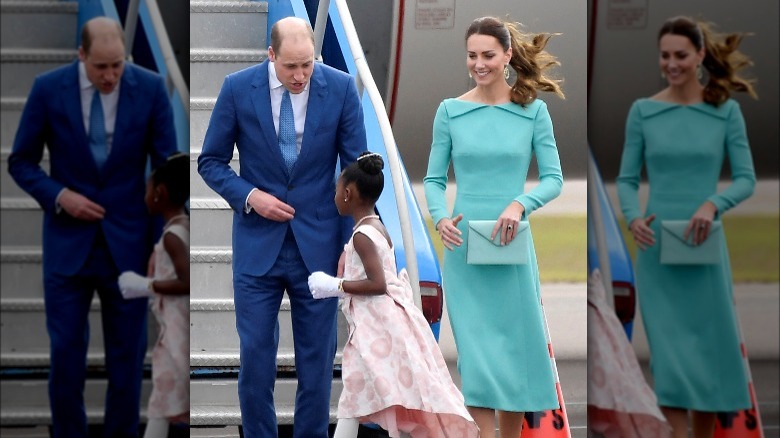 Pool/Getty Images
Eight-year-old Aniah Moss had the honor of greeting Prince William and Kate Middleton as soon as they touched down in the Bahamas. After bestowing her gift of flowers to the Duke and Duchess of Cambridge, Aniah told People, "[Kate] said I had a nice dress and I was beautiful and thank you for the flowers."
As seen in photos from the event, Aniah's dress featured pink florals and a full flared skirt with a bow at the back. She accessorized her outfit with a pearl necklace and bracelet, white gloves, and pink shoes. Kendenique Campbell-Moss, the young girl's mother, told People that Aniah's lovely dress was originally worn for Easter 2021. "When we were called last night to be the flower girl, I thought I better pull it out and make sure she's ready for the day!" Campbell-Moss watched proudly as her daughter performed her duties solo. "She's very docile so it was an honor to see her do it," she told the press (via Daily Mail).
Aniah combined both style and substance during this memorable day. Besides her cool confidence presenting the flowers, the young girl also had an important message to share with reporters at the event. Speaking to the ZNS Network, Aniah said she would tell her classmates, "You guys can't bully me anymore. You guys can't tell me what to do" (via Express).
Prince William and Kate Middleton take time to interact with children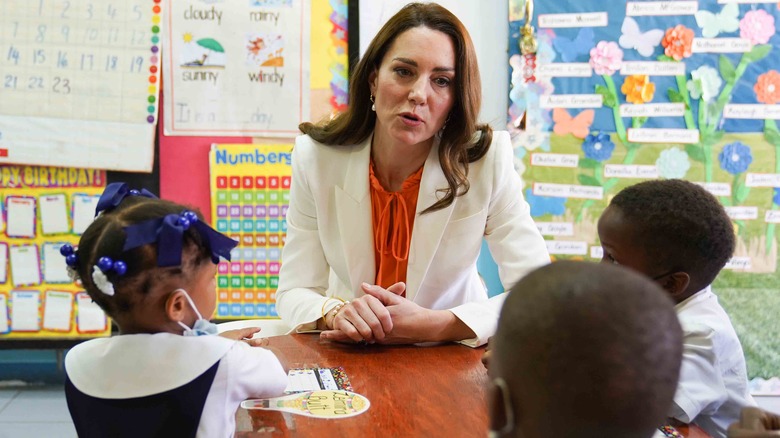 Pool/Getty Images
Prince William and Kate Middleton's interactions with children continue to be an important part of this overseas tour. As part of her royal responsibilities, the Duchess has focused on early childhood development. During this trip, Kate promoted this important topic when she spoke at Kingston's Shortwood Teacher Training College, per People. 
The Duchess also made headlines when she made a special point to greet a small child in Kingston, Jamaica. In a photo documenting the sweet moment, the duchess bent down to be on the little girl's eye level while she gave her a high-five. As parents of three, both Prince William and Kate have frequently been observed using this eye-level approach with their own children, per Little Things.
This high-fiving photo was greeted with enthusiasm by royal fans. According to Express, one fan commented on Twitter that the Duchess was the "Children's Princess." Another saw similarities between Kate and the late Princess Diana saying, "[Kate] always gives children her time, every tour and public appearances ... she reminds me more and more of Princess Diana she is loved by everyone and the more people that see her will love her too."