Ivanka Trump's Current Whereabouts Might Surprise You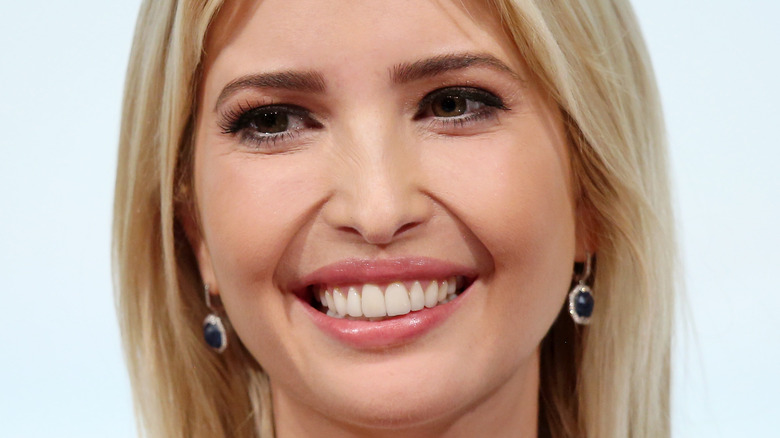 Sean Gallup/Getty Images
The oldest daughter of former President Donald Trump, Ivanka Trump, first made her name as a respected executive at her father's Trump Organization, even co-founding the company's hotel branch with her brothers Donald Jr. and Eric. From there, Ivanka went on to create her own fashion brand and to serve as one of the judges on "The Celebrity Apprentice" (per Biography). Then came her biggest role to date — when her father entered the Oval Office, he tapped her as a senior advisor, and she put her efforts into "the education and economic empowerment of women and their families as well as job creation and economic growth through workforce development, skills training and entrepreneurship," according to the Trump White House website.
When her father was defeated in his run for a second term, however, Ivanka opted to keep a much lower profile. She and her husband, Jared Kushner, moved to the quiet town of Surfside, Florida, with their three children immediately after President Biden took office. According to People, the Kushners have "blended in" with their neighbors as they enjoy beach activities, play golf and tennis, and occasionally mingle with celebs such as Pitbull and Pharrell Williams. 
In sharp contrast to Donald and Donald Jr., who flood social media with political barbs, Ivanka has posted only four times since her time as First Daughter ended. It was something of a shock, then, to see her put up a new post on Instagram — with the location stamp of Kyiv, Ukraine. 
Ivanka Trump is helping feed Ukrainian refugees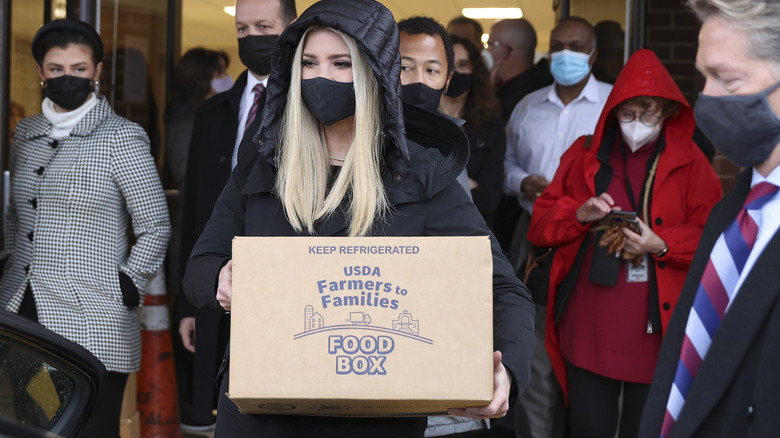 Tasos Katopodis/Getty Images
While her father has used the Ukrainian invasion as an opportunity to criticize President Biden's policies and claim that he would have taken a tougher stance against Vladimir Putin (via Vanity Fair), Ivanka Trump has focused on the suffering of the Ukrainian people and taken action to help.
In her March 25, 2022 Instagram post, the former first daughter revealed that she has been in Ukraine's capital city of Kyiv, helping to coordinate a food drive effort for the tens of thousands of Ukrainians who have been displaced as a result of Russian President Vladimir Putin's aggressive acts. "Over the last few days, we have delivered 1 Million meals to Ukrainians in Kyiv, Lviv, and Sumy," Ivanka wrote. "
With these meals, we hope to provide a small source of comfort and nourishment for Ukrainians who are suffering so unjustly from Russia's invasion of their country."
Ivanka was formerly involved with the Farmers to Families food box program, but the USDA ended the program in May 2021. This new initiative is a collaborative effort between several organizations, including The City of Destiny, CityServe, and Mercy Chefs. Her post concluded with a heartfelt message, "To the people of Ukraine — you are in our hearts, you are in our prayers, and your courage in the face of violence and hardship is an inspiration. God bless you in your heroic fight to defend your country and your freedom."