Beyonce Fans Spotted A Surprise Dancer During Her Oscars Performance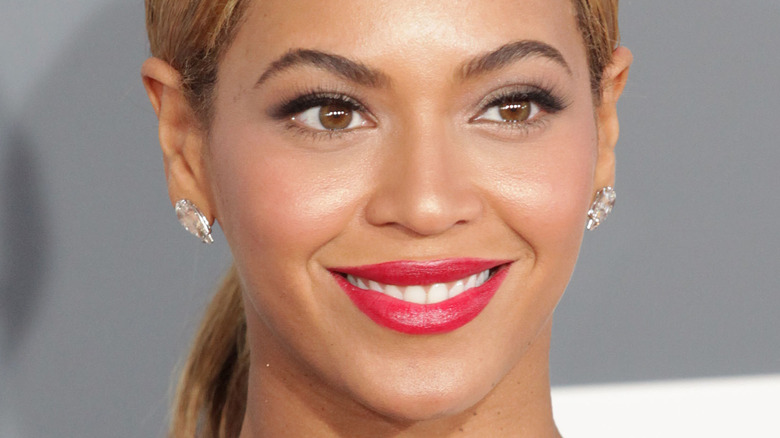 DFree/Shutterstock
This year's Academy Awards was as fun as ever. The glittery affair of Hollywood's biggest and best-dressed names hitting the Oscars red carpet has long become an iconic event for celebrities to attend. This year, which was held at the Dolby Theatre on Sunday, March 27, was no different. Anointing the ceremony was Queen Beyoncé herself, in her first award show performance since the 2017 Grammys. Obviously, it didn't go unnoticed. "Beyoncé has not done an awards show in five years, just saying," Will Packer, producer of the 2022 Oscars, told Vanity Fair.
The singer virtually performed a powerful rendition of "Be Alive," an original score from this year's Best Picture-nominated film "King Richard." Audiences were transported to a lime green tennis court, as Beyoncé and a crew of backup dancers blended into their background with matching green outfits. However, fans noticed another big celebrity appearance in the mix — and one that may not have been expecting.
Fans spotted Blue Ivy Carter at the Oscars
Beyoncé's 2022 Oscars performance was a highlight in her career solely because it marked a big return for her, but it also gave a peek into the growth of another celebrity — and someone that the "Drunk in Love" singer holds dear. Camouflaged in a sea of neon green outfits, fabrics, and backdrops was Beyoncé's daughter, Blue Ivy Carter, right in front of her mother. Eagle-eyed fans noticed the ten-year-old star, who wore a pair of sleek sunglasses as Beyoncé performed at an elevation right above her. 
One Twitter user said, "Is that Blue Ivy Carter front and center?!!! Sis is employed!! #Oscars." Meanwhile, another user posted a zoomed in photo of Blue Ivy, with a simple announcement: "BLUE IVY CARTER." Needless to say, many are excited to see the entire family propsering.
Fans are impressed with Blue Ivy, who hasn't even entered her teens yet but is already performing alongside her mother with a collectedness about her that we think is genetic. We've all transformed into proud parents. "Did y'all see BLUE IVY getting in her eight counts?!!" another Twitter user wrote. It may be too early to tell, but we're already excited to see this mother-daughter duo perform again — and hopefully soon.