Regina Hall's Oscars Joke About Will And Jada's Marriage Has Some Viewers Cringing
DFree/Shutterstock
The Oscars are back in full force at the Dolby Theatre after a downsized COVID-19 Oscars in 2021 (via Architectural Digest). With all the glitz and glamour, and for the first time ever, they have three hosts — Regina Hall, Wanda Sykes, and Amy Schumer. Being an Oscars host seems like a pretty great gig, but The Hollywood Reporter once called it "the least wanted job in Hollywood." The show actually hasn't had a host since 2018 (via Los Angeles Times), so all eyes were on the three funny ladies hosting this year's Oscars.
The three of them worked together on the material for the show. Hall talked to The New York Times about what it was like pulling the show together and how much she liked working with Schumer and Sykes saying, "Sometimes there's a good idea, but then somebody takes that idea to the next level." So, it's hard to know how one of Hall's jokes about choosing men to meet up with came about.
In a joke, Hall noted that she needed to call up a handful of people who needed another COVID-19 test. She picked out all single men after noting that she was single earlier in the evening. She then called up Will Smith saying his wife, Jada Pinkett Smith, had approved it (per YouTube). He waved his hands in an emphatic no, and the internet had thoughts.
Some thought Regina Hall's joke was hilarious, while others didn't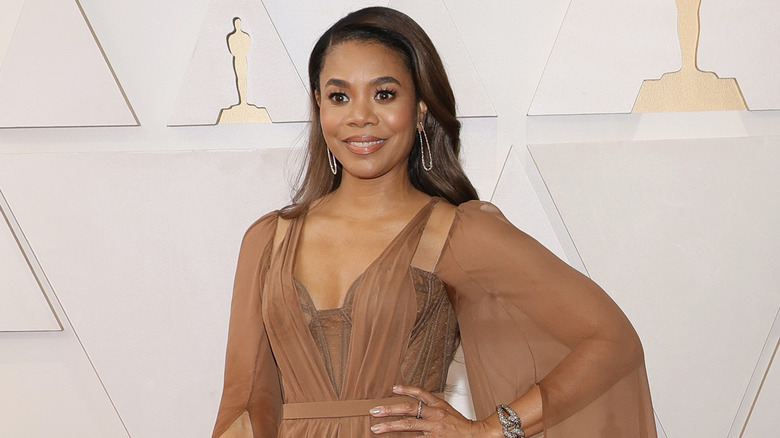 Mike Coppola/Getty Images
The joke basically was that Will Smith could be someone who could hook up with Regina Hall because his wife, Jada Pinkett Smith, had given him permission (per YouTube). It tied into the fact that Smith has previously told GQ in regards to his marriage that it wasn't always necessarily monogamous. On Jada's show, "Red Table Talk" in 2020, she had admitted to an "entanglement" — aka relationship — with August Alsina when she and Will were separated.
Some thought the joke was tacky. One viewer seemed to think Hall crossed a line and tweeted, "I don't know if she was reading what the writers wrote or whether that was her riff. [...] If it was her riffing then she owes Jada Pinkett-Smith an apology." Another viewer thought the narrative of the Smith's marriage being open, or maybe not, was just overplayed, writing, "Jada and Will can't go anywhere without people bringing up their relationship. Leave them alone." Another viewer just thought it was funny that the story just keeps going, writing, "Lol Jada and Will never gonna live the entanglement down."
Some people, however, absolutely loved the joke. One wrote, "Regina Hall is hilarious. She went for the Will Smith open relationship joke and nailed it ... with Jada sitting right there." Another fan tweeted, "That 'Will and Jada' joke had me HOLLERING! I've never laughed that hard at any Oscar event. [...] Regina is everything."