This Isn't The First Time Chris Rock Upset Will Smith At The Oscars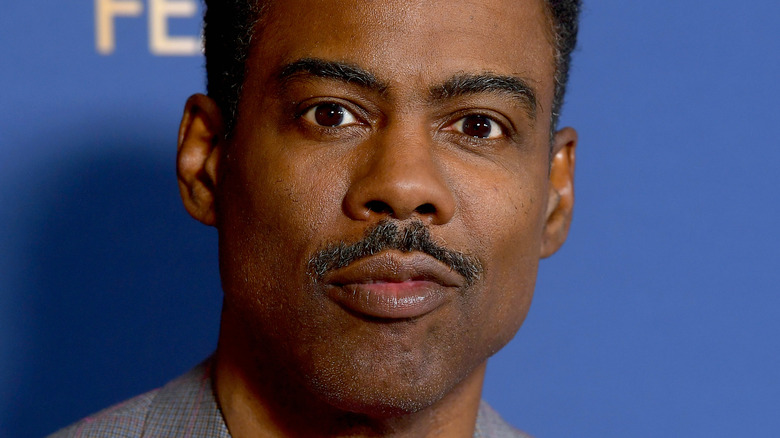 Matt Winkelmeyer/Getty Images
Will Smith stunned the world at the 2022 Academy Awards. Although he took home his first Oscar, which was for his portrayal of Richard Williams in the film "King Richard," the actor had everyone talking for all the wrong reasons.
Things went south for Smith when comedian Chris Rock took to the Oscars stage to present the award for Best Documentary, per TMZ. Before giving out the award, he took a few jabs at the crowd, including Jada Pinkett Smith. The couple was sitting just steps from the stage. 
Rock joked that he couldn't wait to see her in "G.I. Jane 2," poking fun at her shaved head. Moments later, Smith silently walked onto the stage and slapped Rock hard across the face without hesitation.
Fans appeared to be confused about whether or not the situation was authentic. However, it quickly became clear that Smith was not fooling around. "Wow, Will Smith just smacked the s*** outta me," Rock said after Smith left the stage. 
Smith went back to his seat, where he proceeded to yell at Rock (even though it was muted during the live U.S. broadcast), saying, "Keep my wife's name out your f****** mouth," twice before Rock continued on and gave out the award.
One source told People that everyone in attendance was "shocked" and that the room got so quiet you could "hear a pin drop."
Meanwhile, this isn't the first time that Rock has angered the Smith family at the Oscars.
Will Smith and Chris Rock have a history of bad blood at the Oscars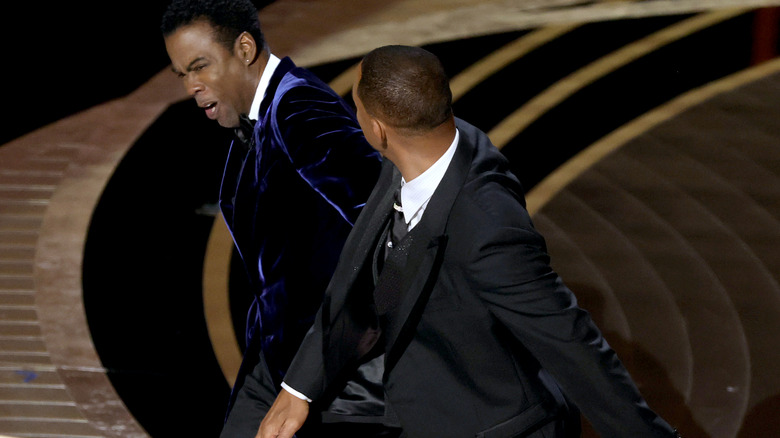 Neilson Barnard/Getty Images
After Chris Rock and Will Smith's shocking confrontation live on the Oscars stage, reports surfaced that Smith was actually still mad at Rock for comments he made about Jada Pinkett Smith years ago. 
When Rock hosted the Oscars ceremony back in 2016, Pinkett Smith had gone public with her decision to boycott the ceremony due to the lack of diversity among the nominees, and Rock didn't hesitate to joke about the subject, per People. 
"In his monologue, he made fun of her, saying she can't boycott something she wasn't invited to," the insider explains. "Will was still mad about that."
Meanwhile, Rock's joke about Pinkett Smith's shaved head may have hit too close to home because the actress has been open about her struggle with alopecia, which causes hair loss (via CNN). 
Following the headline-making altercation, Rock reportedly refused to press charges against Smith for assault. However, some fans have spoken out in disgust over Smith's violent reaction, and some are even calling for his Oscar — which he tearfully accepted mere minutes after the assault — to be taken away (via The U.S. Sun).
It seems only time will tell how Smith's actions will impact his life and career going forward.