Fans Are Loving Denzel Washington's Wisdom On Chris Rock And Will Smith's Incident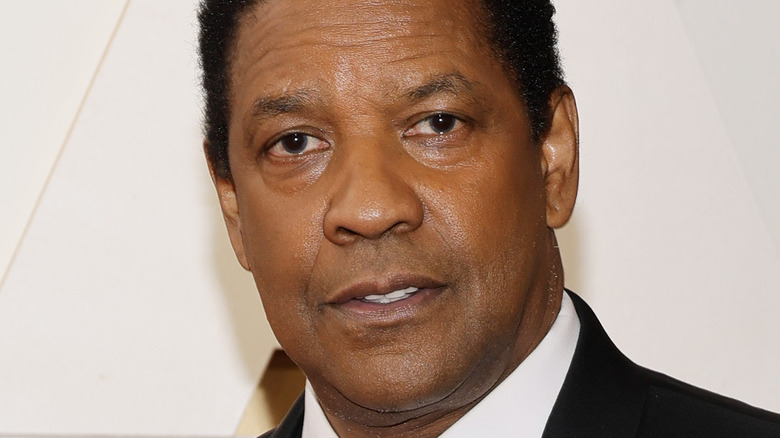 Mike Coppola/Getty Images
It was the Oscars moment no one had anticipated: After comedian Chris Rock made a joke about Jada Pinkett Smith, her husband, "King Richard" Oscar-nominee Will Smith, stormed the stage and slapped Rock across the face (via People).
Prior to announcing the winner for best documentary, Rock cracked a few jokes, the targets of which included Oscar nominees (and couple) Penelope Cruz and Javier Bardem (via Teen Vogue). Rock then moved on to the Smith couple, saying, "Jada, I love ya. 'G.I. Jane 2,' can't wait to see ya," a crack about Pinkett Smith's buzz cut.
This is when Will rose out of his seat and hit Rock in front of a stunned audience, both at home and at the Dolby Theatre. "Oh wow," Rock said in surprise, following the slap. "Will Smith just smacked the s**t out of me." Smith then called back to Rock, "Keep my wife's name out your f***ing mouth." Rock, still startled, said, "Wow, dude, it was a 'G.I. Jane' joke." Will doubled down on his sentiment, repeating, "Keep my wife's name out your f***ing mouth!"
Jada has previously opened up about her struggles with alopecia, which has resulted in hair loss for the actress (via People). "It was terrifying when it first started. I was in the shower one day and had just handfuls of hair in my hands and I was just like, 'Oh my god, am I going bald?'" Jada ultimately decided to embrace the change, shaving her head.
While the slap itself shocked everyone, fans are now remembering Denzel Washington's reaction to the iconic moment.
What happened after the slap heard around the world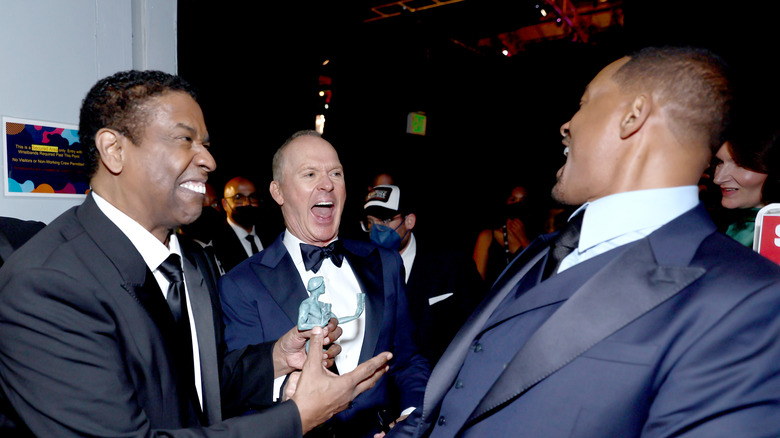 Matt Winkelmeyer/Getty Images
In the moments following Will Smith and Chris Rock's altercation, Questlove took to the stage to thank the Academy for naming his film "Summer of Soul" Best Documentary, but once the broadcast cut to a commercial break, some attendees began to swarm the Smiths to share their support.
Amongst them was fellow Oscar nominee — and Will Smith's mentor — Denzel Washington, as well as other stars like Bradley Cooper and Tyler Perry (via People). Smith would then go on to win Best Actor for his role as Richard Williams in "King Richard," and in his tearful speech, revealed the words of wisdom Washington had shared with him moments earlier (via CNN).
"At your highest moment be careful, that's when the devil comes for you," Smith shared. Fans were impressed by Washington's poise. As one user wrote on Twitter, "I refuse to behave like Will Smith. I refuse to behave like Chris Rock. I prefer to behave like Denzel Washington. In a very uncomfortable and heated moment, he gave wisdom, understanding, correction and comfort. #Oscars2022."
Another wrote, "Only Denzel Washington could turn a chaotic moment and career low for Will Smith into a beautiful moment. That man is the GOAT [greatest of all time]."
One thing is for sure: It was an Oscars ceremony no one will soon forget.