Jenny And Dave Detail Their Relationship With Rock The Block Competitors - Exclusive
Over three seasons, Jenny and Dave Marrs have become well-known for their home renovation show "Fixer to Fabulous." In the HGTV series, the married couple restores historic homes in their hometown of Bentonville, Arkansas. They've also taken on a new challenge in "Fixer to Fabulous: Welcome Inn." In the spin-off series, fans can watch the duo work to renovate an 1880s home into an inn.
But, amidst all that work on their own shows, Jenny and Dave somehow found the time to go to South Carolina and compete in HGTV's hit competition series "Rock The Block." In Season 3, the couple went head-to-head with three other design duos. Leslie Davis and Lyndsay Lamb of "Unsellable Houses," Keith Bynum and Evan Thomas of "Bargain Block," Egypt Sherrod and Mike Jackson of "Married to Real Estate," and Dave and Jenny all remodeled identical houses with a $225,000 budget. Each week judges selected a winner for one portion of the house, with the final winner announced at the end of the season.
Recently, the couple sat down for an exclusive interview with The List to discuss their experience on "Rock The Block." Dave and Jenny got into what it was like getting critiqued by judges, how the competition affected their work, and who the most competitive people were on the show.
What it was like having their design judged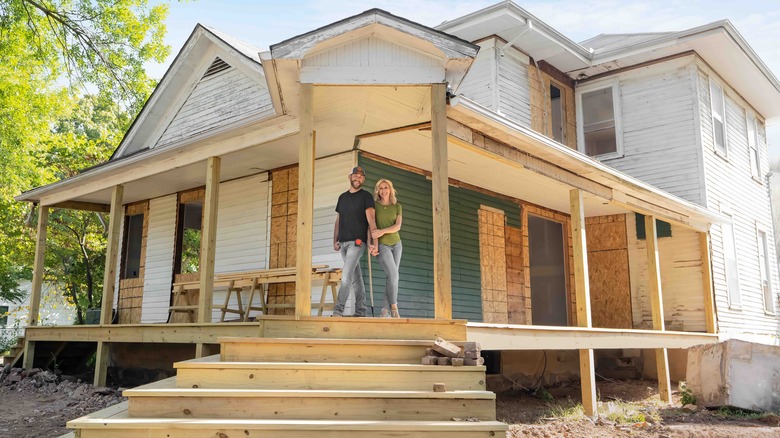 HGTV
Although Dave and Jenny Marrs had plenty of experience in renovating houses from their own business and show, coming on "Rock The Block" was their first time putting those skills into a competition setting. And if you're wondering if the couple took the competition seriously, the answer is yes. Dave said, "I feel like we're both, we want to win." Though, Jenny added that Dave cared a little more about winning than she did, and he agreed.
But, to win the competition, they had to change some of their mindset. On "Fixer to Fabulous," Jenny and Dave design homes with a specific family and their style in mind. However, for "Rock The Block," they were judged based on the appraisal value, which was a challenge for them. "It's a very different mindset, and not necessarily one that we liked," Jenny said. "Appraisal value has no soul. The appraisal value is square footage."
The judging element of the show was also a difficult adjustment for them. Dave described what it was like having something they'd worked so hard on be looked at critically, saying, "This was our baby. This was something that we worked on day and night. To have someone come and say, 'Eh, I don't really like the color. I don't like this or that,' you're like, 'You better not be talking about my house like this.' It was very different."
What was their relationship with the competitors like?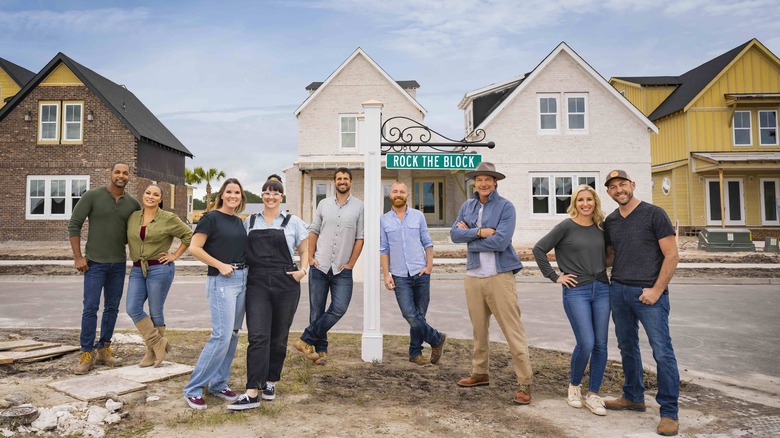 HGTV
Although Dave Marrs said he was very competitive, he was surprised that there were others on the show even more competitive than him. According to Jenny and Dave Marrs, Egypt Sherrod and Mike Jackson of "Married to Real Estate" were the most competitive team on the show. "Mike and I, right off the bat, we had a little competition going between the two of us," Dave said. "Then Egypt surpassed all of us. She was like, 'I want to win this. I've got this.'"
Although they had a friendly competition with Egypt and Mike, Jenny added that they became close to all of the teams. There was such a spirit of camaraderie that it gave Jenny conflicted feelings about the competition. "We had all become really good friends, and we respected one another so much because everyone was there working really hard. It also became hard because we wanted to win, but we also wanted everyone else to win," she said. "It built on that every week where we all genuinely respected one another and really were cheering each other on. Even though we all individually wanted to win, we were also very happy for one another."
"Rock The Block" Season 3 is airing Mondays at 9/8c on HGTV and streaming on discovery+. "Fixer to Fabulous: Welcome Inn" is airing Tuesdays 9/8c on HGTV.