The Best Wine To Drink If You're A Taurus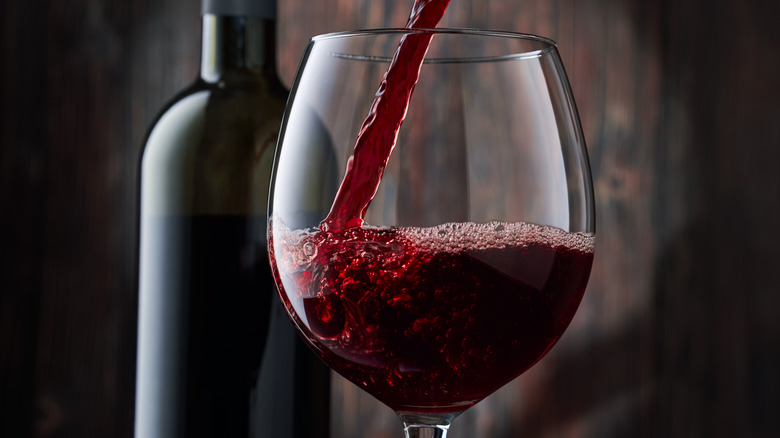 Alexander_Kuzmin/Shutterstock
If you were born between April 20 and May 20, then your star sign is Taurus. This earth sign is symbolized by the bull. Anyone who's ever known a Taurus will agree that they can be extremely stubborn — though Taurus would probably protest, labeling that personality trait dedication instead. 
According to Allure, people born under the sign of Taurus enjoy the sensual pleasures in life. Think luxury, comfort, pampering, and self-indulgence.
Such pleasures definitely extend to wine. Sure, in theory, a Taurean could choose one of the healthiest wines to drink and dutifully drink a glass of wine every night to reap the reported health benefits. 
But, in actuality, a Taurean is more likely to choose a wine simply because it tastes good — and drink it whenever they want. And, because this zodiac sign can be materialistic, overly concerned with status, and unwilling to take risks (per Bustle), that wine will probably be the most expensive one in the store simply because they equate that with the best.
So which wine should a Taurean choose? Here are picks you're sure to love.
Taurus will love a big, bold wine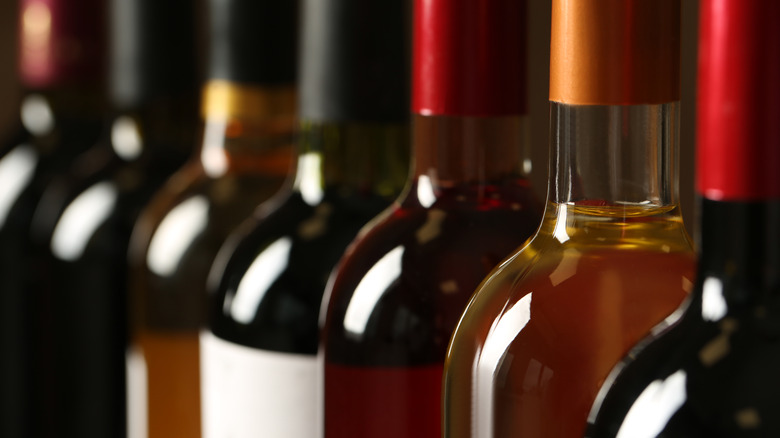 New Africa/Shutterstock
According to Wine Country, Taurus and the other earth signs, like Virgo and Capricorn, appreciate the finer things in life. 
So Taureans should choose a suitably opulent wine, like Bordeaux. Grown in the southwest region of France with the same name, Bordeaux wines are usually red and made from a blend of grapes, mainly Cabernet Sauvignon and Merlot. Bordeaux wines tend to be bold and full-bodied, pairing well with flavorful meats like filet mignon, duck, or venison.
Another good option for Taureans, per Eating Well, is Syrah. Astrologer Skye Alexander says, "This rich red wine is full-bodied, hardy, and earthy, which are characteristics astrologers associate with the zodiac sign Taurus." Originally grown in France's Rhône Valley, Syrah wines tend to have powerful flavors and pair well with bold meats and spices. 
Fun fact: Syrah wines are popular in Australia, but, Down Under, they're dubbed Shiraz.
You can't go wrong with decadent wines, either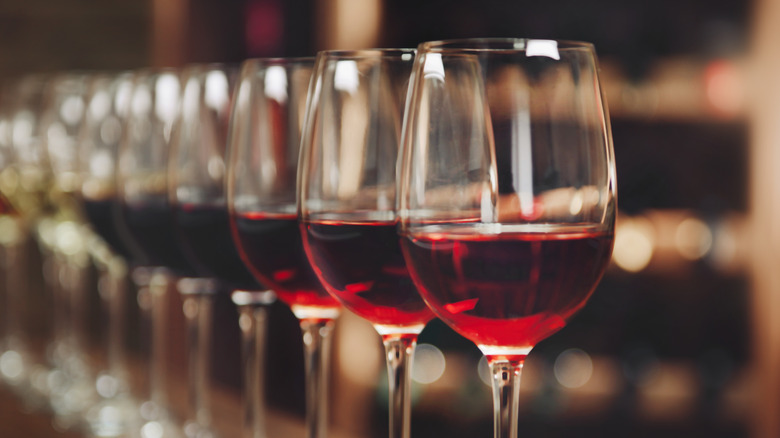 Africa Studio/Shutterstock
Given the Taurean tendency to indulge, it should come as no surprise that decadent wines are a top pick. According to The Wine Cellar Group, Merlot is a great option for Taureans. Merlot is versatile and pairs well with many different flavors but can overwhelm more delicate dishes, such as fish or salads.
Wine Folly recommends that Taureans choose the GSM blend. This complex blend of Grenache, Syrah, and Mourvèdre is popular around the world, especially when paired with Mediterranean dishes. 
Also recommended by Wine Folly for Taureans is Châteauneuf-du-Pape, another blend that's known for being bold and rich. It pairs particularly well with flavorful dishes, such as Moroccan chicken tagine.
Of course, stubborn Taureans are going to do — and drink — whatever they want, which includes ignoring all of these wine recommendations if they feel like it. And, because Taureans tend to enjoy their routines and are not known for spontaneity, they'll probably continue drinking whichever wines they already know and love. 
We can all raise a glass to that sentiment.