These Are The Best Shoes For Weight Lifting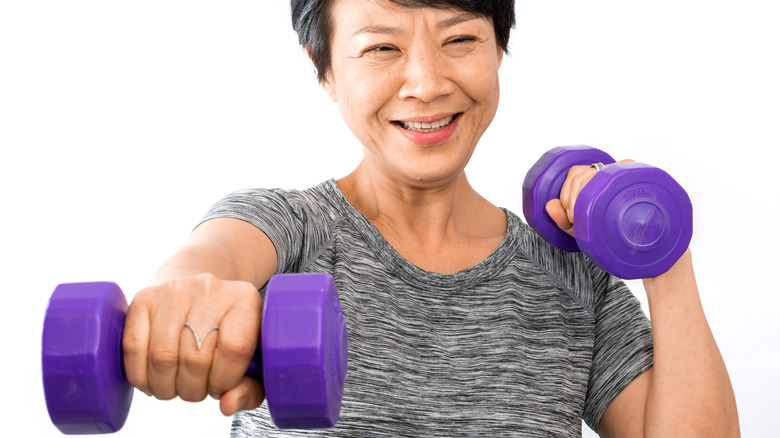 tairome/Shutterstock
We may receive a commission on purchases made from links.
Weight lifting is a popular exercise that people have been doing for as long as we can remember. Lifting weights is admittedly an excellent workout, whether at the gym or at home. Fitness First U.K. noted that while lifting weights is traditionally for getting stronger, this exercise also helps tone your body and burn fat, and there are many ways to lift weights. Examples of good weight lifting workouts include arm curls, barbells, endurance training with lighter weights, and the more advanced powerlifting. While some old-fashioned people believe that only men lift weights, some women lift heavy weights, too. We love to see more women becoming interested in this traditionally male-dominated workout!
Whether you lift weights every day or once a month, it's crucial to wear the right clothing and footwear. Since you'll get hot and sweaty when lifting weights, it's a good idea to wear athleisure instead of bulky or formal outfits. You should also be sure to choose the best types of shoes. According to Run Repeat, flatter shoes and weight lifting shoes, which are very different from shoes designed for running, are what you need for this exercise. If you're thinking of investing in a new pair of shoes for weight lifting, we know all the best options.
Try lifting weights with these shoes for a better workout
While it may seem tricky to choose the best pair of shoes for your weight lifting workouts, CNET noted some of the best options. For example, Reebok Women's Legacy Lifters are perfect for weight lifting workouts involving squats because of their flat sole and wide base, which can help you properly squat. These shoes are so popular that they're currently sold out on Reebok's website, but they're available at Amazon, where they have a 4.5 out of 5-star rating. 
If you're a bodybuilder, CNET recommends the Reebok Nano X shoe because its comfortable fit makes it appropriate for any type of weight lifting. You can buy these shoes at Reebok for just under $75 right now, and they're also available at Amazon. While they're technically listed as men's shoes, we think they're appropriate for all genders to use when working out. Just make sure to figure out what your size would convert to for men's sizing before you order them!
Additionally, Healthline explained that people with narrow feet need to consider how their shoes will fit when lifting weights, recommending the Adidas Adipower Weightlifting II shoes. Their adjustable design is helpful for people with narrow feet because they'll have the option to adjust them to see what feels right — and pick the right fit. Currently available at Amazon, these shoes have a glowing 4.5 out of 5-star rating.
These are more excellent shoes for lifting weights
While it's crucial for people with narrow feet to find the right shoes, people with wider feet deserve to find shoes that will help them have successful weight lifting workouts, too. According to Byrdie, New Balance Women's Minimus Prevail Cross Trainer shoes are the best option for people with wide feet because these shoes feature knit fabric, so your feet will never feel trapped. Currently available at Amazon for just below $65, these comfortable shoes are a steal. 
Inexperienced weightlifters who need to get used to wearing weight lifting shoes should check out Nike Metcong 6 Training Shoes. These lightweight shoes will prevent your feet from getting too hot and sweaty, and are available at Amazon for just under $165, Nordstrom for $130, and Dick's for slightly under $130. These shoes have positive reviews on all three retailer websites.
Additionally, Very Well Fit offers a more stylish option. Anyone who likes the high-top look will love the Converse Chuck Taylor All Star Sneaker. Converse are well-known for their flat soles, making them wonderful choices to wear when performing basic weight lifting exercises. They're currently available at Amazon for slightly less than $80, Zappos for just below $60, and Converse's official website for $60. We love that these sneakers are appropriate for lifting weights but fashionable enough to match your casual, non-athletic outfits.