Inside Queen Elizabeth's Last-Minute Decision To Attend Prince Philip's Memorial Service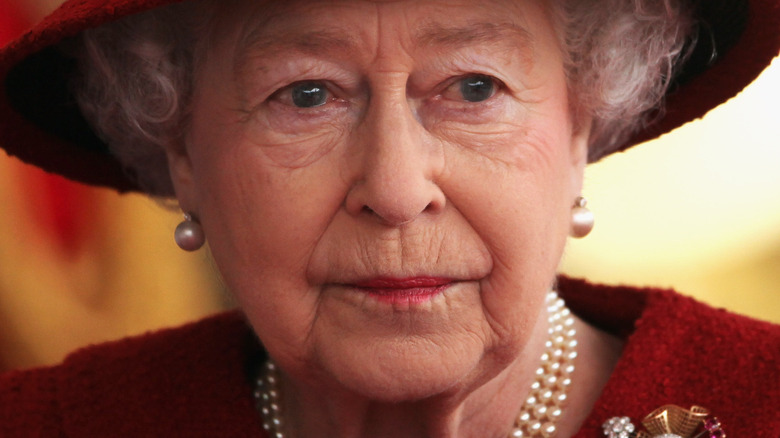 Dan Kitwood/Getty Images
Queen Elizabeth has put duty first since she became the head of the British royal family 70 years ago, so when she cancels public appearances, people naturally get concerned. In late 2021, she spent a night in the hospital and was later advised by doctors to rest for two weeks, which led her to miss out on a trip to Northern Ireland and the COP26 Climate Change Conference in Glasgow. According to People, the queen was also forced to give up riding her beloved horses, as well as forgo her evening martini. She has also begun walking with a cane.
In February 2022, Buckingham Palace revealed that she had tested positive for COVID-19. Luckily, her symptoms were reportedly mild, but it still added another worry for Queen Elizabeth's overall health. So when plans for a memorial service in honor of Prince Philip was announced, it wasn't clear if Elizabeth would be able to attend. In fact, one source claimed that a big reason she might not be there is because she is wheelchair-bound. "She doesn't want to be seen, she's very proud ... She's our greatest ever monarch," explained Christopher Biggins, a British actor (via OK!).
The Palace confirmed that the decision to attend would be made at the last minute, but if Queen Elizabeth has proven anything, it's that she's stronger than people sometimes realize.
Royal staff made sure Queen Elizabeth was comfortable during the memorial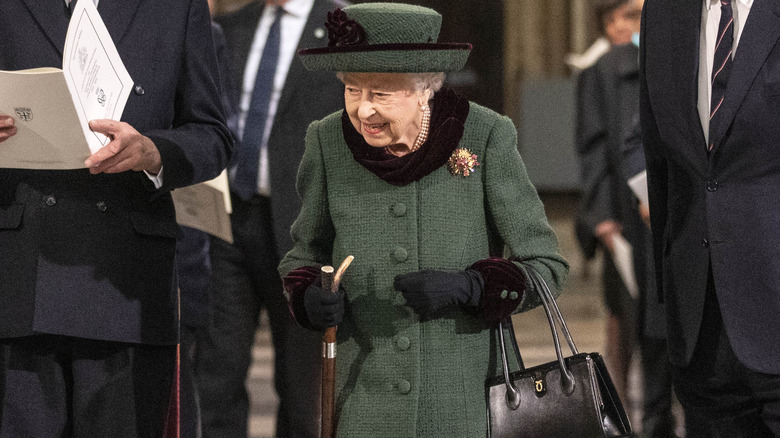 Wpa Pool/Getty Images
Queen Elizabeth was ultimately able to attend the memorial service for Prince Philip, arriving at Westminster Abbey on March 29 on the arm of her son, Prince Andrew. During the ceremony, she sat with Prince Charles and his wife, Camilla Parker Bowles. The event marked Elizabeth's first public appearance in five months, according to The Hollywood Reporter.
There were an estimated 1,800 guests in attendance, and the queen was heavily involved in the event's planning, which featured meaningful hymns and an abundance of orchids, in reference to the flower in the queen's wedding bouquet (via the BBC). In order for her to attend, special accommodations were made. Elizabeth, who wore green in a subtle nod to her late husband, entered through a side door instead of the main entrance so she didn't have to walk the entire length of the aisle. In addition, the service was held to only 40 minutes, and the queen was able to sit in a more comfortable chair with an extra cushion, per Bloomberg.
And while some senior royal members were against the decision to arrive with Andrew six weeks after he settled his sexual assault lawsuit, the queen reportedly "insisted" upon it. "It shows she wholeheartedly loves and believes her son," royal commentator Robert Jobson told People. "She has faith in Andrew." 
Ultimately, we're just excited to explore how Elizabeth and other royals honored Prince Philip at his memorial.