Fixer To Fabulous' Dave And Jenny Share Why They Initially Turned Down A TV Show - Exclusive
Any HGTV fans likely know Jenny and Dave Marrs from their show "Fixer to Fabulous." Over the past three seasons, the couple has refurbished historic houses in Arkansas to make them into forever homes for their clients. And this year, Jenny and Dave are pushing their renovation skills further than ever. Along with their original show, you can now watch them taking on the challenging task of remodeling an 1880s house into a cozy bed and breakfast in "Fixer to Fabulous: Welcome Inn." They also joined the cast of "Rock The Block" to put their design skills against other renovation teams and see who comes out on top.
Although Dave and Jenny now have their own series, a spinoff, and are featured in HGTV's competition show, they never planned on having a television career. In fact, when they were first approached about making a TV show, the couple turned the offer down. During the exclusive interview with The List, Dave and Jenny explained how they started renovating homes, why they didn't want a TV show, and what eventually changed their minds.
How Dave and Jenny Started renovating homes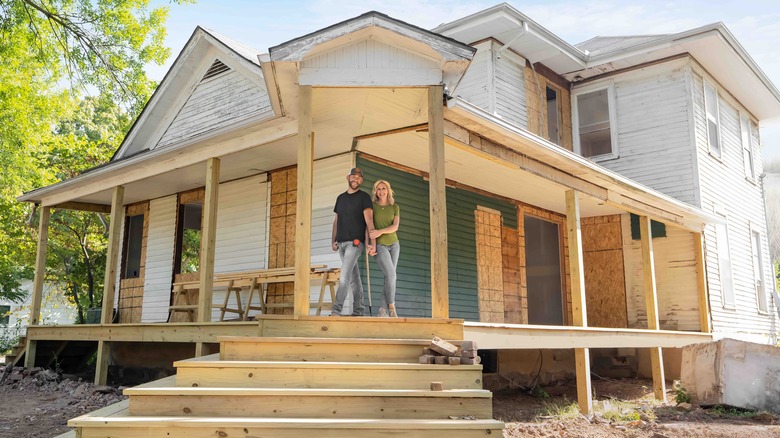 HGTV
Although Jenny and Dave Marrs now have many viewers who follow along and watch their renovation process, their business first started simply and organically. Back in 2004, long before a TV show was ever even something they dreamed of, Dave started an Arkansas-based construction company. For a while, that was something he mostly managed, and Jenny wasn't as involved.
However, as he explained to The List, their working partnership grew over time. Jenny would occasionally design things for the houses Dave was working on, and she also designed for other projects. In 2010, they "combined forces" to make their home renovation business more of a partnership. The two have worked together to balance their relationship, their business, and parenting ever since. Then in 2017, they first started sharing their journey with the world on "Fixer to Fabulous." And according to Dave, "it's been one episode at a time from there." On the show, fans can watch along as the couple continues to renovate homes together, just as they have since 2010. But, while it may seem like the job they were made for and an opportunity that many would jump at, they had some reservations about sharing their life on TV.
Why Jenny and Dave first turned down a TV show offer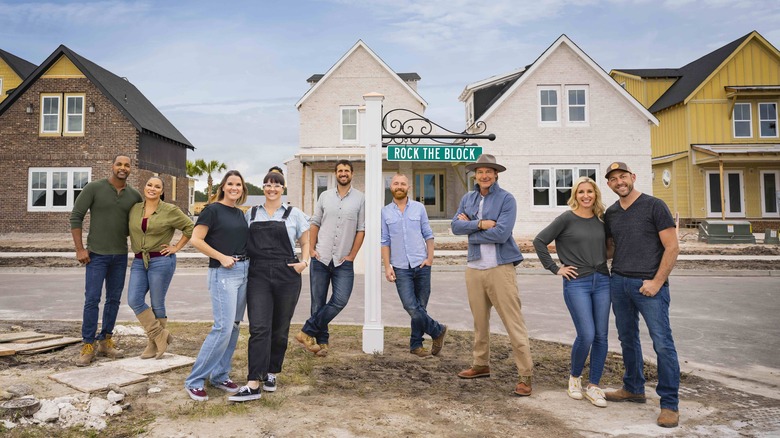 HGTV
As Jenny and Dave Marrs told their story, they revealed that they'd said no to starting a TV show a couple of times at first. So, what was holding them back? According to Jenny, they had a lot of concerns. "Once you put yourself out in the public eye, you're opening yourself up to scrutiny and all of the people's opinions. Really, we were most concerned about protecting our kids," she said. "We didn't want anything that would interfere with their childhood. We wanted to be really careful in making that decision, because it's not just something we were doing, it would also impact our children and our family."
Because of that concern for their kids, they didn't say yes to any offer until they felt like they had the right production company and were confident in the type of content they'd be putting out. Before agreeing to make "Fixer to Fabulous," Dave said they "thought about it, [and] prayed about it." But, even after deciding to move forward, they never imagined the success it would bring. "And yeah, here we are, getting ready to start Season 4," Dave said. "So it's been very humbling. It's been very fun, very exciting."
"Fixer to Fabulous: Welcome Inn" airs Tuesdays 9/8c on HGTV. "Rock The Block" Season 3 airs Mondays at 9/8c on HGTV and streaming on Discovery+.