Dave And Jenny Share The Hardest Part Of Making Fixer To Fabulous: Welcome Inn - Exclusive
Jenny and Dave Marrs have been redesigning historic homes in Bentonville, Arkansas, for years. They've gained a following through their HGTV series, "Fixer to Fabulous," which gives viewers a peek into the couples' lives and their process of taking a home from a worn-down, fixer-upper to a family's forever home. This year, Jenny and Dave also put their home flipping skills to the test in the competition series "Rock The Block," where they went head to head with three other skilled renovation teams. And they've taken on a new project for their spin-off series, "Fixer to Fabulous: Welcome Inn." In the limited HGTV series, they've been transforming a large house into a beautiful and functional bed and breakfast.
During an exclusive interview with The List, they shared why they wanted to take on renovating an inn. They also revealed the unforeseen challenge that almost stopped them from completing the project.
How Jenny and Dave's side project became a TV show spin-off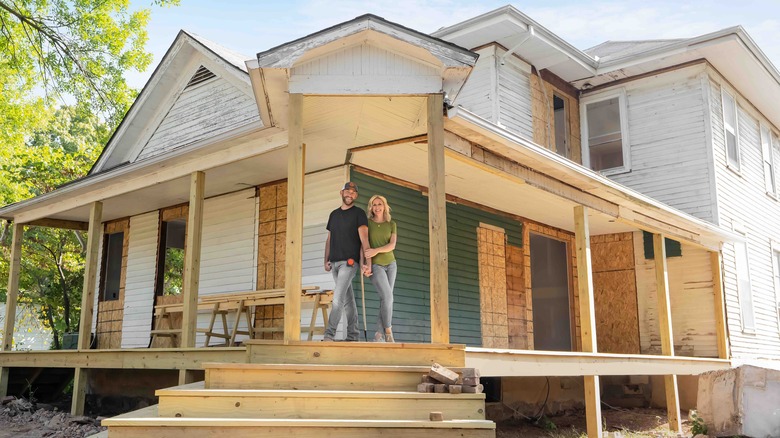 HGTV
Just this year, Dave and Jenny Marrs are starting the fourth season of "Fixer to Fabulous" and competing in "Rock The Block" Season 3, all while raising five kids. Considering everything on the couple's plate, taking on yet another TV series seems like way too much. But that's exactly what they've done with their four-episode spin-off series, "Fixer to Fabulous: Welcome Inn."
So, you may be wondering what drove Jenny and Dave to take on another time-consuming project like this. The truth is that when they first found the house, they had no intention of filming the renovation. "We just, earlier last year, found out about this house, and we fell in love with it," Jenny said. "We were like, 'We've got to renovate this house.'" However, they didn't have a tight timeline as they do for many of their renovation projects. Instead, they planned to work on the inn when they found the time. But, that all changed when they mentioned the purchase to their producer. She loved the idea so much that she wanted to film the process. Jenny and Dave hesitated at first. Jenny recalled telling their producer this was something "we were going to do quietly on the side." But, in the end, they decided the spin-off would be a good opportunity for a more "in-depth" view of their process from start to finish.
The problem that almost cost them everything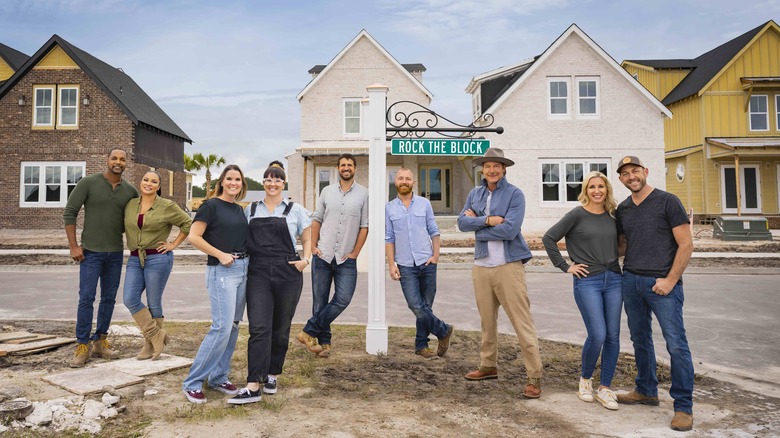 HGTV
Through "Fixer to Fabulous: Welcome Inn," Dave and Jenny Marrs hope to give viewers a better idea of how much work goes into their renovations. Although, fans have followed the couple fixing up plenty of homes on "Fixer to Fabulous" they were more limited in how much they could show. "Everyone sees these homes that we do for homeowners in a 43-minute episode that really takes us six to eight weeks to do," Dave explaned. Because the spin-off series has four episodes dedicated to the same project, it can show more of the highs and lows throughout the process.
One of the biggest challenges to renovating the inn was revealed in the first episode when Jenny and Dave learned about the house's bee infestation. Although they were aware of the bees from the inspection, they had no idea how much they'd damaged the home's structure. "I'm going to tell you upfront, had I known that the bees were that big of a problem, I'm pretty sure we would not have bought it," Dave said. "We were so close to losing the entire roof of that house and everything collapsing. I'm so thankful that we didn't and that we got everything fixed and taken care of. It was more than I ever thought it would've been."
"Fixer to Fabulous: Welcome Inn" airs Tuesdays 9/8c on HGTV. "Rock The Block" Season 3 airs Mondays at 9/8c on HGTV and streaming on discovery+.