Insider Reveals New Details About Kate And William's Luxurious Stay In The Bahamas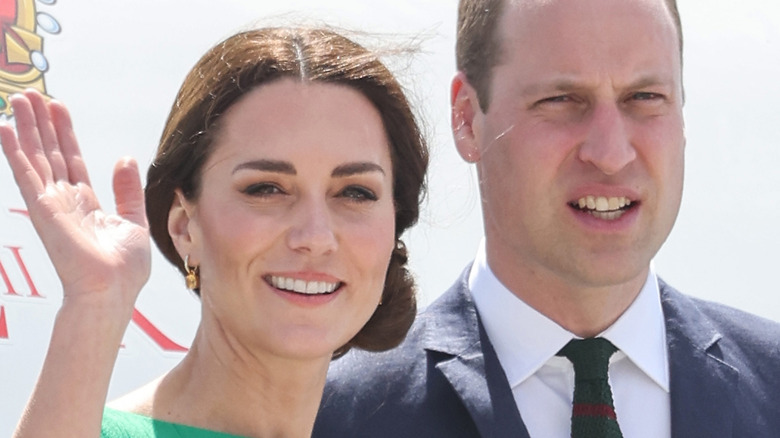 Chris Jackson/Getty Images
On April 29, 2011, Prince William and Kate Middleton walked down the aisle to become husband and wife (via Westminster Abbey). The vows were exchanged after a years long courtship, solidifying the pair's status as a royal power couple. Since then, the prince and his wife have welcomed three children: Prince George, Princess Charlotte, and Prince Louis (via Town & Country). Caring for three young children is enough to keep anyone busy, but the royal couple has countless duties to fulfill in order to keep up with their titles. Between providing the queen with any help she requires in order to fulfill her own duties, Prince William and Kate Middleton are expected to partake in charity work, make plenty of appearances at events every year, and entertain thousands of guests (via CNBC).
Being a royal while raising three children takes tons of time and hard work, which is likely why the couple recently decided to unwind by taking a luxurious trip to The Bahamas at the end of a controversial tour of a few Caribbean nations. (If you missed it, Kate and William's royal tour kept getting messier and messier.) The last leg of the trip was nothing short of glamorous, and an insider recently revealed all of the opulent details (via Page Six).
Despite controversy, the royal couple took time to relax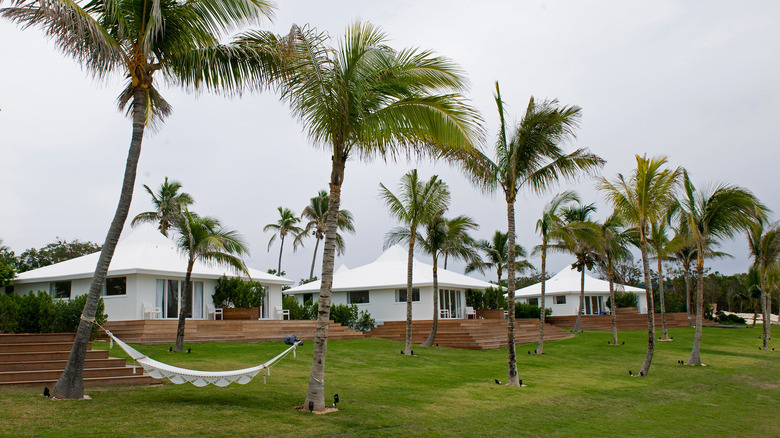 Erika Goldring/Getty Images
Prince William and Kate Middleton's two night stay in The Bahamas was the final stop on their royal tour of the Caribbean. The tour was intended to be a celebration of Queen Elizabeth's 70 years as monarch, but the couple was met with protests along the way, as some of the countries they visited are seeking to break free from British colonial rule (via TIME). Following the controversy sparked by the trip, the couple decided to take some time to relax in a tropical paradise.
Prince William and his wife arrived at The Cove, a luxury resort in The Bahamas. Instead, as their children remained in England, the couple traveled with a large security team (via Page Six). Those who encountered the couple were met with pleasantness and warmth from the royals. "They were so friendly to the staff at the resort, smiling at guests they passed," one insider said. No strangers to luxury, the couple shared a 4,830 square foot penthouse suite for the duration of their stay.
Upon arrival, William and Kate were welcomed by a suite full of luxury gifts from the resort. This included some luxe and cozy bathrobes from NiLuu, which cost around $585, as well as an assortment of sweet treats from Sugarfina and handmade wares from local artists. The couple's favorite alcoholic beverages were also waiting for them: Stella Artois beer for the prince and The Crack Baby cocktails for Kate.
They wined, they dined, they missed their children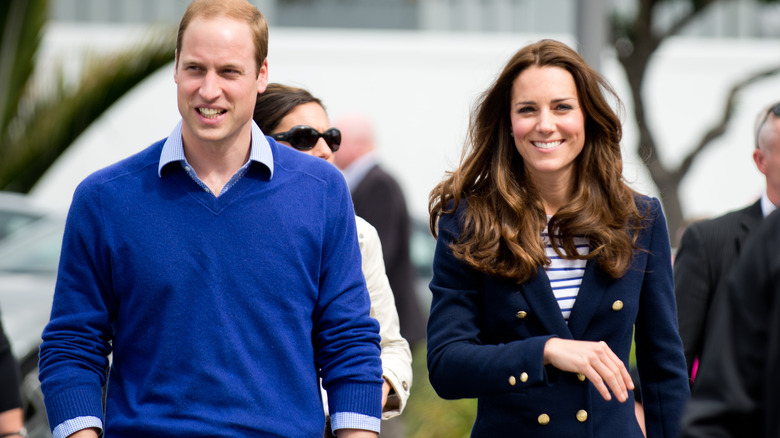 Shaun Jeffers/Shutterstock
Prince William and Kate Middleton were reportedly "happy" and "relaxed" throughout their time at the resort, and the couple spent time bonding, laughing, and enjoying all of the activities that the resort has to offer. Even when less than ideal circumstances arose, the couple was filled with glee. After a rainy sailing excursion, the couple reportedly returned in good spirits and shared laughs with one another (via Page Six).
The couple wined and dined themselves throughout the duration of their stay. Their breakfast spread included mango smoothies for a healthy serving of fruit in the morning. They also enjoyed chocolate biscuit cake, scones, and other various pastries. On the first night of their trip, William had a craving for pepperoni pizza. On their second evening, the couple enjoyed a delicious spread of sushi, sashimi, and noodles from the high-end sushi restaurant Nobu. They enjoyed their meals on fine china each day inside their gorgeous penthouse suite.
Though the couple enjoyed their time at the resort following their Caribbean tour, they did miss their children. Kate was sure to FaceTime Prince George, Princess Charlotte, and Prince Louis to let them see the beachside views, and she was likely ecstatic to reunite with the royal children upon the couple's return. Ultimately, it sounds to us like Kate and William's relationship is as playful as ever.