Royal Expert Reveals Why Meghan And Harry Reportedly Think Their Reputation Has Taken A Hit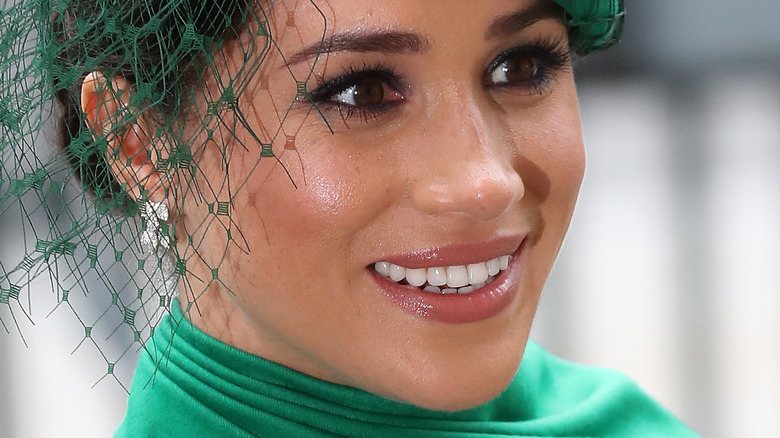 Chris Jackson/Getty Images
In March 2021, Prince Harry and Meghan Markle made waves when they sat down with Oprah Winfrey for their tell-all interview about their decision to leave the royal family. Meghan spoke at length about feeling mistreated by the press and "the institution," referring to the royal family and its advisors (via The New York Times).
"I was ashamed to have to admit it to Harry," Meghan, whose stunning transformation has seen her learning to never apologize for her feelings, told Oprah about having suicidal thoughts during this time. "I knew that if I didn't say it, I would do it. I just didn't want to be alive anymore." 
Following this bombshell conversation, Harry and Meghan received an outpouring of support, with many empathizing with their decision to move to America and extricate themselves from the royal family. "Meghan was the Crown's greatest opportunity for change, regeneration, and reconciliation in a new era," poet Amanda Gorman noted (via HuffPost). "They didn't just maltreat her light ― they missed out on it."
Despite many empathizing with Harry and Meghan's story, there will always be detractors – particularly for those in a position of power and influence, as Harry and Meghan are. "Would she [Princess Diana] have been thrilled that Harry was moving away from royal service? She understood that the Queen came first, I don't believe she ever did anything to really offend the Queen?" royal Chef Darren McGrady shared, calling into question the couple's decision to abscond (via Marie Claire).
Some of Harry and Meghan's honor and recent judgment are also being called into question by royal experts.
If you or anyone you know is having suicidal thoughts, please call the National Suicide Prevention Lifeline​ at​ 1-800-273-TALK (8255)​.
Harry and Meghan skipped Prince Philip's memorial service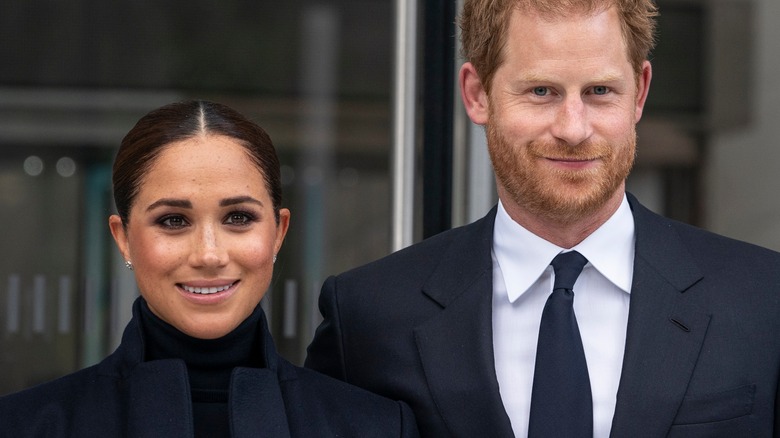 lev radin/Shutterstock
One month after Prince Harry and Meghan Markle sat down with Oprah Winfrey, the royal family announced the passing of Queen Elizabeth II's husband, Prince Philip, at the age of 99 (via the BBC).
Despite the loss of his grandfather, Harry and Meghan announced that they would not be attending Philip's memorial service (via the Daily Mail). "Harry must have known it would look petulant and rude. And if he did not, Meghan would have," royal writer Ingrid Seward told The Mirror. "The wall of silence was as loud as if they had shouted from the abbey rafters. The normally verbose Duke and Duchess of Sussex said nothing."
Harry had previously pointed to the couple's lack of ability to hire the necessary security to make the trip as their reasoning for not attending the service. However, Angela Levin, another royal writer, wasn't buying it. "Many royals from abroad made the effort, yet Harry's pathetic excuse is that he didn't feel safe. The police would have had it completely covered," she said, per the Daily Mail. "The royal children were all there, the heirs to the throne, so it just doesn't make any sense that the protection wouldn't be there."
Whatever the reasoning may be for their lack of attendance, some see it as a missed opportunity for the royals to mend fences. Hopefully, if both parties want to get back in each other's good graces, they won't wait until the next memorial service to do so. At present, because the memorial was so recent, it's unclear how much this decision is impacting their honor or public reception.