Neal McDonough Discusses Screenwriting And Filming Process Of BOON - Exclusive Interview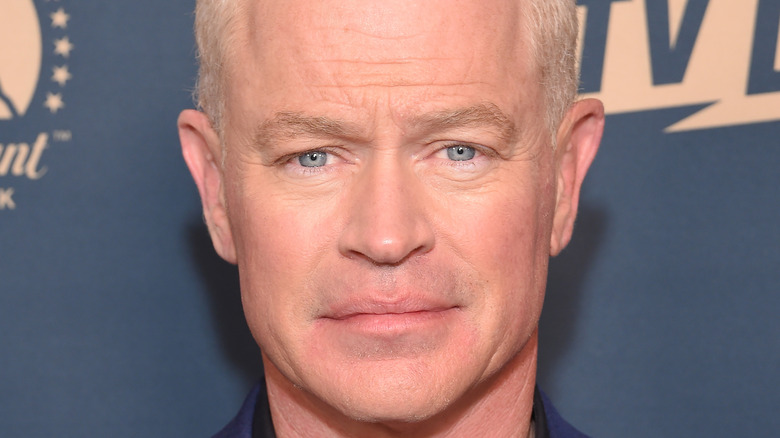 DFree/Shutterstock
This article contains a reference to sexual assault.
Actor Neal McDonough has been a staple in Hollywood since the early 1990s. Hailing from Boston, Massachusetts, McDonough's big break occurred in 2001 when he was cast in the hugely popular series "Band of Brothers. Since then, he's joined the cast of notable shows like "Desperate Housewives," "Justified," and "Arrow." McDonough was also part of the cast of "Yellowstone," in addition to appearing in the series "Suits" for several episodes. When the actor isn't gracing the small screen with his intense acting skills, he's working on movies he's passionate about.
In 2021, McDonough appeared in the film "Red Stone" where he played the main character, Nick Boon. Deadline first reported that the movie, a Neo-Western, was picked up by Cinedigm after filming had wrapped. The well-known entertainment company went on to pick up the movie's sequel, "BOON," which is slated for release on April 1. Leading up to the premiere of the film, McDonough spoke with The List about what it was like to co-write the script for the movie in addition to starring in and producing it. The actor — who refused to do kissing scenes prior to "BOON" — also spoke about his character's love interest in the new film.
McDonough discussed what it was like to write the script for Boon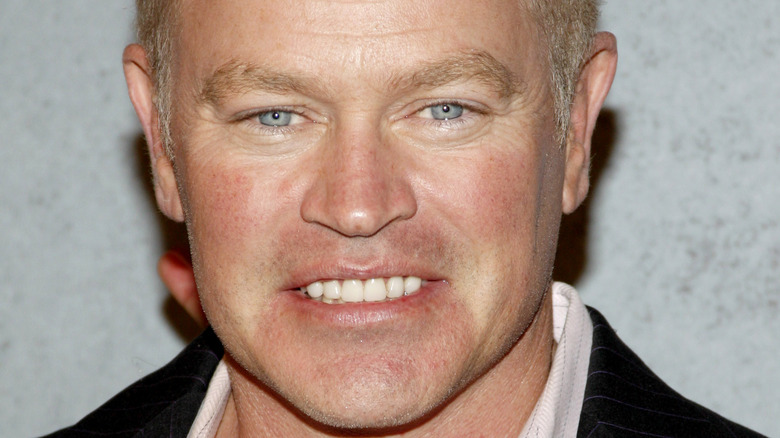 Tinseltown/Shutterstock
In addition to starring in the movie, you also co-wrote the screenplay with Derek Presley. When you were working with Derek on the script, were there specific elements to the character, or maybe certain storytelling elements that you knew you wanted to include from the beginning?
In Part 1, in "Red Stone," we really ... I always wanted to be able to, or I always do try, to infuse God into everything that I do, being the devout Catholic that I am. People say, "Yeah, but he's a hitman." Hitmen have crises of faith themselves, probably more than anybody else, when you really think about it. We built upon that in Part 1, and then when we got to writing together on "BOON," I really wanted to hammer that home even more.
I really wanted to have religious tones all throughout. He meets this preacher woman, he falls in love with her, something that Neal McDonough's never done on screen before. It's the first time in any film ever that I've had a romantic love interest that wasn't psychotic. In "Desperate Housewives," you can barely call that a romantic love interest, because I was a nut bag. [Both laugh]. I had to be the villain for 20 years because I won't do sex scenes.
Now, I get to have a romantic lead, and Christiane Seidel was so fantastic. To be able to talk about that, and have those situations in my career was really a wonderful new color for me. I wanted to have that in there. I wanted to have a faith-friendly backdrop, and I wanted to make it, really, a morality play. "What's the right thing to do here for Nick Boon? Can he have a relationship after his wife and kid were killed? What does that mean? How does that guilt hit him?"
You can see in the beginning, he's like, "I shouldn't be doing this. I can't be doing this, oh boy. Or maybe it is the right thing. Okay, I'll try it. Wait a minute, who are these bad guys? Oh no. I ran away from the past, then the past caught up with me. Now, how do I deal with it? Oh gosh, they're running guns. Okay, we can't have this. Now you're trying to rape this girl that I love? Now I'm pissed, and I'm going to kill you all." Then, in the end, I have to ride off into the sunset, because I can't stay, because the past is going to catch up with me again.
If you or anyone you know has been a victim of sexual assault, help is available. Visit the Rape, Abuse & Incest National Network website or contact RAINN's National Helpline at 1-800-656-HOPE (4673).
He expressed gratitude to Cinedigm as well as the cast and crew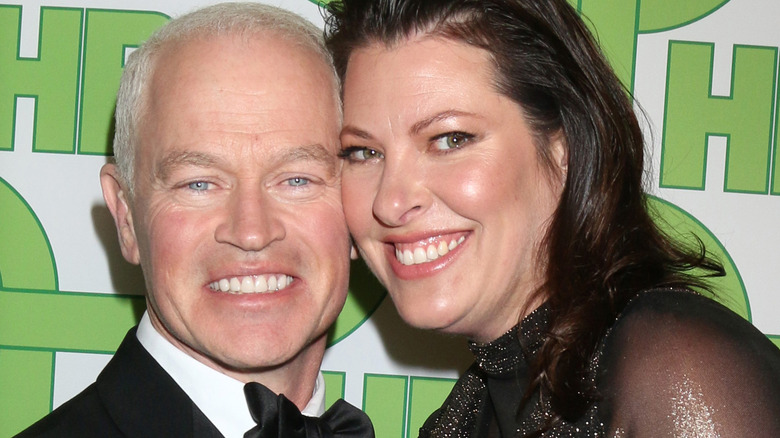 Kathy Hutchins/Shutterstock
That'll happen in Part 3 and Part 4 and Part 5 of this because Cinedigm [Entertainment Group] was great enough to buy both these films and say, "Go make more of these." Now, we're going to make more of these films. I couldn't be happier to be able to make these films, not just with Derek, to write and create with Derek and him directing, but with Jason Starne as our line producer. To produce with Ruvé –she went and found the financing. She was the one who guilted all the other actors ... Tommy Flanagan to Christiane Seidel to Jimmy Madio, into doing this little film. They did it because we knew we were making something special, and we were going to put our money where our mouth is.
In our house, everyone knows it's family first, me second, or God first, me second. To hire other actors and crew members alike that also buy into that, knowing that it wasn't a very big budgeted film, everyone was in it to win it. No one was making tons of money and we're completely transparent, saying, "This is what we're making, which isn't a lot. This is what you're making, which is the same as what I'm making" ... It was very fair, price-wise, but we made a great product for a smaller price. Now, we'll keep building. I said, "We'll pay you more in the next film because we'll have more money, and keep building films."
The first one we did for under $1 million. The second one, we did for under $2 million. The next one we'll do for under $3 million. Keep building. I love being able to make these independent films without a studio breathing down our neck saying, "Well, this is what we think this shot should look like." No, we're free to make the films that we think are entertaining. For me to give glory to God and also in the films is such a blessing.
McDonough shared touching family moments from the set of 'Boon'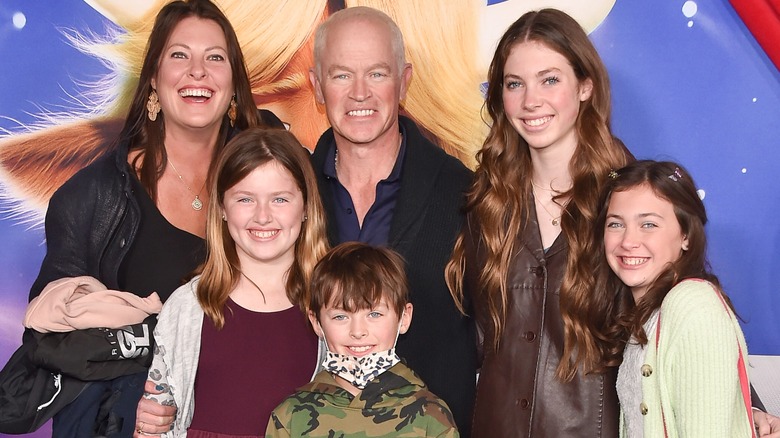 DFree/Shutterstock
It's incredible that it was such a passion project for you, but also for everyone involved as well. I'm sure that makes the atmosphere on set even more rewarding in a way, because you know everyone's there because they want to be there, not just for a paycheck.
Yeah, and then on the weekends, we'd have everyone over ... Invite cast and crew. My wife and her friend Maryanne were there, we had her and she was basically the chef. We would make gobs of food, really great food, for breakfast, lunch, and dinner on the weekends. Anybody [could] come on by anytime, we're watching football, we'll hang out. We'll play guitar, we'll sing songs. We'll tell jokes, tell stories. Everyone gets to know each other. I equate it to Coppola in the '70s when doing "The Godfather." We're cooking pasta, everyone [can] come on by, have some wine and relax. We made a real family environment, and by doing so, everyone was so in it to win it. Our days were 10-11 hour days, not 15-16 hour days.
We try to make our days shorter, and everyone knew that on the first take, you better be prepared because we're moving on fast, 'cause we don't have time to spend, we don't have big studio budget money. By doing so, our acting in this film was as good as any big studio film because we told everyone, "We're rolling on rehearsal, we might move on from it. We're rolling on that first take, you got to nail it." We have a couple of cameras set up and we might move on from the whole scene after this first take.
It made all the acting ... Me being an athlete for so many years, I love game day. I love the seventh game of whatever series, and it's infectious when the lead in the film and the co-creator and the producer [are like that]. Ruvé is the exact same way, my wife. Be ready on your first take, and let's move on and let's also go enjoy our lives after the day is done. That's what we pride ourselves on.
He spoke lovingly about his partnership with his wife, Ruvé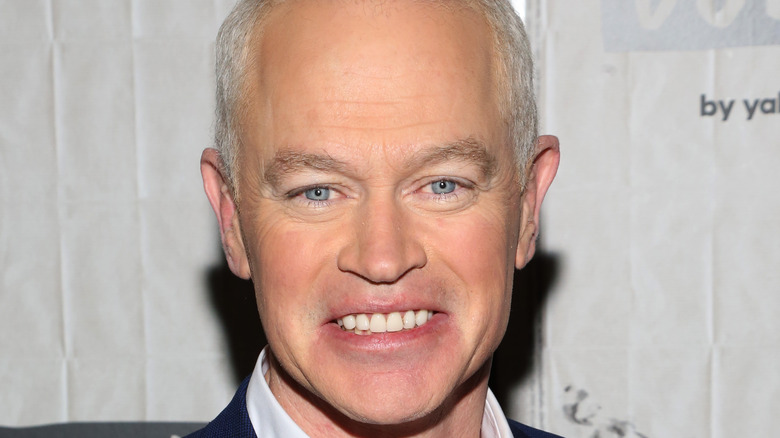 Manny Carabel/Getty Images
That's wonderful that you have such an important partnership with your wife in that way, this professional aspect of it as well. I'm sure that's just incredible to actually be able to partake in that together and be on the same page. 
Yeah, our son worked in the stunt department. Our daughter had a small cameo role. Another kid was working craft service. Our younger kids were helping out, or absorbing what it's like to watch mom and dad make a movie. That's a family business that I hope my kids build upon. What Ruvé and I are starting now ... Here's this middle-aged Irish guy from Boston starring in these Westerns and Neo Westerns because it's what I always loved watching as a kid. I spent so much time watching John Wayne films. I could watch "The Cowboys" over and over because those are the themes that I loved. Men stand up to do the right thing, and if there's a guy who isn't doing the right thing, you stand up to him and take care of those bullies.
Sometimes, standing up to those bullies means you have to put your life on the line for it. I go back to the themes of "Band of Brothers" where all those soldiers ... Buck Compton, the guy that I played, went over to Europe. Here he is, an all-American football and baseball star. He goes over to Europe to stand up for what is right, willing to die for his country. Those are the heroes that I always loved watching. My dad was the same way. He came over from Ireland and joined right into the army to stand up for what was right. I loved that theme. 
That's when we teach our kids to do what's right, and sometimes, you have to stand up to a bully. Use your words first, but sometimes words don't work. You have to literally stand up for the right thing. Don't pick a fight, ever. If you pick a fight, you'll be in trouble, but don't stand down from a fight either. That's what Nick Boon really is. For me, Nick Boon at times is the greatest version of Neal McDonough, and that's what I get to draw from. To do that with Ruvé, my gosh, I'm the luckiest dude in town.
McDonough is looking forward to the future of BOON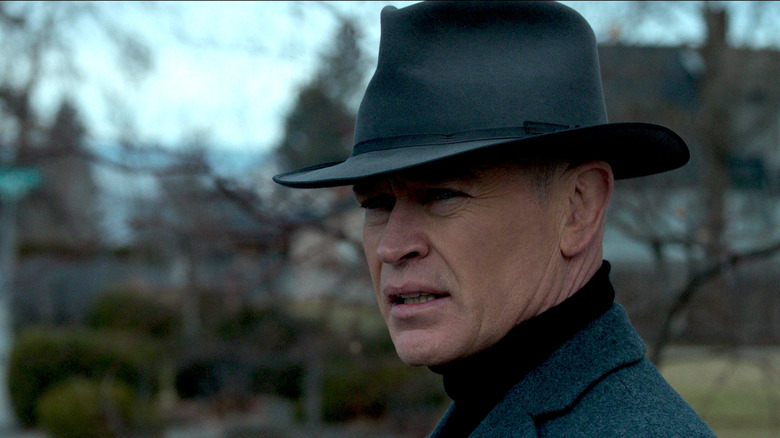 Cinedigm
You can't ask for anything better than that!
No, and then [to] have a big company like Cinedigm to say, "You know what, we love what you're doing. Go make more of these movies." Really? Okay, Coach, I'm going to get in for you and I'm going to crush it! That's what we're doing. I'm telling you, I'm the most blessed guy I know because ... I've got this beautiful wife, Ruvé, who has my back, and I've got God, who has my back, and these five kids that we adore, and we're building this company with them and for them. I couldn't be happier or blessed.
That's such an amazing place to be. That was one of the things that I particularly loved about this character because I like characters that do the right thing because it's the right thing to do. I feel like that doesn't always happen, especially in this type of genre. It's great that you're able to continue to expand his universe now.
Yeah. Part 3, we'll have in Chinatown, and Part 4 we're already working on, and this other Western that we're working on, and this other ... We're really, Derek and I are cranking stuff out. We'll be busy for the next few years, for sure.
"BOON" is now playing in select theaters and is available on demand and for digital rental or purchase.