What We Know About Jen Psaki's Reported Career Change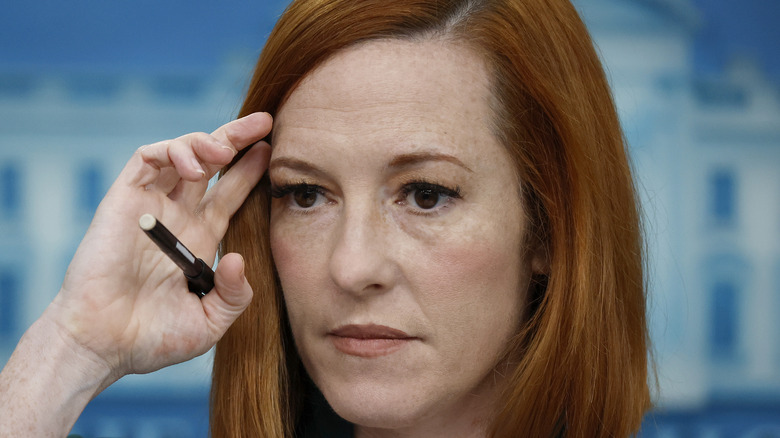 Chip Somodevilla/Getty Images
For the last 17 months, Jennifer "Jen" Psaki has been fielding hardball questions and keeping the public informed as the White House press secretary. Her intelligence and take-no-prisoners attitude has made her a popular and often-quoted figure as she addresses hot-button issues like abortion, parental leave, mask mandates in schools, and transgender women in sports. Psaki's October 19, 2021 briefing, for example, consists of one memorable time she faced off against Peter Doocy. The Fox News reporter tried to argue against COVID-19 vaccine requirements for police officers. The country would be less safe, he said, because thousands of officers would opt to quit working rather than get the jab. Psaki fired back, "What was the number one cause of death among police officers last year, do you know? COVID-19."
But Psaki, who was the White House communications director during Barack Obama's administration, is ready to move on to the next stage of her career. According to Axios, Psaki will be leaving her post at some point in May 2022, and is currently negotiating with MSNBC to join the network once she is no longer affiliated with the federal government. Sources told the outlet that the press secretary has spoken to some senior officials about her plans, but that she hasn't yet addressed the White House press team.
Jen Psaki may be following in a long political tradition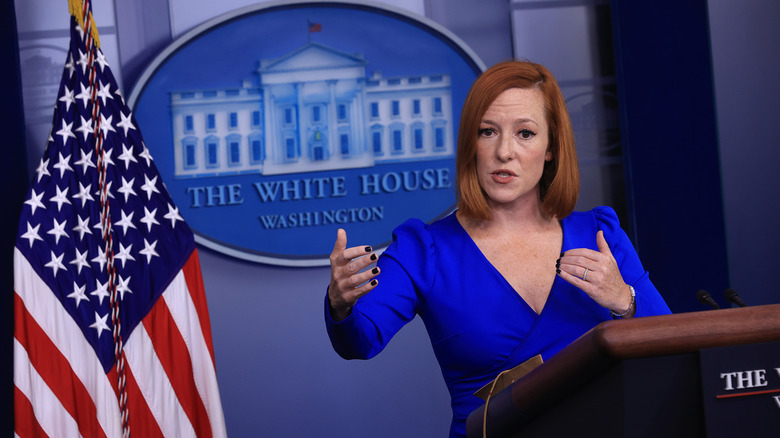 Chip Somodevilla/Getty Images
If the rumors about White House Press Secretary Jen Psaki joining MSNBC are true, she wouldn't be the first former presidential employee to make the move to TV. As Variety points out, the Fox News network has welcomed several Trump appointees since his administration ended, including his own former press secretary Kayleigh McEnany. Even further, former press secretary Dana Perino — who served in the George W. Bush administration and is still surprising fans with little known factoids — has enjoyed a fruitful media career since leaving the White House and appears on Fox's show, "The Five." 
Psaki is staying silent for now on her post-White House path. Having just recovered from a bout with COVID-19, she held a briefing on April 1 during which she was asked about the MSNBC rumor. She replied, "I have nothing to confirm about my length of public service or planned service or anything about consideration about next plans." Psaki was also asked whether she could be an "effective briefer" if she were allying herself with a news outlet. She responded, "I have taken the ethics, legal requirements ... very seriously in any discussions and in any considerations about future employment just as any White House official would. And I have taken steps beyond that to ensure there's no conflicts."