Trevor Noah Snuck A Subtle Will Smith Reference Into His Grammys Opening Monologue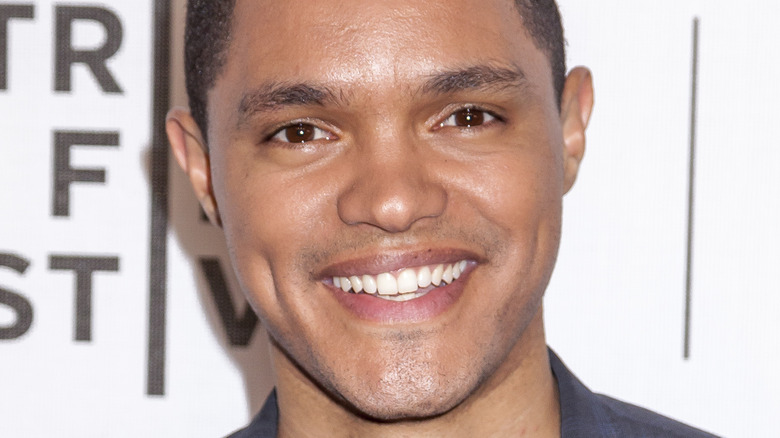 Sam Aronov/Shutterstock
The 2022 Grammys had a lot to live up to. After the now-infamous slap incident that occurred between Chris Rock and Will Smith on the stage of the Academy Awards the prior weekend, all eyes were on the Grammys to recover the industry's public perception.
While fans may have been hoping to avoid the drama that showed up at the Oscars, Mama Mia! reports that there is already some behind-the-scenes drama going down in the music industry. BTS, the popular K-Pop band, had a member test positive for COVID-19 leading up to the big show. Furthermore, Kanye West was uninvited due to the way everything in his personal life is unfolding. It suddenly appears like awards shows in 2022 are destined to be filled with drama.
Aside from the drama, there was some sad news going into this year's awards. Taylor Hawkins, the Foo Fighters' drummer, tragically passed away, leading the band to cancel their performance (via The Guardian). It seems like the Grammys had a lot of factors at play as the show broadcasted on Sunday, April 3.
The night's host, Trevor Noah, knew everything going into the night and decided to make light of all the dramatic circumstances by making a subtle nod to the infamous Oscars slap in his opening monologue.
Noah made a reference to the incident early in the night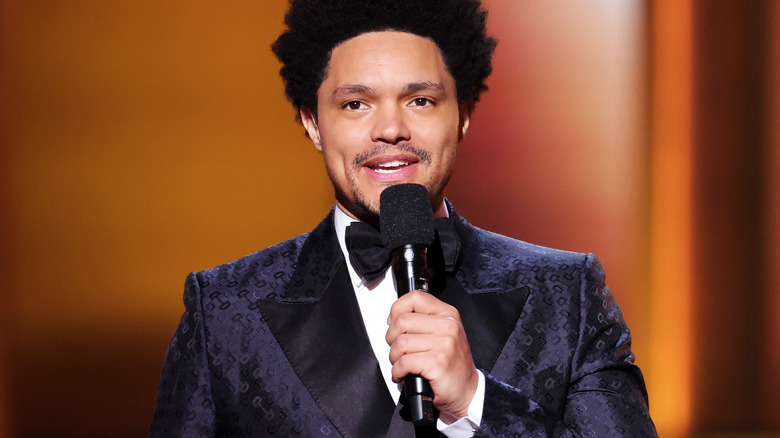 Rich Fury/Getty Images
It was no secret that the Academy Awards' slap was going to be heavy in the air. The evening's host, Trevor Noah, commented on the event on Twitter when it happened, writing, "[What the actual f**k]????? That wasn't scripted?????"
It then wasn't surprising that he chose to bring it up early in the Grammys to get his joke about the ordeal out of the way. His joke was subtle, but everyone knew what it was about (via Variety).
"Don't even think of this as an award show," Noah said. "It's a concert where we are giving out awards, we will be listening to music, dancing, sing, keeping people's names out of our mouths and we are going to give people awards all throughout the night. So let's get straight into it."
Of course, fans were quick to talk about the comment on Twitter, with one user writing, "'We'll be keeping names out of our mouths' [-] Trevor Noah," with a "Full House" gif that says, "You got it, dude." This, of course, references Will Smith saying last weekend, "Keep my wife's name out of your f***ing mouth." 
With this indirect mention out of the way, there was hope that no one would actually get slapped at this award show.