The Surprising Grammys Appearance That Left Viewers Choked Up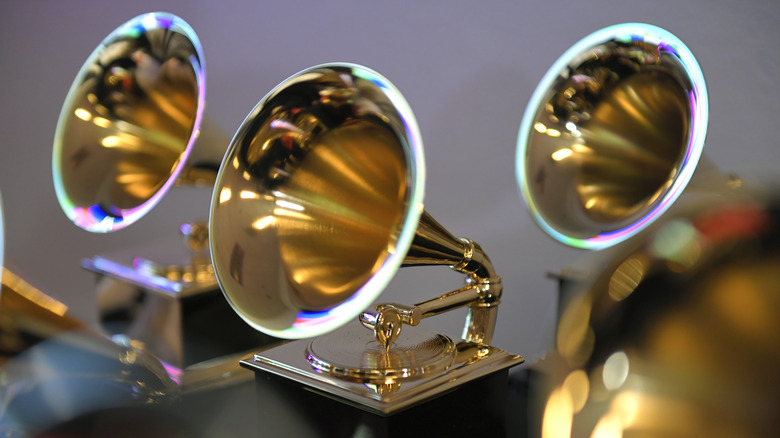 David Becker/Getty Images
The 2022 Grammy Awards had plenty of notable names in attendance, but no one was expecting a pretaped appearance by Ukrainian President Volodymyr Zelenskyy. 
The video was used to introduce John Legend's performance of "Free," which featured Ukrainian poet Lyuba Yakimchuk and singer Mika Newtown as well as photos of Ukraine's military and citizens fighting off the Russian invasion (via Yahoo!). 
During his speech, Zelenskyy explained that "our loved ones don't know if we will be together again. The war doesn't let us choose who survives and who stays in eternal silence. Our musicians wear body armor instead of tuxedos. They sing to the wounded in hospitals — even to those who can't hear them. But the music will break through anyway."
According to Variety, the video was shot within the last 48 hours in a bunker in Kyiv. There had been reports that Zelenskyy would appear during the 2022 Academy Awards, with cohost Amy Schumer encouraging Oscar producers to give Zelenskyy airtime. That never happened, and rumors that he would show up on the Grammys — either via satellite or in a pretaped speech — were never confirmed. 
However, Zelenskyy used his time during the ceremony to make a powerful connection between music and freedom.
Volodymyr Zelenskyy urged Grammys viewers to speak up through music
Kevin Mazur/Getty Images
Viewers were moved by John Legend's performance of his new single, "Free," during which was joined onstage by Ukrainian poet Lyuba Yakimchuk and singer Mika Newtown. 
But it was an appearance beforehand by Ukrainian President Volodymyr Zelenskyy that left many at home in tears. "Fill the silence with your music. Fill it today," he said, per Variety. "Tell our story. Tell the truth about the war on your social networks and TV. But not silence."
Social media users were quick to praise Zelenskyy's speech. "Thank you #GRAMMYs for giving space to President #Zelenskiy tonight," wrote one Twitter user. "Im crying." And another posted, "The Grammys just put the Oscars to shame."
The Hollywood Reporter revealed that the Grammys teamed up with Global Citizen and the Stand Up For Ukraine campaign for the segment in an effort to raise awareness for Ukrainian refugees who have been displaced by the war. 
"We are heartbroken by the situation in Ukraine, yet still moved by the resilient spirit on display there every day," said Recording Academy CEO Harvey Mason Jr. in a statement. "We hope the segment inspires our worldwide audience to get involved to support these critical humanitarian efforts."