Emma Heming's Life Has Been Turned Upside Down Amid Bruce Willis' Diagnosis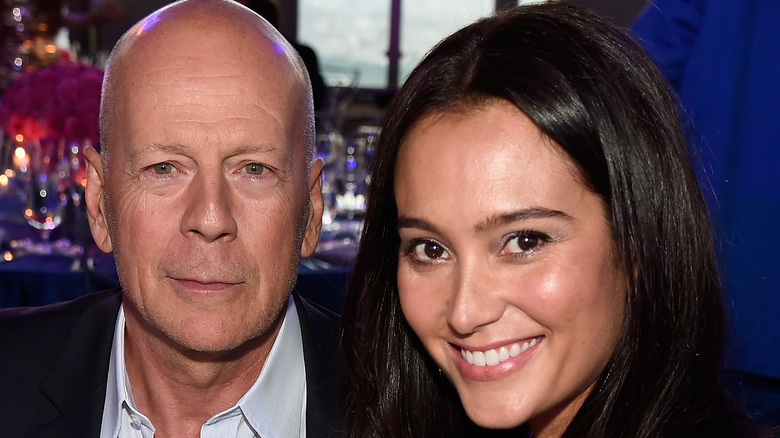 Kevin Mazur/Getty Images
Hollywood and fans around the world were saddened to learn that Bruce Willis had some devastating health news: He was being forced to step away from his successful acting career after being diagnosed with aphasia. 
According to The Mayo Clinic, it's a "condition that robs you of the ability to communicate. It can affect your ability to speak, write and understand language, both verbal and written."
The news was shared on Instagram by Bruce's wife, Emma Heming Willis, as well as his ex-wife, Demi Moore. "This is a really challenging time for our family and we are so appreciative of your continued love, compassion and support," they posted. "We are moving through this as a strong family unit, and wanted to bring his fans in because we know how much he means to you, as you do to him."
That family unit includes the three daughters Bruce shares with Demi — Rumer, Scout, and Tallulah — and his two girls with Emma, Mabel and Evelyn. After their split in 1998, Bruce and Demi remained close for their children, and that bond now includes Emma, whom he married in 2009, per US Weekly. 
In fact, when Bruce and Emma renewed their vows on their 10th wedding anniversary, Demi was in attendance. "She welcomed me into her family like I welcomed her into ours," Heming explained. "It was important for her to be there."
And there's no doubt that Emma is leaning on Demi for support as she watches her husband battle this condition.
Emma Heming was shocked by Bruce Willis' diagnosis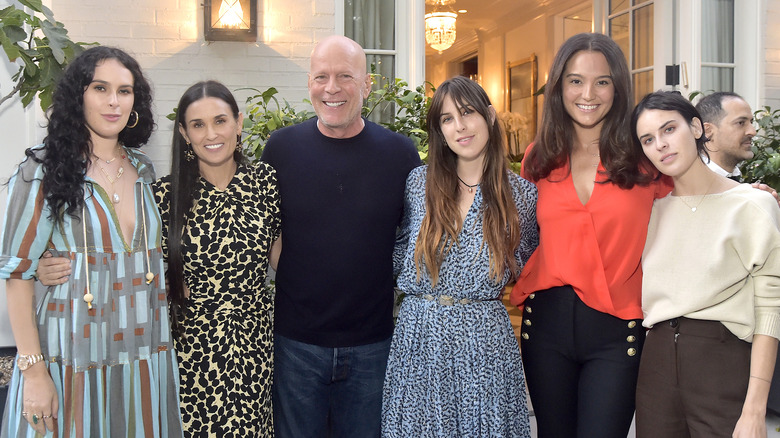 Stefanie Keenan/Getty Images
Emma Hemming is doing everything she can to help Bruce Willis during his battle with aphasia, and, according to sources, it hasn't been easy watching her action-star husband's health decline. 
"Because Bruce is older than Emma, they knew that his health might decline sooner than hers. Still, his diagnosis has been shocking for her," an insider told People. 
Luckily, Emma has plenty of support, most notably, Bruce's ex-wife, Demi Moore, and their three grown daughters. In addition, there is an assistant on hand to ensure Bruce is safe at all times, and his family has been consulting with doctors to make sure he receives the best treatment. 
Emma is also staying strong for the couple's two young daughters. "[She] has to keep it together for them," the source explained.
Another thing keeping the former model positive is the outpouring of love for Bruce — and the entire Willis clan — on social media. "your love, support, compassion, prayers really help. I'm grateful. Thank you from the bottom of my heart," Emma wrote in an Instagram Story, according to Page Six.