Body Language Expert Shares How Princess Charlotte Takes After Princess Diana
Patrick Van Katwijk/Getty Images
Princess Charlotte may not ever be able to meet her grandmother, Princess Diana, but she definitely knows about her. In a sweet Twitter post for Mother's Day in the UK, the Duke and Duchess of Cambridge posted the cards the kids made, including Charlotte's that read "Dear Granny Diana, I am thinking of you on mother's day. I love you very much. Papa is missing you. Lots of love Charlotte xxxxxxxxx". Charlotte is also reportedly going to eventually inherit one of Diana's namesake tiaras, the Spencer Tiara that Diana wore to her 1981 wedding, per New Idea. So there's definitely a connection between the two. And it seems like along with jewelry, Charlotte inherited some personality traits from her grandmother as well, and it was on display at Prince Philip's memorial.
Charlotte and her brother Prince George accompanied their parents Prince William and Kate Middleton to the memorial for Prince Philip. Overall, fans were happy to see the young royals at the memorial, according to comments on an Instagram post on the Duke and Duchess of Cambridge's Instagram page, and some noted how well behaved the pair were and how grown up they seemed. It was also a chance to get to see a bit of the personalities of the royal kids. And body language expert Judi James talked to Express about the personality similarities between the young princess and her grandmother.
Princess Charlotte might seem shy at first, like her grandmother did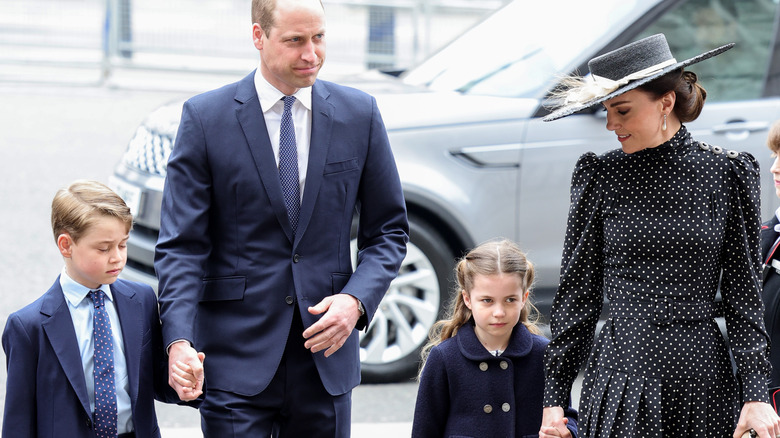 Chris Jackson/Getty Images
As Princess Charlotte entered Westminster Abbey for Prince Philip's memorial, she was holding Kate Middleton's hand and at one point, her mother reassured her that she could smile, which she then did. Judi James, a body language expert, told Express that Princess Charlotte might at first seem shy, the same way Diana did, "but beneath that appears to be an outgoing, fun personality." Diana earned the nickname "Shy Di" due to her habit of talking to people with her head down, according to Vogue. But her brother Charles Spencer denied that his sister was shy, telling People that she was "incredibly brave" and liked connecting with people.
And Charlotte has those tendencies too. According to Us Weekly, she enjoyed greeting guests to their house and asking them if they wanted refreshments. Charlotte's fun-loving, confident personality has been noted before. She got the nickname "warrior princess" for being adventurous and tomboyish, per Entertainment Tonight. And Queen Elizabeth even commented on the fact that between Charlotte and her older brother George, Charlotte was the "more assertive," via Town & Country.