Why Lululemon's Define Jacket Is Going Viral On TikTok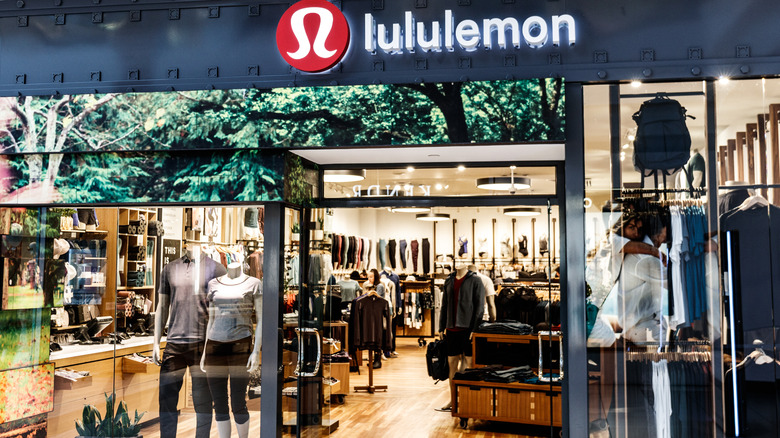 Jonathan Weiss/Shutterstock
We may receive a commission on purchases made from links.
Everyone who enjoys wearing athleisure has worn, or at least heard of, Lululemon by now. With a current count of 4 million followers on Instagram, the brand has taken the activewear industry by storm ever since it launched in 1998. This popularity shows that the brand's mission of creating innovative products that support wellness has truly resonated with its customers. In addition to its 550 brick-and-mortar stores worldwide, Lululemon has an online presence that caters to shoppers across the globe.
While fans have clamored for a variety of Lulu merch, the brand's line of Define coats and jackets have been standout products of late. Currently, there's no shortage of different styles of this form-fitting zip-up, including the Define Jacket Luon, the Hooded Define Jacket Nulu, the Define Jacket Luxtreme Jacquard, and the Nulu Cropped Define Jacket. All versions are selling at prices between $59 and $128. According to the website, the jackets are beloved because they are comfortable, stylish, and made for an active lifestyle. All of them have at least 4 out of 5-star reviews — and some sizes are even sold out! Clearly, they're a hot commodity.
TikTok can't get enough of this flattering jacket
Not only does Lululemon's Define jacket have glowing reviews on the website, but the clothing has gotten a lot of love on TikTok, too. For instance, one TikTok video with over 145,000 likes referred to this jacket as the "Lululemon bbl effect jacket." For those who don't know, a BBL is also known as a Brazilian Butt Lift, a procedure that many people get to move unwanted body fat to their butts, per Nylon. Considering that the product is called the "Define" jacket, we expect it to accentuate the body, but TikTok seems blown away by what the jacket can do for their figures.
Another popular TikTok video featured a girl zipping up her jacket and raving about how it transformed her body into an hourglass shape. (Yes, we're interested!) Furthermore, one skeptic who wasn't sure she believed the hype eventually tried out the jacket for herself in a review video on TikTok. Her video explains that while she thinks the price is absurd, the jacket does truly accentuate your waist, just as people claim.
Find similar products to Lululemon's Define Jacket
Although the famously flattering Define jacket is going viral, some people believe that Lululemon is too expensive and the product ultimately isn't worth the (admittedly) steep price. The good news is that TikTok is here for you once again: There are some affordable Lululemon dupes trending on the platform right now. So, if you're looking for a jacket that will still define your figure for a fraction of Lulu's price, you've come to the right place!
For example, one TikTok user uncovered an incredibly similar product that you can find on Amazon. This Women's Sports Jacket with a slim fit is currently retailing between $30 and $46. With 4.5 out of 5 stars, and over 6,800 reviews, it certainly seems worth the hype! "Everything about it is great. The material feels high quality and it is literally just like the Define jacket, even down to the seem details," one user raved in their 5-star review. Another option is a dupe that's currently available at Walmart for just $30, according to TikTok. Either way, whether you decide to splurge on the original, or explore some dupes, we love the style of this flattering jacket!