The One Color Kate Middleton Is Hardly Ever Spotted Wearing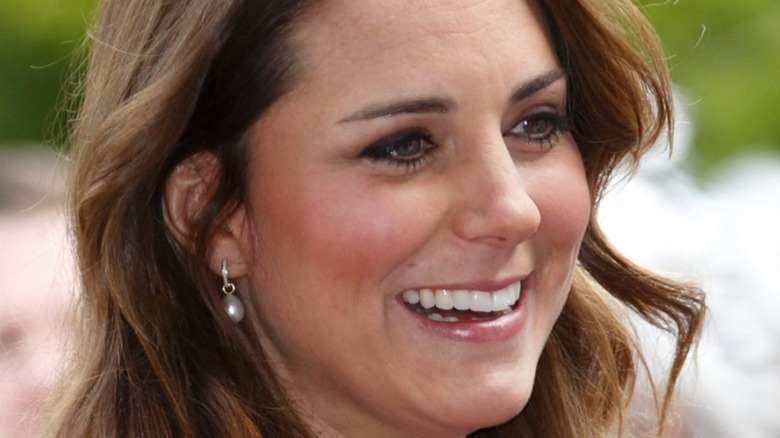 Max Mumby/indigo/Getty Images
Royal tours mean royal clothes, and Kate Middleton wore a lot of outfits on her 2022 trip to the Caribbean. Visiting the islands of Belize, Jamaica, and the Bahamas (via Town & Country), the Duchess of Cambridge wore a stunning array of dresses and outfits that Middleton expertly matched to the colors of the nation's flags. Of course, the most prominent hues were bright yellows and deep blues, which complemented the flags of Belize and Jamaica. But Middleton also wore pastel greens and pinks on occasion, serving a beautiful summer vibe as she and Prince William embarked on their royal duties.
During her visits to Hopkins in Belize and Trench Town in Jamaica, Middleton opted for more daring ensembles — two vividly patterned dresses designed by Tory Burch and Willow Hilson Vintage (via Insider).
Looking back at her outfits across the eight-day tour, it would seem as though she wore every color under the rainbow (and then some). But there was one noticeably absent color — orange.
Kate Middleton and Queen Elizabeth share a common love of bright colors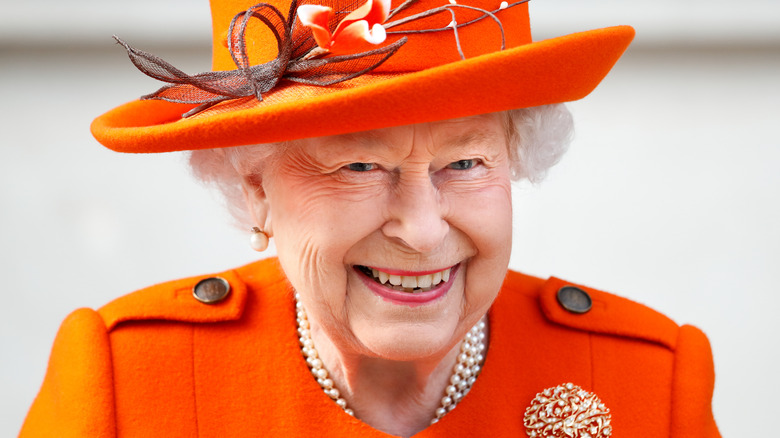 Max Mumby/indigo/Getty Images
If you're familiar with the British monarchy, you'll definitely have noticed Queen Elizabeth's impeccable fashion sense. Regularly seen in an array of vivid colors, the Queen has truly mastered the art of harnessing a rainbow wardrobe — and for good reason. As journalist Robert Hardman wrote in his biography of the British monarch, the only colors she avoids wearing are neutrals. According to Hardman, the monarch once told him she was afraid she'll blend into the crowd (via Good To Know). "I can never wear beige because nobody will know who I am!" she once said.
The Duchess of Cambridge has undoubtedly followed in her grandmother-in-law's footsteps. Aside from wearing beautiful florals, Middleton gravitates towards a similarly bright palette of colors — often coordinating with the Queen when they attend royal events together, per Insider. But unlike Her Majesty, who can often see wearing the brightest oranges you can imagine, Middleton tries to avoid wearing the color.
This may be the reason why Middleton avoids wearing orange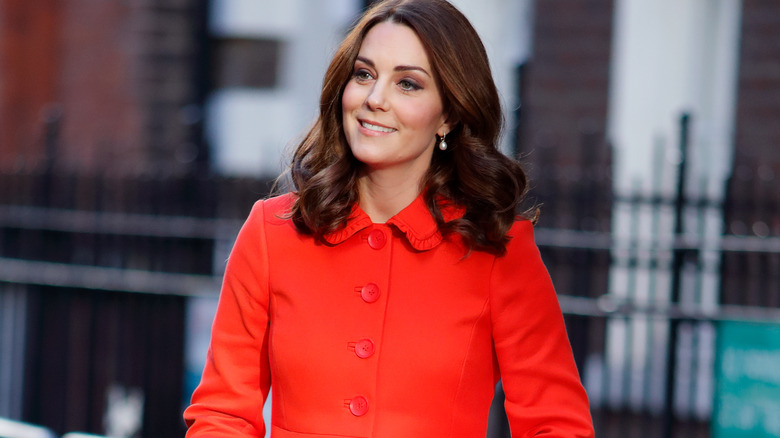 Max Mumby/indigo/Getty Images
That's not to say Middleton hasn't worn orange on occasion. Still, you'll rarely see the secondary color in her wardrobe. Although nothing stops her from wearing the color, it seems like she's not a fan of it, Hello! magazine notes. However, there could be a deeper, more scientific reason why she avoids it.
Speaking to the magazine, color analyst Gabriella Winters said that Middleton's preference may be down to how she perceives different hues compared to her complexion. "People absorb and reflect the same colors differently depending on their unique biological makeup," Winters explained. "When a color is placed adjacent to your face, it will reflect the wavelength onto you." Sometimes, specific colors like orange can cast an unflattering reflection.
Referencing one of the rare occasions Middleton wore orange, Winters notes that the color makes her skin appear yellow. "This is essentially scattered orange light around her face because she could only partially absorb the temperature of this specific color," Winters concluded.