Susan Walters Opens Up About Her Highly Anticipated Return To The Young And The Restless
Is dead ever really dead on a soap opera? Not if "The Young and the Restless" has anything to say about it. The character of Diane Jenkins, last played by current "General Hospital" star Maura West, seemed really and most sincerely dead when Nikki Newman murdered her in 2011 and Deacon Sharpe (Sean Kanan) allegedly bludgeoned her head for good measure. It was a gruesome soap murder and one fans assumed would stick, but it turned out that was not meant to be.
More than a decade later, it turns out Diane is very much alive and it was Deacon (now a character on "The Bold and the Beautiful") who saved her in the end. She turned up in Jack Abbott's life again in March 2022, this time played by Susan Walters, the second actress to bring Diane to life, with the first being Alex Donnelly, per Soaps In Depth. Walters is thrilled to be back on the CBS soap, an opportunity she never thought she'd have.
Why Susan Walters played Diane the first time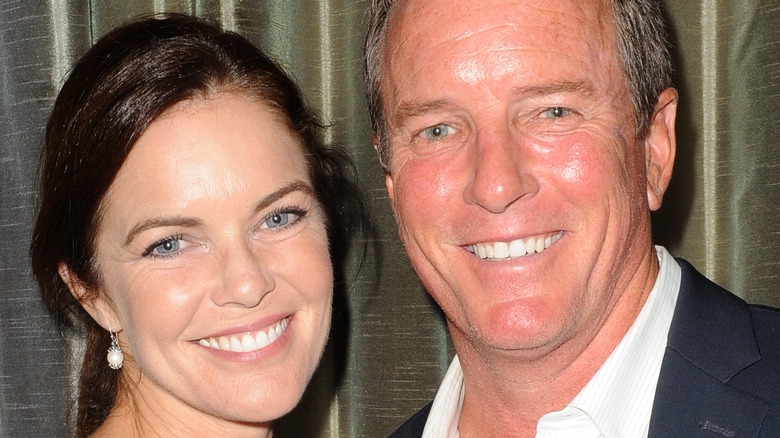 Jody Cortes/Getty Images
Susan Walters got her start as an actress on soaps and loved the genre. She was cast as Lorna Forbes on the half-hour ABC soap "Loving" in 1983 and remained with the show until 1986, per IMDb. It's also where she met her husband, Linden Ashby, who played Curtis Alden on the soap the last year Walters was there.
By the time she stepped into the role of Diane Jenkins on "The Young and the Restless," Walters was ready for steady work for various reasons. "My main priority at that point was I had tweeners, my daughters were like 11 and 13," Walters said on the 'Dishing With Digest' podcast. "They were in middle school and I thought this is the time that I really don't need to be  commuting out of state or out of the country for a job."
Walters also has very fond memories of her first "Y&R" run. "I had so much fun with Peter [Bergman, Jack] and Michelle [Stafford, Phyllis] and Christian [LeBlanc, Michael] and everyone on the show back then, it was great," she said. When I came on in 2001, I picked up the first Diane's storyline so a lot of what I did was reactive to the bad things that she had done ... So you come in with a lot of baggage and I am like, ok, that makes things spicy and then just, Diane's obsession with Jack is just crazy." 
Susan Walters is back as Diane almost 20 years later
It's been close to two decades since Susan Walters became Diane Jenkins on "The Young and the Restless" and the actress was surprised when she got the call to reprise a character that truly did seem to meet her maker. "I knew that she was killed off, but I hadn't really kept up with the show that much and then I got a phone call from [Executive Producer] Tony Morina and he was like 'Hey, ya know, what do you think about coming back on the show and I am like 'yeah, sounds good' and he is like, 'You know, the character died, and I was like 'Yeah, wasn't me.'" she said on the 'Dishing With Digest' podcast, referring to the fact that Maura West played Diane when she was allegedly killed. "He was like, 'Don't worry, we'll make it make sense and I was like, 'I never died.'"
Fans can't wait to see Diane get to interact with her son, Kyle, as actor Michael Mealor returns to the soap and gets to come face to face with his supposedly dead mother. This will be the first adult version of Kyle that Walters works with and she has nothing but good things to say about the actor.
"He seems to be very popular, very professional, nice, kind, and open actor to work with," she said on the podcast. "He's great, I'm really looking forward to working with him more."