Bucket List Stories Guaranteed To Make You Cry
Do you have a bucket list of things you want to do in your life? How often do you actually do the things on that list? It's all too easy to get lost in day to day life and to put the things on your bucket list into the "someday pile." When the people in these stories learned they or their loved ones didn't have much time left, they chose to spend their remaining time doing things that mattered to them. Some of them inspired millions of people in the process.
He announced his bucket list and raised millions of dollars for cancer research
As a teenager, Stephen Sutton dreamed of becoming a doctor. But then, at the young age of 15, he was diagnosed with bowel cancer, and realized that he didn't have the time he needed to fulfill that dream. Instead of getting depressed, he switched gears and wrote a long bucket list, in which his main goal was to fundraise and to raise awareness about cancer in teenagers and young adults. As he said, "The saying goes, when life gives you lemons make lemonade. But what do you do when life gives you cancer?"
His bucket list included skydiving for charity, organizing and participating in a flashmob, and inspiring someone else to become a doctor or fundraiser. Stephen raised an astonishing £5 million as of August 2017, and inspired millions of people on the way. He even met Prime Minister David Cameron, who said, "He's amazing, just an inspiration. Anyone who watches that video on YouTube just can't help but be impressed by his bravery and courage but also has incredible warmth and passion for life. It really is extraordinary." Sutton passed away at the age of 19 on May 14, 2014.
A 2-year-old dying from cancer went to prom and got her driver's license
Shiann Lockhart was born with a heart defect and received a heart transplant at five weeks old. For a year, she lived a healthy life. But she still suffered with many viruses, and when her parents brought her back to the hospital to see what was going on, they found out she had mono. In transplant patients, untreated mono turns into a cancer called PTLD (Post-transplant Lymphoproliferative Disorder) Lymphoma.
They tried chemotherapy, but when it almost killed Shiann, her parents, Cora and Troy, decided to spend her remaining time celebrating the major milestones she would never have. "She has cancer in her brain as well as her whole body so we decided enough was enough. She has been through too much in her short little life to have to deal with any more," Cora told NBC4. "So we made the decision to bring her home on hospice and let her live out the rest of her time here on earth happy and peaceful."
They started a Facebook page and asked friends and family for ideas for a bucket list for her. She had a "first date" with her grandpa, got her driver's license, and was even crowned prom queen. Shiann passed away less than a week after her third birthday.
A dying golden retriever got married and rode in an ambulance
When Mister Molson, a 12-year-old golden retriever, was diagnosed with terminal cancer, his family decided to make the most of the months he had left. Tim Griffin, Mister Molson's owner, wrote, "We hope to show Molson the amount of love he has shown us these past 12 years." He and his kids made a bucket list, captured on their blog, that included things like "watch a sunset," "become a paramedic," and "ride in a Harley Davidson sidecar."
One of the most interesting things on the bucket list was a doggie wedding, in which Mister Molson wore a tux and married his friend Josie, a "black lab with a heart of gold." His original goal was to get a girlfriend, but his owners figured they would take it to the next level.
He also did more dog-like things, like playing in the snow and going to the dog park. In addition, he became an emotional support animal so that he could visit a nursing home. Mister Molson passed away on August 14, 2017.
A 16-year-old with leukemia had an unusual bucket list
Alyssa Elkins was diagnosed with leukemia at age 14. She received a bone marrow transplant and chemotherapy, after which her cancer went into remission. But then, the cancer returned, and another bone marrow transplant was not an option. Elkins chose not to receive treatment. Her mom Tiffany told PEOPLE, "She now wants to let the Lord provide a miracle or live out her life doing the things she loves."
The night she was told her cancer had returned, Alyssa shared the sad news with her eight siblings. One of her sisters suggested they create a bucket list for Alyssa so that she could fill her remaining days with unforgettable experiences. Her bucket list included having a wedding ring made, visiting a diamond mine, and tazing someone. Her uncle loved her enough to be tazed by her, after which Alyssa said, "I'm never doing this again."
With two weeks to live, she got into college and pulled off her senior prank
Audrey Lupton was diagnosed with rhabdomyosarcoma, a rare muscle cancer, in February of her junior year of high school. The following June, she was told she only had two weeks left to live. Her friends, calling themselves Audrey's Army, got to work to give Audrey the experiences she would have had in her senior year.
They got together for their senior pictures immediately, because they wanted to do it before her chemotherapy treatments began. Even though Audrey couldn't pull off a senior prank herself, her friends carried out her idea of decorating a teacher's classroom in paraphernalia of Ohio State, the rivals of his favorite team, Michigan. Her teachers brought her boxes of strawberries to carry out her wish to go strawberry picking.
On July 3, 2017, over 50 friends and family members attended Audrey's high school graduation at the hospital. She was even accepted into multiple colleges, including Butler and the Art Institute of Chicago. She told IndyStar, "Those were two of my reach schools. It's definitely been crazy... I just feel really honored. I feel really special. "
Audrey passed away three days later, after telling her friends and family what she expected them to do when she was gone. She had completed her bucket list and wanted to be a part of their lives moving forward.
A dying 6-year-old became a firefighter and a cop
Olivia Gant struggled with medical issues from the time she was nine months old. Her mother, Kelly Gant, wrote on her GoFundMe page that Olivia had already been diagnosed with many other disorders, including hydrocephalus and autism, when she received another diagnosis at just 5 years old — Neurogastrointestinal Encephalomyopathy.
Olivia made a bucket list of things she wanted to do, including becoming a firefighter and a police officer. At 6 years old, she got the opportunity when she rode in a fire truck and fought a real fire. Then the Denver Police Department fulfilled her wish to become an officer by giving her a uniform, taking her for a ride in a patrol car, and swearing her in as chief. Kelly explained to USA Today, "With her medical condition, we've called 911 several times. Every time the ambulance comes, the police respond. She wanted to be like the ones that come help her." 
According to the most recent GoFundMe update for Olivia, she passed away on August 20, 2017. Her mother wrote that within half an hour of Olivia's passing, "staff members were showing up to hug us, love us, cry but mostly tell of how she touched them." 
Drug rehab was part of his bucket list
At the age of 48, John Eggers received a diagnosis of glioblastoma stage 4, an aggressive form of cancer. Eggers told KTLA 5 that without treatment, his life expectancy is three months, and with treatment, it's 12-15 months. He went on to say, "As long as I can live, that's what I want. I want to live a better life, I want to live a happy life, and I want to be able to enjoy what I have left and be able to give back."
Eggers felt that he spent too much time thinking about himself prior to his diagnosis. Afterward, he participated in Walk for a Cure. He also recorded himself doing the things on his bucket list, including going on a trip across Europe and meeting Joe Biden. He recorded his experiences to inspire other people to live their lives more fully. 
One of his bucket list items was to get off of opiates, which he had become addicted to due to a back injury. He told News Corp Australia, "I realise my life span is very short and that is acceptable to me. What's not acceptable is wasting what time I have left on drugs, opiates."
Eggers passed away on October 19, 2014 after a two year battle with cancer.
After his mom lost her job, they went on a mother-son bucket list adventure
When Rebecca Danigelis was fired from her job of 50 years, the 75-year-old felt upset and lost. Little did she know that it would provide the impetus for some of the best adventures of her life. Her son, Sian-Pierre Regis, decided that he would help his mom do the things she never had time to do when she was working as a housekeeper.
Regis told ABC News, "I was like, 'I have a little bit of cash. Let's just write out a list of all the things you couldn't do, and let's do them,' and it really was a distraction for her because of her head space."
Regis went to a hip-hop class with his mom, who is a white mom of two black children. He also helped her start an Instagram account. Regis is making a film about their experience, titled Duty Free, which was successfully funded on Kickstarter. The film explores the tensions between having the freedom to do what you want while at the same time facing the financial constraints that come with unemployment.
His final wish was to be married to his high school sweetheart
Luke Blanock was diagnosed with bone cancer at the age of 16. An all-star athlete, Luke tried not to let his disease keep him from playing the sports he loved. A year after he was diagnosed, after multiple rounds of radiation and chemotherapy, Luke was told his cancer was gone. But then, three months later, it returned. He went in for more chemotherapy and radiation, and the cancer seemed to have been contained to one spot on his femur. He had his proximal femur and part of his hip removed. But then the cancer came back, and this time it was terminal.
That's when he decided to propose to his high school sweetheart, Natalie Britvich. He told TODAY, "I think any young person dealing with cancer... has to mature at a pretty fast rate, so I realized what was most important to me and acknowledged it before most people do. [It] was the people around me." 
The two married on February 19, 2016, with the help of many donations from the local community, including a location, food, and flowers. Luke passed away six months later, on August 7, 2016.
Her bucket list included eating a Dorito taco and skinny dipping
In November 2009, Lauren "Lola" Scott Chiodo was diagnosed with cancer at age 12. She went through five chemotherapy treatments, 36 radiation treatments, and two relapses. The cancer started in her abdomen and moved to her lungs. A tumor almost completely filled her right lung by June 2013, according to her Facebook page.
That's when she wrote out a bucket list and shared it on her blog. She explained, "The hospice nurse just came over. We talked about oxygen tubes, how my body will slow down, how I want to go and DNR papers. It was really scary. It got me to thinking what I want to do before I go. Here are a few things I wrote down." The list included scuba diving, skinny dipping, and putting a piece of gum on the gum wall in Seattle. Lola told Fox News that one of her best experiences while completing her bucket list was a trip to Tahoe, where she got to cross skinny dipping and kayaking off of her list.
Lola passed away on August 8, 2013. Her mother, Cherri Chiodo wrote on Facebook, "While words cannot explain the sadness we are feeling right now, knowing that she WON the fight against cancer and is finally whole again brings us solace."
They completed a bucket list for their newborn knowing he would only have a few hours to live
When Jenna Gassew was 14 weeks pregnant, she found out that her baby would be born with anencephaly, which meant that he would only have a few hours to live. The couple was devastated. "I was speechless and my head was spinning. I couldn't believe that our baby would be leaving us so soon," Gassew wrote. She shared her grief with her husband, Dan Haley.
The couple decided to give their baby as many experiences as they could before he was born. They went to the top of the Empire State Building and met the Philadelphia Phillies. When they found out their baby was a boy, they named him Shane. Gassew wrote, "For 39 weeks we carried our son with us through adventures together as a family. We created memories that would last us a lifetime, and a journey that, in itself, was a miracle. We learned what true love was, and what it meant to be parents to a child who wouldn't be here long on earth with us."
They finished the entire bucket list just a few hours before Shane was born. Shane lived just long enough to meet his family and be baptized. On their Facebook page, Shane's parents wrote, "Shane spent his entire life in the arms of people that loved him unconditionally and I don't think you could ask for a more beautiful life than that."
A dying 5-year-old met her idol, Taylor Swift
Ava Hadfield went through 46 weeks of chemotherapy, 31 rounds of radiation, and three surgeries by the time she was 5 years old. Ava had been battling brain cancer for three years when her parents decided she needed a "Dreams and Wishes List." One of the top items on her list was meeting Taylor Swift.
Swift went to Ava's hometown, Edmonton, in August 2015, and her team contacted the Hadfields beforehand to tell them she would be able to meet Ava. Ava, who owns more than two hundred different lipstick colors, wore Swift's favorite lipstick, Ruby Woo. The two took a selfie together, and Ava rated Swift a 20 out of 10.
While Ava's cancer is terminal, an update on the Ava's Army Twitter page in April reports that her tumor is stable and she celebrated turning 8 years old in August 2017.
Make the most of your life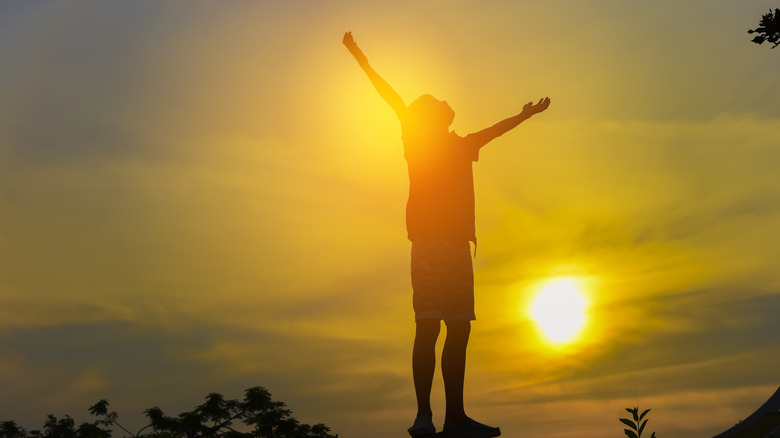 Shutterstock
These inspirational stories prove that you don't have to let an illness or terminal diagnosis hold you back from living out a full life. They show that even in the face of debilitating illness, it's possible to have adventures and enjoy your time on earth. But you don't have to wait until the end of your life to make a bucket list and start doing the things that light you up. Let these inspiring stories push you to live your life more fully, every single day.