The Ultimatum's April Marie Reveals Her Reasons For Going On The Show - Exclusive Interview
Fans of Netflix's "Love is Blind" will be excited for their new dating series "The Ultimatum: Marry or Move On." Unlike "Love is Blind," which centered around couples meeting and forming relationships for the first time, this one focuses on six already established partnerships. Each of the couples has been together for at least a year and a half, but they've reached a crossroads in their relationship where one partner is ready to get married, and the other is unsure.
Through the reality TV series, the couple is challenged to commit to marriage or move on after an eight-week period. The twist is that during that time, each chooses a new partner from the other couples. The rearranged partnerships then live together as they explore what another possible future could look like.
One of the participants in Season 1 was April Marie. She issued the ultimatum to her boyfriend Jake Cunningham to propose or end the relationship. During an exclusive interview with The List, April discussed what made her experience on the show so challenging and what advice she would give someone at a similar pivotal moment in their relationship.
Why April didn't feel prepared for The Ultimatum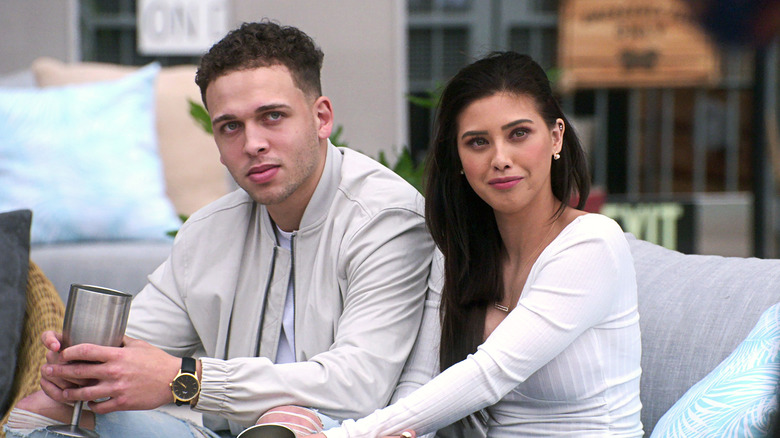 Netflix
What made you want to take the step to go on this show? You gave your partner an ultimatum, but then, what made you interested in taking the next step of going through this experience along with that?
April: One was that I was already hounding and nagging; I'm like, "Let's get married. When are we gonna do it? We can do it tomorrow. Let's do it now. Let's do it today. We finance each other's vehicles. I lived with you for a year and a half. I do your laundry. I cook. We wake up to each other every morning, go to bed together every night. What gives?"
It's so funny because I've been, as he says, I was pretty hounding him on, "Let's get married. Let's do it," because I hate wasting my time. My relationship before this one was three to four years long, and I was like, "All right. We're not getting here, and I'm done." I was like, "I'm not going to go down that road again of wasting four or five years of my life," and "[The] Ultimatum" [cast] us, and I was like, "God has answered my prayers." And so, "[The] Ultimatum" it was.
You probably went into the process of knowing it would be potentially pretty difficult, but do you feel like you were able to be prepared for what that would feel like, actually going through it?
April: That is a funny question. [I can't say] "I knew that it was going to be a little bit difficult going through this experience," because I didn't. I was 100% confident that this is going to bring us together. It's going to bring us closer to realize, ultimately, what we have here and value it.
Jake was the one that was like, "I don't want to do this. I'm really scared. This is a dumb idea," and we get on the show. We go on. I'm having the worst time of my life, and he is having a ball. Week one, I [thought], "All right. This is not fun."
Why she's nervous for the series to come out
If you could give advice to anyone in a similar situation, where they're ready to move forward and maybe their partners on the fence...
April: Ladies, please don't go tell your husband that I told you to give him an ultimatum to put a ring on it, or you ain't going on the gram. I'm just kidding, but I do believe that some people want commitment, some people don't, and that's okay. There are two sides of the story. If you really love somebody, you're going to want to spend the rest of your life with them. That's all that I'm going to say. [If] yyou truly love someone, and you can't picture going a day without them, then call it official. Make it official.
With the show coming out, like you said, watching it back and everything, how are you feeling with that being released and people watching it? Are you nervous about people's perceptions?
April: Yes, I am. Everyone's told me, "You're going to be looked up to after watching this. You went through a hell of a rollercoaster." I feel like watching it back, I'm embarrassed at how much I cried. I'm so embarrassed. Every scene is like, I'm crying in a restaurant, I'm crying in the bathroom, in the bedroom, on the street.
I'm so embarrassed that they didn't even really get scenes of me talking, having a normal conversation. It was snot coming out of my nose, tears rolling, makeup on my chin. It is what it is. That was my personal journey, and the world can relate to seeing how many emotions that this experience actually brought.
Episodes 1-8 of "The Ultimatum" are now streaming on Netflix starting April 6 with the finale and the reunion dropping April 13.