Camilla Parker Bowles' Bold Comment About Colin Firth Is Raising Eyebrows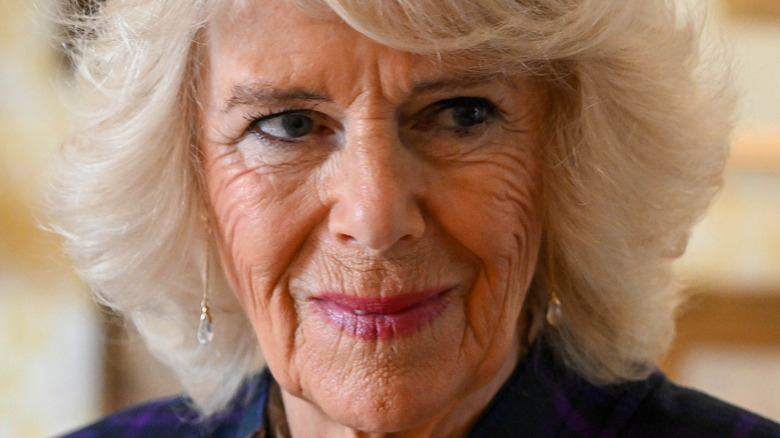 Finnbarr Webster/Getty Images
What began as an infamous royal scandal has mellowed over the years into an enduring romance that has gotten the blessing of the queen herself. Back in 1993, a leaked tape of a steamy phone conversation between Prince Charles and Camilla Parker Bowles proved that they were having an affair back when they were both still married (via the Mirror). Princess Diana's tragic death four years later only served to fuel public resentment against the couple who had broken her heart. 
But Charles' devotion to his first love never wavered. He gradually began making their relationship public in the hopes that both his family and all of Britain would come to accept Camilla. His mother, Queen Elizabeth, was one of the biggest challenges. It wasn't until 2000 that she allowed herself to be seen at an event where Camilla was also a guest, according to Town & Country. But the queen has since warmed to her daughter-in-law. Commemorating her historical Platinum Jubilee, Her Majesty announced her wish that Camilla be named Queen Consort when Charles eventually becomes king (via CBS News).
Given her decades-long romance, it's hard to imagine the Duchess of Cornwall fancying anyone else, much less fangirling over a cute celebrity. But she did just that while on a trip to a historical site.
Camilla Parker Bowles made a saucy joke about Colin Firth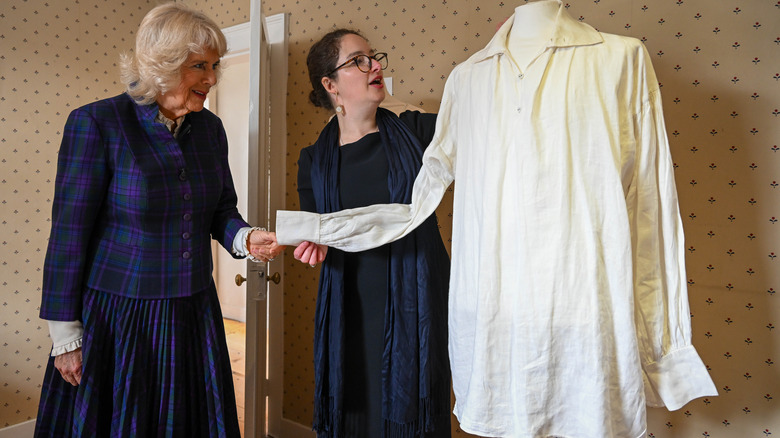 Finnbarr Webster/Getty Images
The Jane Austen House in the English village of Chawton is where Austen wrote such classic novels as "Pride and Prejudice" and "Sense and Sensibility." It's a popular destination for lovers of literature — among them Camilla Parker Bowles. The Duchess of Cornwall took a tour of the home on April 6, 2022, and met with staff members and trustees. Director Lizzie Dunford said in a press release, "It was a delight to show Her Royal Highness around the House as she is such an avid reader and supporter of literacy."
Camilla admired Austen's writing table, the first editions of her famous books, and samples of her jewelry. However, one artifact in particular really caught her attention. The museum currently has an exhibit of Regency-era undergarments, and included in the collection is the white shirt Colin Firth wore as Mr. Darcy in the 1995 BBC series "Pride and Prejudice." In an iconic scene, Firth emerges from a jump in a lake, looking rather damp and hunky (via The Guardian).
The memory was still fresh in Camilla's mind as she examined the shirt and remarked, "But he's not in it — that's a bit sad" (via YouTube). The Austen House's director, Lizzie Dunford, agreed that it wasn't "quite as damp as it was." To that, Camilla quipped, "You could give it a good spray."
Firth, who's not active on social media, hasn't commented on the duchess's encounter, but one might imagine he'd be flattered to have the future Queen Consort admiring his most famous costume.