The Touching Way Prince Philip Consoled Prince William During Princess Diana's Funeral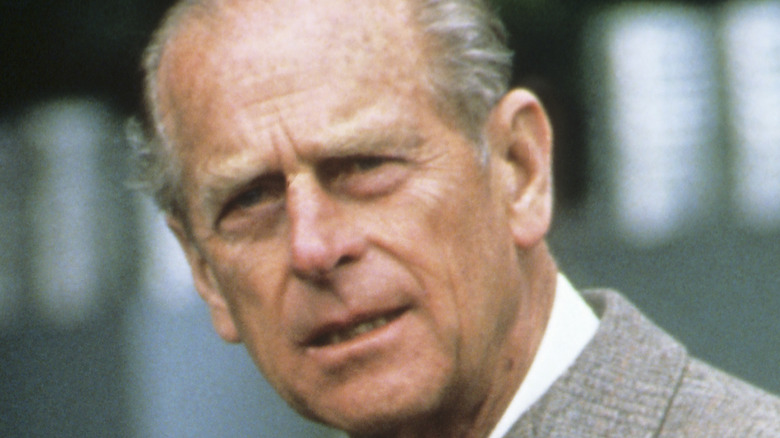 Georges De Keerle/Getty Images
On August 31, 1997, Princess Diana died at 36-years-old. Just before midnight, the car Diana was traveling in collided with a pillar in the Pont de l'Alma tunnel in Paris, France (via Parade). She, along with her boyfriend Dodi Fayed, and driver Henri Paul, died from their injuries.
Less than a week after her death, Princess Diana was given a royal ceremonial funeral. Her casket traveled from Buckingham Palace to Westminster Abbey in a procession led by the Queen's Life Guard. Diana's coffin was followed by those closest to her, including her ex-husband Prince Charles, their young children Prince Harry and Prince William, her brother Earl Spencer, and Prince Philip.
While the boys had a strong support unit surrounding them on that tragic day, it was an understandably traumatic situation to experience. "My mother had just died, and I had to walk a long way behind her coffin, surrounded by thousands of people watching me while millions more did on television," Harry told Newsweek in 2017. "I don't think any child should be asked to do that, under any circumstances. I don't think it would happen today."
Following Prince Philip's death in April 2021, Princess Anne revealed that he was intrinsic in giving his grandsons the courage to walk in the funeral procession (via Grazia).
Prince Philip agreed to walk behind Diana's coffin on one condition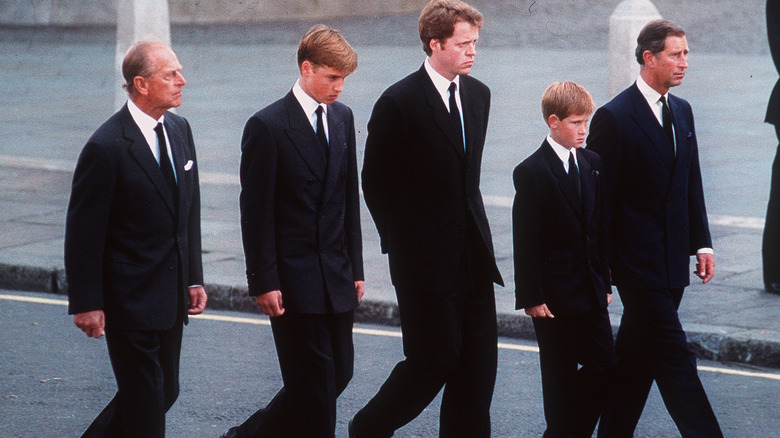 Anwar Hussein/Getty Images
Speaking with ITV News, Princess Anne spoke of how her father would only walk behind Princess Diana's coffin if he was joined by his grandsons. "I seem to remember them saying that, in fact, it was a question of, 'If you'll do it, I'll do it'", she recalled (via Grazia). "That was him as a grandfather — 'If that's what you want to do and if you want me to be there, I will be there.'"
According to the Evening Standard, this conversation happened the night before the funeral. In the days following Diana's death and in the lead-up to her funeral, Prince Philip made it his priority to look after his grandsons. Anji Hunter, the government relations director to former British prime minister Tony Blair, told the Evening Standard how Prince Philip intervened during a conference call. "We were all talking about how William and Harry should be involved and suddenly came Prince Philip's voice," she said. "We hadn't heard from him before, but he was really anguished. 'It's about the boys,' he cried, 'They've lost their mother.'"
Prince Philip reached out to comfort William during the procession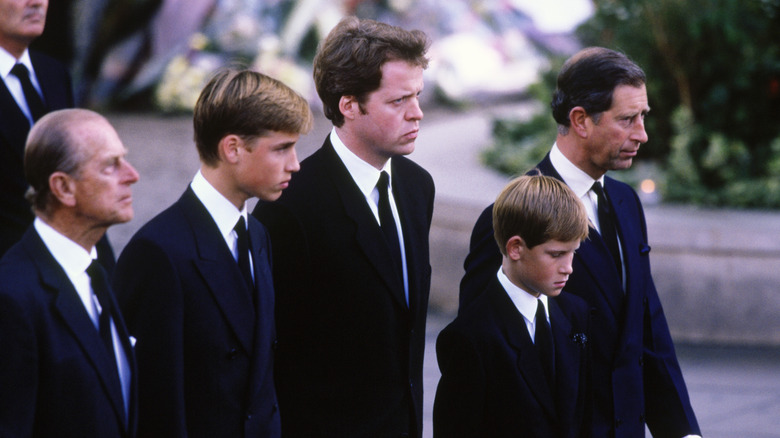 David Levenson/Getty Images
On the day of the funeral itself, Prince Philip was constantly checking to see if his grandsons were alright. At one point during the procession, as they walked under an arch, the Duke of Edinburgh reached out to William to give him support as they were walking side by side. While Prince Philip himself never spoke of this moment in public, he did reportedly tell Martin Palmer, co-founder of The Alliance of Religions and Conservation, about comforting Willam.
"There's a moment where they go under the Horse Guards Parade arch where it's quite clear" that he reaches out to William, Palmer said in an ITV documentary (via The Mirror). "I asked him about this [and] he said, 'Yes, I didn't think the cameras could see us.'"
Palmer continued, "You've just got to watch that moment and realize here is a grandfather who is trying to help his young, very vulnerable grandson struggle through this awful, awful moment." Palmer added that coming from a dysfunctional family himself, Philip "did his damnedest to make sure that did not happen to his grandchildren."