Should You Use Regular Mascara On Your Eyebrows?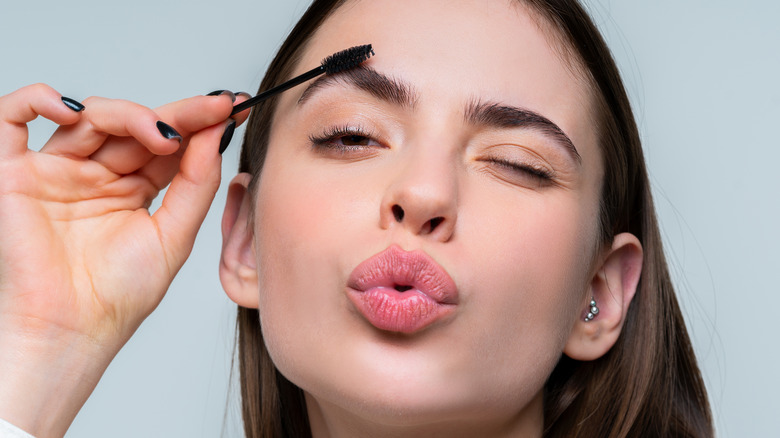 Puppy 9/Shutterstock
Eyebrows are a distinctive, face-framing feature. According to Healthline, eyebrows protect our eyes, elegantly express emotions, and are a key component in recognizing a person. While it can be easy to make mistakes with eyebrow grooming (hello, overtweezing!), well-maintained brows can elevate your look and make you appear younger, per Highbrow Beauty.
Three of Glamour U.K.'s best eyebrow trends highlight natural, fluffy, or feathered brow looks. Volume is a key component to achieve a fluffy or feathered brow. Makeup artist Melina Medhin told Allure, "Combing up your brow hair [upward] is almost like giving yourself a facelift." She recommends using a spoolie brush. This useful tool is a same type of brush that comes with a tube of mascara, along with other poplar makeup products (via L'Oréal Paris). 
So, if a spoolie brush without mascara is useful for styling your eyebrows, why not simplify things even further and use regular mascara for your eyelashes and eyebrows?
The perks of using mascara on eyebrows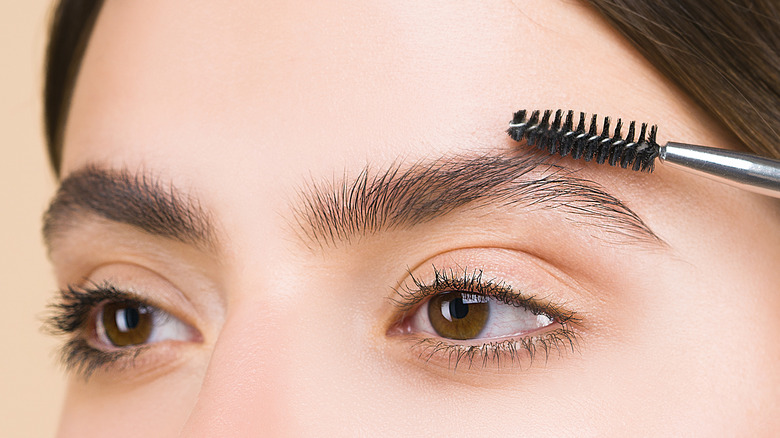 Puppy 9/Shutterstock
When it comes to eyebrow-accentuating makeup, mascara can be a better choice than traditional brow pencils. "With the mascara, it's just on the hair, so it gives it a more natural, 3-D look," explains makeup artist Tom Pecheux, per Harper's Bazaar.
Makeup artist Joanna Luhrs is another enthusiastic supporter of using standard mascara on eyebrows. "If you get the color right for your skin tone, you can get the brows of your dreams," she told Beauty Crew. When selecting a shade, she feels cooler tones lend a more natural look. Luhrs also suggests putting on the mascara and then using a second spoolie brush for enhanced volume.
Meanwhile, beauty influencer Jasmine Airdelle notes that using regular mascara on eyebrows can be particularly useful in situations where you don't have any brow-specific products. She suggests a light application of the mascara, along with wiping off excess product on a paper towel before applying. In her step-by-step tutorial, Airdale adds mascara to her brows starting in the middle with gentle, upward strokes.
If you love the idea of multitasking products but desire a more natural look, follow Jenna Dewan's lead, and choose clear mascara. The "World of Dance" host is a fan of Maybelline's Great Lash Clear Mascara. "I love this stuff. It's not necessarily a brow gel, but it's clear mascara and it works just as good," Dewan shared on YouTube. She also praised the mascara for its all-day hold.
More creative uses for mascara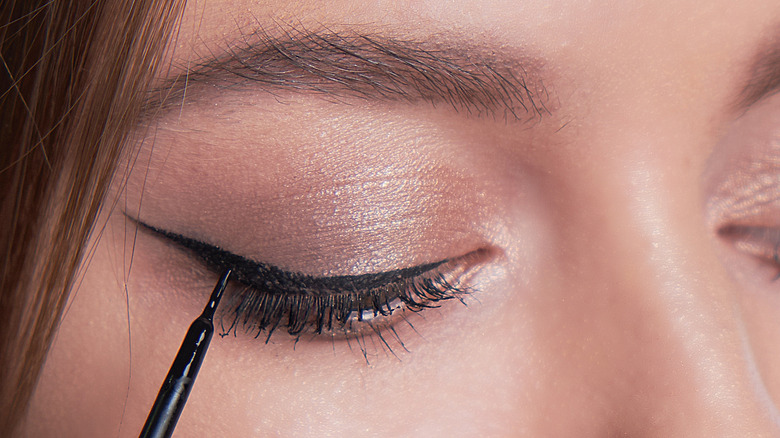 Yavdat/Shutterstock
Besides using it to enhance your eyebrows, there are even more ways to utilize your favorite mascara. Daniel Martin, Jessica Alba's makeup artist, is a fan of using mascara for eyeliner. He creates a dramatic look by substituting an angled brush to apply the mascara in a defined line, per PureWow. While Martin prefers to place his eyeliner brush in the mascara tube, Allison Pynn of SheKnows likes to add product to her eyeliner brush by sweeping it over the mascara's spoolie wand.\
"The cool thing about using mascara instead of regular eyeliner, like a pencil, is that it lasts a lot longer," Pynn explained. When using mascara as eyeliner, beauty vlogger Charmie Jane told Bustle, "Be sure to use a waterproof and smudge-proof mascara to get it to work best."
In addition to darkening your eyelashes, mascara can also provide a quick, albeit temporary, touch-up to your roots between salon visits. To make the mascara blend in, Fustany suggests a light application of product and using a hairbrush to make the look even more seamless. As an extension of this technique, clear mascara can also help tame flyaways and shorter, new-growing hairs. A spoolie brush can help you target small areas that aren't responding to hairspray and achieve a sleek, polished style (via Glamtainment).