Expert Reveals What Americans Really Think About Meghan And Harry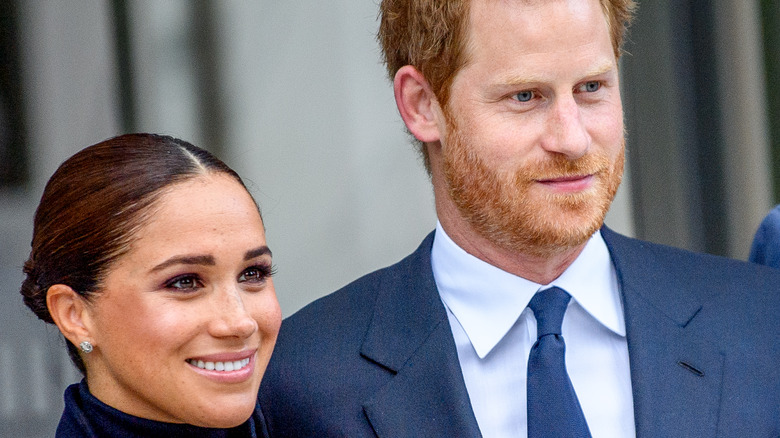 Roy Rochlin/Getty Images
Prince Harry and Meghan Markle's popularity ratings both in the U.K. and across the pond in the U.S. are always in flux. Their relationship is in flux sometimes, too, as viewers across the world saw in their infamous 2020 Oprah Winfrey interview (via The New York Times). Still, it may be safe to say that it's been healthier since Meghan and Harry decided to leave the royal family. Upon their exit, the Duke and Duchess of Sussex chose their family and their personal feelings over that of the crown, leaving the rest of the royal family, including Prince William, Kate Middleton, and, of course, Queen Elizabeth, with strained relationships. 
As the sons of the late Princess Diana, Harry and William had a lot going for them. After all, Diana was the people's princess; the public loved her for being real and raw, proving that royals can be accessible and relatable. However, for that same reason, Harry's popularity in the U.K. has suffered. According to Newsweek, since Harry married Meghan, the prince's ratings as seen in polls taken from the general public have plummeted by 35 points. This is a stark difference for the duke, whose popularity rating was once higher than Elizabeth's.
The general public across the pond, meanwhile, have often backed Meghan and Harry, whether it's because Americans don't understand the crown or simply like drama. This was especially true after their interview with Oprah, per NBC News, as the American consensus completely contrasted with that of the U.K.'s. However, it's been roughly two years since the interview, which begs the question: Where do Meghan and Harry stand with Americans now?
American support for Meghan and Harry has waned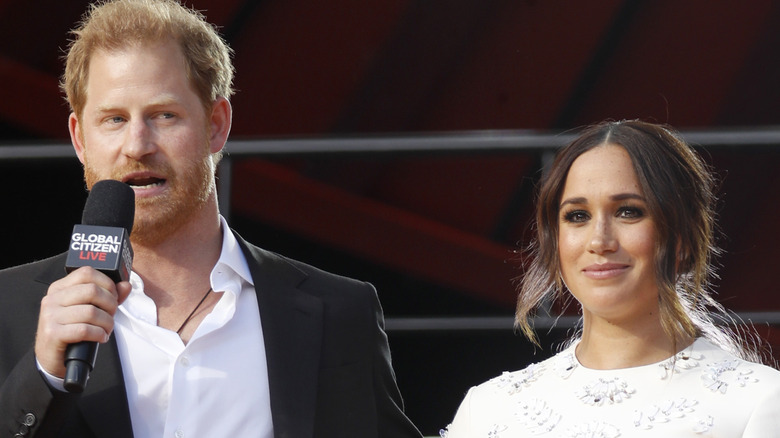 John Lamparski/Getty Images
Prince Harry and Meghan Markle's relationship is strong, and it's had to be. To face the backlash they've received, not to mention their internal strife, they have to be incredibly resilient. This is especially true now, as their popularity ratings continue to decline not only in the U.K. but also in the U.S. now, too. 
According to The Guardian, post-Oprah Winfrey interview data showed that 40 percent of the American general public either related to the Duke and Duchess of Sussex based on their personal troubles expressed in the tell-all — or at the very least felt bad for them. Now, the numbers look different. 
Enter Celia Walden, a journalist, royal expert, and author who's now revealed that Americans may no longer be "protective" of Meghan and Harry like they once were (via Newsweek). In fact, she explains that the average American now sees Meghan "as a figure of fun." 
"When I came back [to Los Angeles] after the pandemic I thought that, you know, Meghan's one of their own," she explained on "GB News" (via Newsweek). Maybe they're quite protective of her or defensive. But not at all. She's just a figure of fun out here."
Naturally, everyone has been trying to understand Meghan and Harry more since their interview with Oprah, including a Brit living abroad in the U.S. As Hamish Bowles wrote in Vogue, the Sussexes represent the underdog, the ones who successfully escaped. However, every story has two sides, and Americans may need more about which to be sympathetic if they're going to continue supporting Meghan and Harry.