Meghan And Harry Are Set To Make A Rare Public Appearance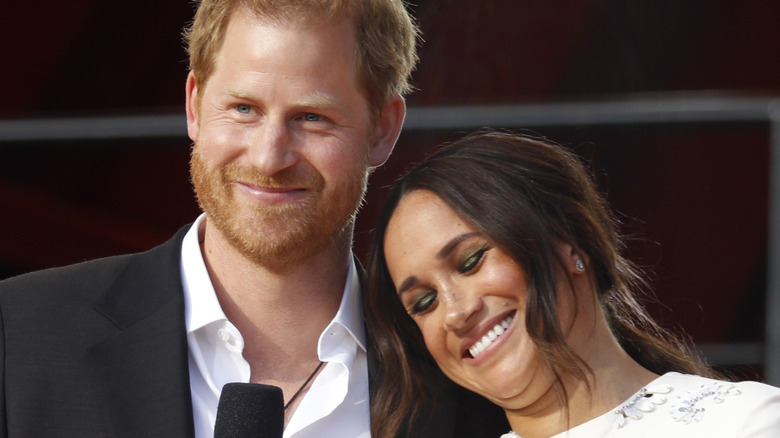 John Lamparski/Getty Images
Royal fans don't often get too many peaks inside Meghan Markle and Prince Harry's relationship, so all eyes are on them each time they make a public appearance together. After all, they're not ones to flaunt their lives on social media, rather opting for a private relationship and parenthood. Still, their relationship has its trials that we do know about, which includes their fluctuating public perception. While Americans by and large supported the Duke and Duchess of Sussex significantly more than the British public following their tell-all interview with Oprah Winfrey, an expert revealed on "GB News" that the American public isn't "protective" of the ex-royals in ways they once were (via Newsweek).
Because Meghan and Harry's decision to leave the royal family left the couple shrouded in controversy and ever-changing opinions, the Sussexes don't attend a bevy of social events together. In fact, the couple didn't attend the late Prince Philip's memorial service in the U.K. at the end of March due to not receiving the proper security they requested, per People. 
Still, worth noting is that the Sussexes have a production deal with Netflix, meaning that they need to be producing content for the giant streaming service (via National World). This could potentially be one reason why Harry is confirmed to be attending the 2022 Invictus Games, which convene from April 16 to April 22, per People, but now it may especially ring true for Meghan considering whether she wants to make an appearance, too. 
Meghan Markle will attend the Invictus Games for Netflix filming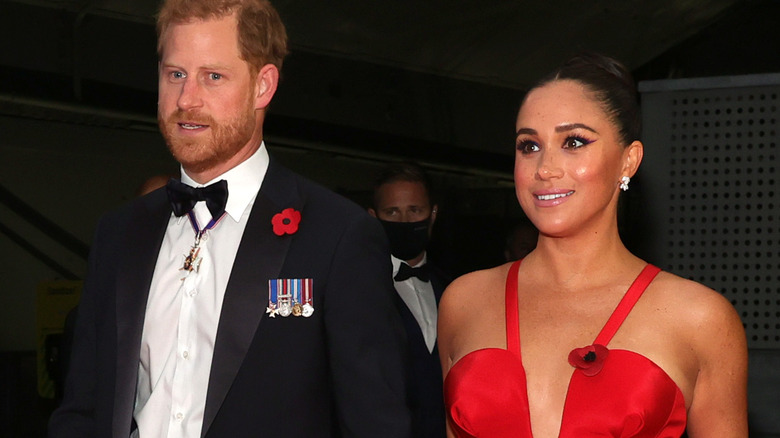 Dia Dipasupil/Getty Images
As noted by National World, Meghan Markle and Prince Harry's Netflix deal is worth €112 million, meaning the Sussexes certainly don't want to miss out on cashing all of it in. Of course, this comes after Meghan and Harry haven't been producing the content they promised not only Netflix but also Spotify, per Mercury News. Now, Meghan has decided to attend the 2022 Invictus Games to film for the streaming giant.
According to the Daily Mail, this year's Invictus Games will be six days in length and hosted in The Hague in the Netherlands. A documentary crew will follow the Duke and Duchess of Sussex, seemingly with emphasis on the latter, as they make a rare public appearance together. Furthermore, as noted by the Mirror, Meghan hasn't made a trip abroad since she and Harry moved to California following their break from the royal family. 
"Meghan is excited to travel with Harry for the event, which is certainly close to his heart," a source revealed to the Daily Mail, adding that, while it's unclear at present, there is always a chance that Meghan might appear alongside Harry during the Invictus Games' opening ceremony. 
In the meantime, Harry has been practicing Dutch to be able to communicate with people during the nearly week-long event. "One more time guys, please. You know I need to get this right, and I really want to get it right as well," Harry asked Dutch athletes in a video posted to Twitter (via People). "So how do I say, 'Good afternoon. You've done a great job,' in Dutch?"