Golnesa 'GG' Gharachedaghi Teases A New Project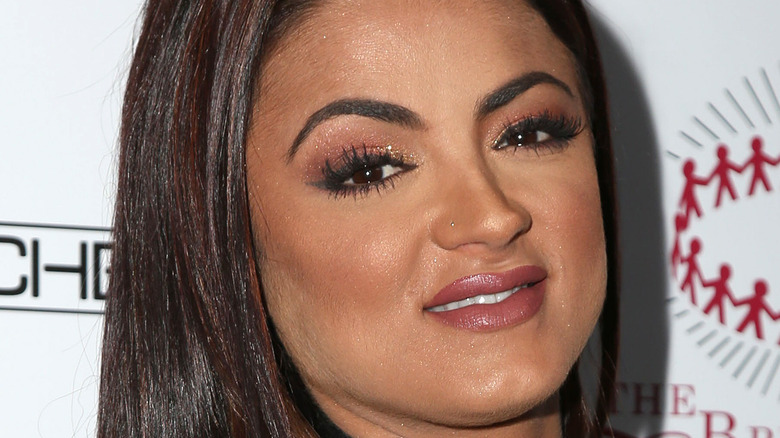 Kathy Hutchins/Shutterstock
When TMZ announced that "Shahs of Sunset" was allegedly canceled after nine seasons, fans were somewhat conflicted. The hit Bravo TV show has had a loyal following from its very beginning. In a sea of the same repeated mess of reality shows, "Shahs of Sunset" always stood out. It offered a unique vibe with the stars of the show being such a tight-knit group whose friendships date back to childhood. They were more like family than friends, and they certainly fought like siblings. 
Fans and viewers flooded the comments section of TMZ's Instagram announcement with a mix of responses. While many were disappointed to hear the news leaving behind countless "nooooooo" comments, others were happy to hear the news. One user even commented, "This last season proved it's time to end it," and racked up 178 likes with many agreeing that the end was "long overdue" or "they're lucky they made it that far." Despite the mixed feelings, one thing is for sure — everyone would miss watching the Persian crew bicker. Well, most of them. 
Considering recent events unfolding regarding Mike Shouhed's arrest for domestic violence, many blame that for the show ending and are glad to have seen the last of Shouhed's toxic behavior (via Page Six). However, one polarizing member everyone would miss is definitely Golnesa 'GG' Gharachedaghi, but perhaps this won't be the last we see of her.
GG teases fans with a photoshoot
Golnesa 'GG' Gharachedaghi has had quite the bumpy journey over the past nine seasons of "Shahs of Sunset." However, one thing about GG is she will always keep it 100% real. Always the friend to call others out on their BS, most recently she came for Mike Shouhed glorifying guns, per Page Six. 
While at first viewers felt GG was too aggressive and at the center of all drama, over the years they've watched her grow into the mother she is today, per Bravo TV. During the most recent Season 9 of "Shahs of Sunset," fans even called her "the voice of reason" on the show, per BuzzFeed News. So, many may be disappointed that just as she was beginning to blossom, the show got cut. However, the good news is there's more GG to come. 
GG has always been super active and somewhat of an over-sharer on social media, so there's always that. Of course, for a dose of her bold and blunt opinions, you could tune in to her podcast "Genuinely GG" as well, but GG recently took to Twitter to tease a brand new venture coming. Sharing a video of her posing in a revealing black dress and some lingerie at a photoshoot, GG teasingly tweeted, "Oh honey, I'm just getting started! Coming soon..." Could a solo show be in the works? Or, a fashion line? With GG, there's no telling which path she could take.