If You're A Sagittarius, This Nail Art Trend Is A Must For You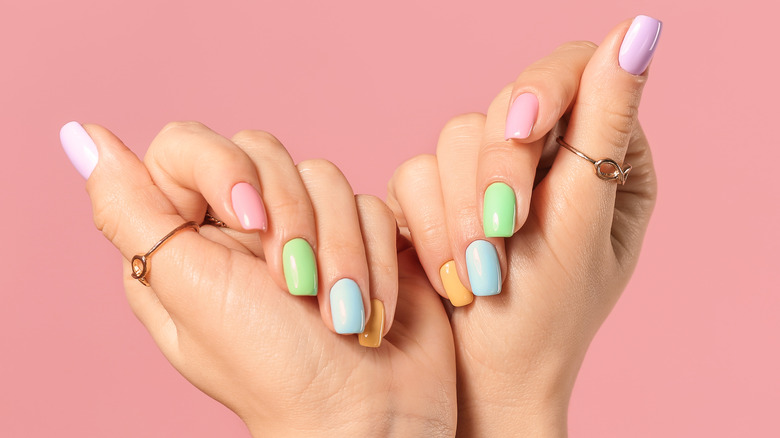 Pixel-Shot/Shutterstock
We may receive a commission on purchases made from links.
Every friend group has that one person who's always dying to explore new places and drag everyone on random adventures. They're likely either the Sagittarius of the group or have some of this sign's carefree traits. 
According to Co-Star Astrology, this fire sign — born between Nov. 22 and Dec. 21 — is naturally curious and adventurous. While their eagerness to try new experiences may get them into trouble at times, this friendly sign is lots of fun to be around.
Since Sagittarius is typically daring, we'd expect them to go out and try the new must-try cocktail of the moment or chop off their hair on a whim. Furthermore, we think they'd be one of the first signs to look into all the hottest new nail art trends. 
Sagittarius typically craves change and doesn't mind adapting quickly (via Allure), so they'll love to explore whatever nail polish color is trending, such as jade green.
Sagittarius should try jade green on their nails
According to PopSugar, the color jade gives off soothing vibes, which can help energetic Sagittarius relax and get in touch with how they feel. Furthermore, Crystal Vaults noted that the jade green crystal inspires harmony and can even have healing effects, so wearing this nail polish may help intense Sagittarius seem more approachable when meeting new people.
PureWow explained that this sign often dislikes commitment and can lose interest in things quickly. However, there are many different designs you can explore with jade green nail polish, so even free-spirited Sagittarius won't get bored of this lovely hue any time soon. 
Instagram features many different styles of jade green manicures if you're in need of inspiration. Some of our favorites include long jade green nails with gold touches, a classic solid jade green nail on every finger, jade green nail tips, and swirly designs.
A DIY jade manicure is easier than you think
If they're willing to invest in some new nail polish, curious Sagittarius may want to explore jade green, with options currently available via Amazon and Walgreens.
Although you can opt for a simple layer of jade polish on your nails, a more complex way of trying this trend is to use different shades to mimic the marbelized look of the gemstone. 
A YouTube video by OPI Professionals explains how to master the look. First, start with a base coat of gel polish, and dry with a LED light for half a minute. Then, put on a subtle green gel color, and use the LED light. Next, dot on some white gel polish, and smooth it over sections of the nail, partially covering the green coat. Cure it. 
Blot a darker shade of green gel polish with a slight blue tint over it. Add short lines of black gel polish and another dark green gel polish so it all blends together for a marbelized effect. Use your LED light again. Then, add a bit of dark blue gel polish in short lines, and spread it with the blue-tinted dark green and the other dark green color. Dry it with the light. 
Next, blot a bit more of the dark green and white on top, cure, add a gel topcoat, and use your LED light. Voila! The latest nail art trend is at your fingertips.