Bridgerton Executive Faces The Ultimate Consequence For His On-Set Behavior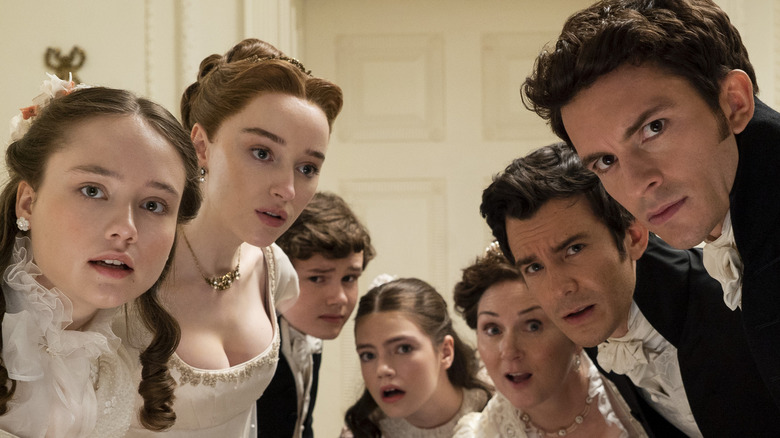 Liam Daniel/Netflix
Working with an ensemble cast may seem like a daunting task, especially when it's the first season of a show. But for the cast of "Bridgerton," this couldn't be further from the truth. This was especially the case for Claudia Jessie and Nicola Coughlan, who play Eloise Bridgerton and Penelope Featherington. As the first two cast in the show, they hit it off from day one. "In [the show], Eloise talks at Penelope a lot of the time; in real life, I'm more introverted and Nicola does most of the chatting," Jessie told The Guardian. "I remember seeing our headshots next to each other on a wall and thinking — 'Cool!' — because Nicola's incredible."
For season two newcomer Charithra Chandran, she was welcomed to the fold with open arms. Speaking to Bustle, Chandran said that Ruth Gemmell, who plays Lady Violet Bridgerton, told her "the loveliest thing" about her halfway through filming. "She just kind of looked at Shelley [Conn], Simone [Ashley], and I, and said 'I can't remember you guys not being here. It feels like you've always been a part of the cast.'"
While the bonds between the cast were obviously tight-knit, the same can't be said for the crew. According to The Sun, an executive producer on "Bridgerton" was recently fired due to his on-set behavior. But what exactly did he do to warrant being taken off the show?
Chief production designer Dave Arrowsmith has been accused of 'bullying' other crew members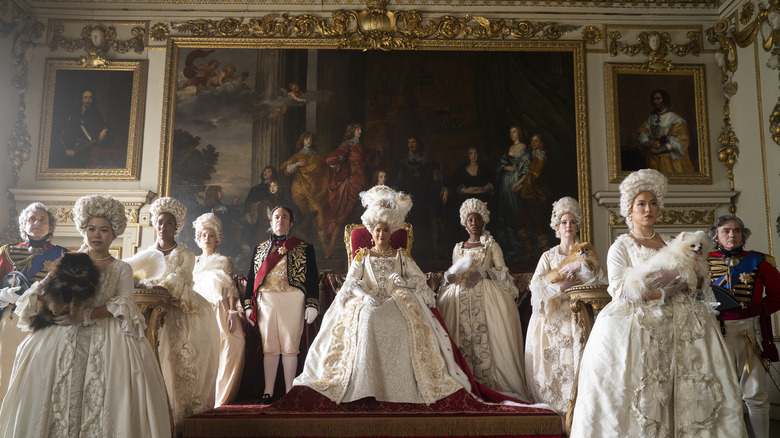 Liam Daniel/Netflix
On April 10, it came to light that chief production designer Dave Arrowsmith was fired "over allegations of abusive behavior," The Sun reports. Arrowsmith, who was set to start working on a "Bridgerton" spin-off, was ordered to leave the show after a series of concerning incidents. "There have been several issues on set, and a few crew members expressed concerns about a number of different incidents," a source told the newspaper, adding that he'd been accused of "bullying" other crew members and had "crossed the line" on numerous occasions. So much so that a hotline was reportedly set up for staff to detail their complaints, according to the newspaper.
A spokesperson for Netflix confirmed to The Sun that Arrowsmith was indeed not working on "Bridgerton" any longer, but provided no further comment. The production designer had previously worked on some of Britain's biggest dramas, including the likes of "Deadwater Fell," "Cold Feet," "Jamestown," and "The Musketeers" (via IMDb).
Dave Arrowsmith will not be working on the Bridgerton spin-off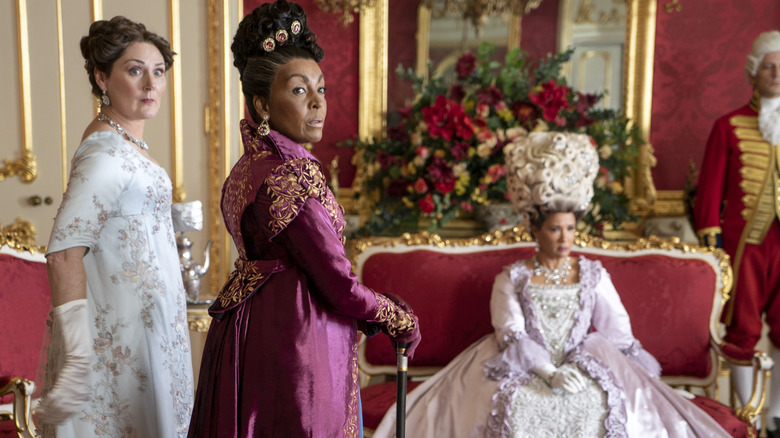 Liam Daniel/Netflix
The Netflix spokesperson also confirmed to The Sun that Dave Arrowsmith will not be working on the untitled spin-off, either. Initially announced in May 2021, the new series will detail the origins of three of the show's main ladies — Queen Charlotte, Violet Bridgerton, and Lady Danbury (via Today). "Many viewers had never known the story of Queen Charlotte before Bridgerton brought her to the world, and I'm thrilled this new series will further expand her story," Bela Bajaria, Netflix's head of global TV said in a statement.
Currently referred to as the "Untitled Shonda Rhimes Queen Charlotte Project," the first episode is also written by Shonda Rhimes, who is understandably excited for the project. Teasing a photo of the script on Instagram, the showrunner wrote: "Prepare for The Queen's return."
Golda Rosheuvel, Ruth Gemmell, and Adjoa Andoh will be reprising their roles, while India Ria Amarteifio and Arsema Thomas will play young versions of Queen Charlotte and Agatha Danbury. There's no word yet as to who will play a young Violet Bridgerton, however.