Dennis Quaid Makes An Appearance At The CMT Music Awards And Twitter Is Talking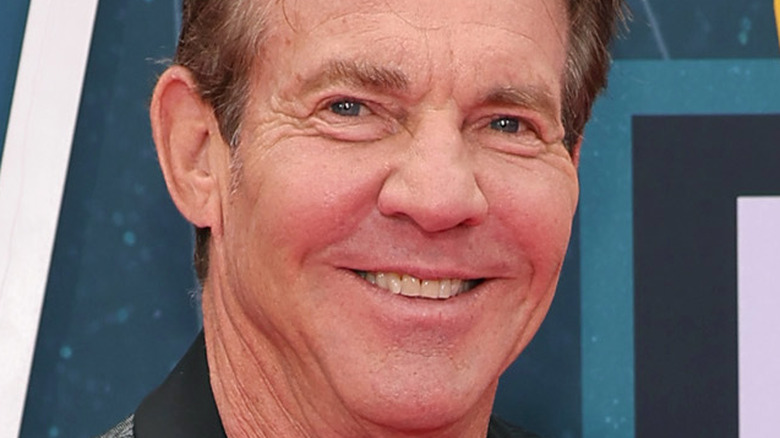 Mike Coppola/Getty Images
The Country Music Television (CMT) Awards kicked off Monday night with co-hosts Anthony Mackie and Kane Brown. Country music singer Kelsea Ballerini was originally set to co-host with Mackie, but tested positive for COVID-19 and announced on her Instagram Monday morning that she wouldn't be able to make it to the awards show in person. 
While Ballerini did do some hosting duties from the safety of her home, she missed out on a star-studded event. According to Billboard, the CMT Music Awards had an impressive list of presenters from Faith Hill to the cast of Netflix's "Queer Eye." The list of presenters included Dennis Quaid as well, who made a rare public appearance at the show with his wife, Laurie Savoie (via Just Jared). 
Dennis Quaid and Laurie Savoie even walked the red carpet before the show. The 68-year-old actor and his 29-year-old wife said "I do" in 2020 in a secret seaside ceremony (via People). Viewers of the CMT Music Awards, however, were surprised to see Quaid there.
Dennis Quaid and Laurie Savoie stepped out in public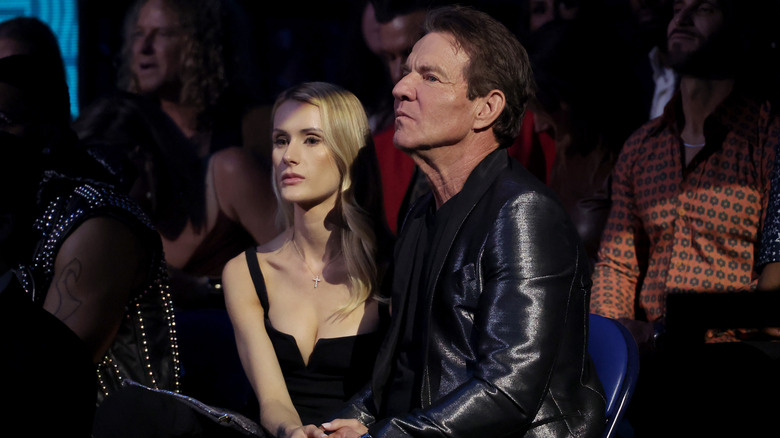 Mike Coppola/Getty Images
Fans quickly went to Twitter to discuss Dennis Quaid's appearance at the CMT Music Awards. One fan on Twitter exclaimed, "Y'all is this DENNIS QUAID," while another fan wrote, "That's a good looking Dennis Quaid." The "Parent Trap" actor was seen wearing a metallic silver jacket with black lapels and shirt, while his young wife, Laurie Savoie, wore a shaped and sleek black dress with top slit in front (via Just Jared). 
Inside the theatre, Quaid and Savoie were seen holding hands while paying attention to the live performances. Not everyone was a fan, however, as one Twitter user addressed the significant age gap between the married couple, saying, "How awkward it is that Dennis Quaid & his wife/girlfriend are holding hands but weird."
Speaking of when the two first met, Quaid said, "It was love at first sight," according to People. And while Twitter may notice the age gap, the actor said for them, "it really just doesn't come up." Quaid elaborated, "There's just something timeless about us. We're partners in our relationship and in life. It's love. And love just has a way of surprising you."
If there was ever a time and place to embody a love song, the CMT awards are probably a great fit.