Taylor Lautner's Fan Cam At The CMT Music Awards Has Fans Swooning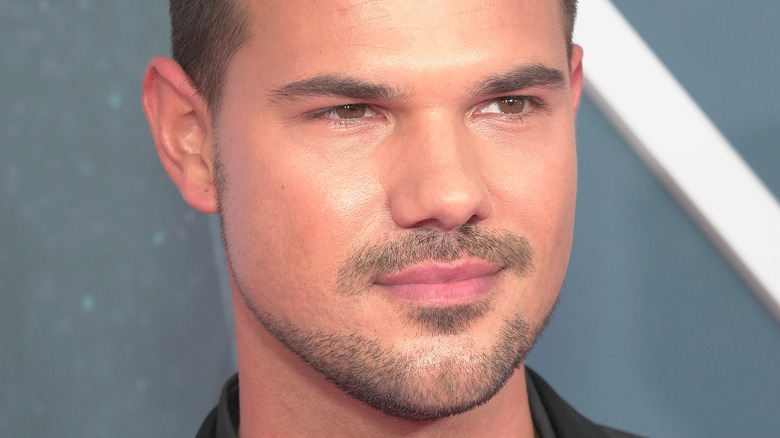 Kevin Mazur/Getty Images
The star-studded 2022 CMT Music Awards had a few surprises in store for viewers Monday night, including a list of presenters you might not immediately associate with country music, such as Marvel star Anthony Mackie and comedians Rob Corddry and Joel McHale. However, many viewers expressed confusion when actor Taylor Lautner of "Twilight" fame made an appearance. One Twitter user wrote, "Are we just acting like it's normal for Taylor Lautner to be at the #CMTAwards? Ummm what...lol." The cast of "Twilight" has changed over the years, but Lautner certainly isn't a country music star.
The recently engaged Lautner first posed on the red carpet with his fiancée, Taylor Dome, whom he met during his time off from the entertainment industry, according to People. Soon after, Twitter lit up with excitement from fans, surprised to see him at the event. At least one Twitter user shared a video from inside the auditorium of the "Twilight" star finding his seat while others speculated if he was there to present an award to his ex, Taylor Swift. 
There may a scene Lautner regrets filming, but he definitely didn't regret his attendance at the ceremony. He ultimately not only presented during the awards ceremony, but he also answered fan questions backstage for CMT's official social media, admitting, "I'm slightly terrified," in the video.
Fans were eager to know more about his taste in music and pets
Taylor Lautner answered a handful of questions from his fans in a video that quickly reached 20,000 viewers in the first few minutes it was posted to CMT's official Twitter account Monday night during the CMT Music Awards. He revealed that his favorite activity, outside of spending time with his fiancée and friends, is wine tasting, jokingly calling himself "a big wineo." 
When asked what his favorite place to visit was, he replied, "Nashville, duh!" He seemed to struggle to remember the last concert he attended, though. "It might have been Kane, but I'm not sure on that one," he said. But he was quicker to reveal that he listened to Spotify while getting ready for the awards show. 
Naturally, one fan wanted to know more about the actor's pets, asking to see a picture. "Picture might be difficult, but I have two dogs, Remy and Lily," Lautner answered before moving onto the final and most creative question of the video: "What emoji do you love right now?" Slapping his hand to his forehead, the actor mimicked the facepalm emoji. "It's always this one," he said. "I'm always just embarrassing myself, so it's always (facepalm), constantly."