Angelica Hale Gets Real About American Reject And America's Got Talent - Exclusive Interview
For Angelica Hale, life has never been the same since competing on Season 12 of "America's Got Talent." After being named runner-up in 2017, she's snagged all sorts of incredible gigs — one of which is a starring role as Anna in the new movie "American Reject."
The story is based on actress Kathleen Elizabeth Monteleone's own experience on a singing competition. In the film, Monteleone's character Kay has just been kicked off "Pop Star Now!" and must return back to reality in her hometown. While she deals with the loss of her life's dream, the reality competition continues to control her every move as they film her trauma for their "After the Cut" series. With Kay feeling publicly humiliated, she decides to continue to chase after her dream of singing. She signs up for the town's Easter Spectacular to turn her life around when she meets Anna, an aspiring singer herself who happens to be one of Kay's biggest fans.
On set, Hale was fan-girling, too. From Rebecca Black to Billy Ray Cyrus, the 14-year-old star couldn't believe the musical talent she had the opportunity to star alongside — and we got the chance to ask her all about it. In an exclusive interview with The List, Hale revealed how acting in "American Reject" reminded her of her time on "America's Got Talent," shared the ups and downs of what life has been like since competing on "AGT," and told us what she'll be working on next.
Why Angelica Hale wanted to star in American Reject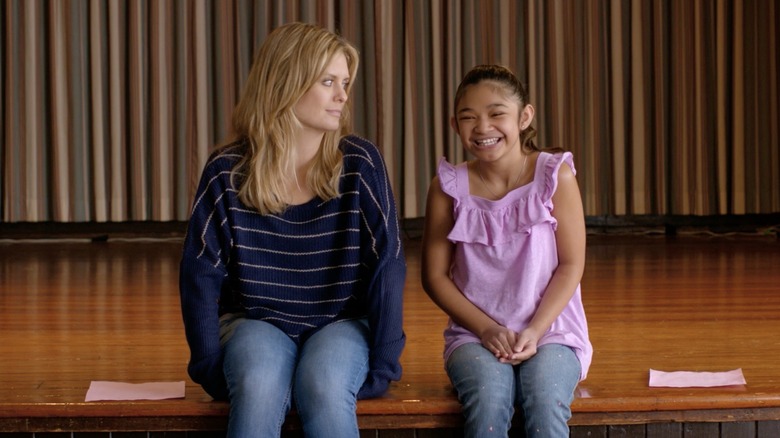 Full Armor Films
Have you always aspired to act? How did you get involved with "American Reject"?
Yes, I have always. I've been acting since I was younger, but I started singing first. I have been involved in this project since about 2018, so it's been four years, and it's finally coming out. I'm really excited.
What made you want to be a part of this story?
I auditioned for this, and when I saw the script, it really reminded me of my time on "AGT" and the whole premise of it, and I loved the message.
Actually, after I auditioned, I got to meet with the writer and creator, [who] also starred in the movie as well, Kathleen [Elizabeth Monteleone], and I got to meet with her, and I got to work out my character Anna with her and do a breakdown of the story. It was wonderful.
When I found out I got the role, I was like, "Wow." I was so shocked. [Laughs] I was so excited. I was raring to go. I couldn't wait to start filming. My first time on set, I will never forget that. That was such an amazing experience.
Angelica Hale dishes on working with the star-studded cast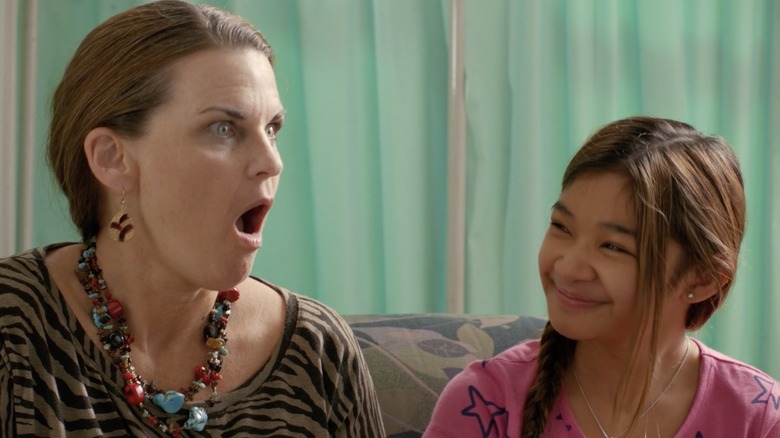 Full Armor Films
What was it like to be surrounded by a cast that's also really involved in the music industry?
It was really surreal. That was my first experience doing something to that extent and being a part of such a project where everyone is putting so much love and effort and hard work into it, and being a part of that was awesome.
A few of my castmates [are] Keala [Settle, who plays Holly], and Billy Ray Cyrus [who plays a celebrity judge], and Rebecca Black [who plays Bethany], who were in the music industry. It's amazing getting — When I met them, I was like, "Oh, my gosh." Especially Keala since she had just done "The Greatest Showman" at the time, and I was such a huge fan of that, by the way. [Laughs]
Were people just breaking out in song on set? I feel like that'd be so much fun.
[Laughs] Yes, actually — I remember we were having such an awesome time. It was great. Also, [Keala]'s such an amazing person and an amazing singer.
Out of your castmates, I know that you had met Billy Ray Cyrus a few years ago. What was it like to finally be working with him now?
When I found out that he was going to be a part of the project, I was like, "Oh, my gosh!" I was really shocked. When I got to see him on set, it was on the last day I believe, and I talked with him for a bit, and we were talking about the first time we met and [said], "Oh, my gosh. Long time, no see." Seeing him again was really awesome. [It's] the iconic Billy Ray Cyrus, am I right?
Is there a moment in this movie that you related to the most?
I don't want to spoil too much, but this was actually during the tail end of my scenes and the project. We were all on stage, and every moment felt like I was putting my heart and soul out on stage. Every take felt like the best take. Going back to that, it was so surreal at the moment, and I will never forget that.
I can really relate to it, because from my time on "America's Got Talent," it felt like I was reliving that moment of being in the spotlight, of being on stage, and giving my heart and soul out. The cool part is that I could do it over and over again, so that was pretty cool. [Laughs]
Angelica Hale reflects on the accuracy of American Reject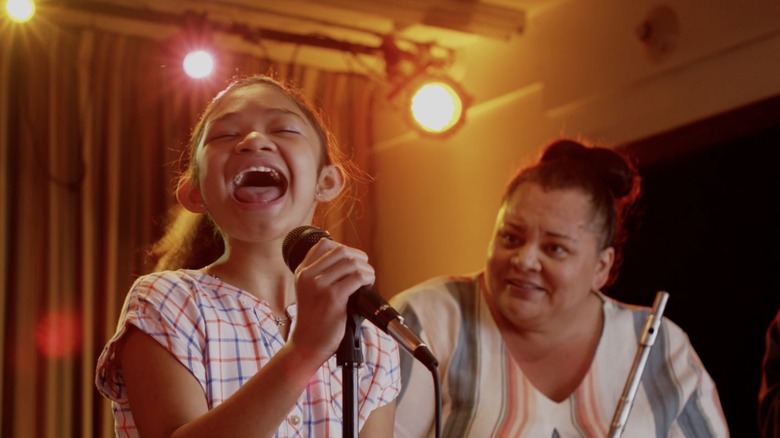 Full Armor Films
Based on your experience on "America's Got Talent," how accurately would you say this movie depicts what it's like to be in a talent competition?
Absolutely. Some things are ... exaggerated a bit for the movie, but the overall feeling like you had everything in your grasp, and you let that go, as per the premise of the movie, was very realistic to what I think the business is a lot like these days.
You got your 15 minutes of fame, and you got to know what to do with that. Afterwards, sometimes it's a mystery, and, for some people and for Kathleen [Elizabeth Monteleone], who was the main character, she was spiraling into depression. It felt like there was no hope for her, even though she had everything in her grasp. She was going to be the one to win it, and I can relate to that in a way, [because] I came as runner-up.
It's different, because at the same time, when I was on "America's Got Talent," and I was on that stage ...  I came out as runner-up. I was extremely grateful to be a part of the project, and it's funny. It can go different ways, and you see a good side, and you see a bad side. "American Reject" does an amazing job of showing the harsh reality of it, sometimes.
It's a rollercoaster, and that's probably what it's like to experience it as well, right?
Exactly. In the performance and entertainment business, you never know. It's honestly — After I went on "AGT," I was always bombarded with performance requests, and I was traveling left and right, and I had to adjust to that very quickly, and it's honestly been a rollercoaster.
Since the pandemic hit, I haven't been traveling much anymore. I've adjusted to doing live streams and doing a bunch of stuff at home. I can for sure say that this thing has a bunch of ups and downs, but I love making the most of it. That's one of the most important things.
Angelica Hale talks fan-girling on and off the screen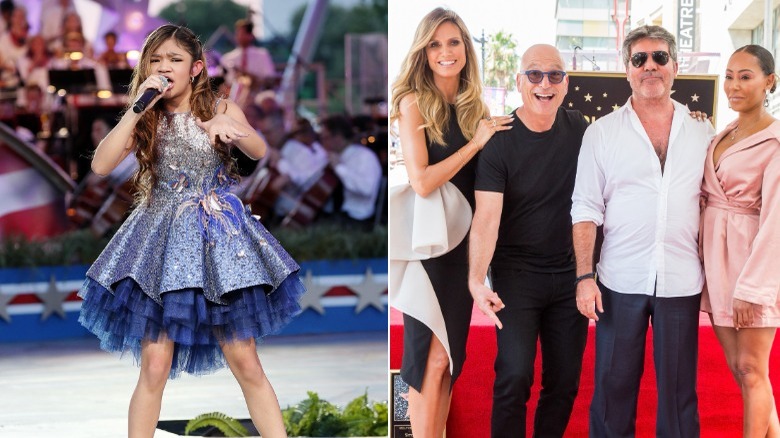 Paul Morigi/Getty Images, Rich Fury/Getty Images
Your character Anna is a huge fan girl in this movie. Did you ever have an experience like that on "America's Got Talent"?
[Laughs] Yes. Anna was a huge fan girl of the main character, Kathleen, who Kathleen [Elizabeth Monteleone] played.
When I went on "America's Got Talent" for the first time, and I saw — because I grew up watching "America's Got Talent" before I went on stage and did my first audition — I actually saw Howie Mandel backstage before the actual [show]. I was already nervous before going out there, and then I saw him, and he said "Hi" to me, and I was like, "Oh, wow." [Laughs] I've had my fair share of starstruck moments on "AGT" and "American Reject."
Was there any advice or feedback that the judges gave you that has stuck with you today, that you still think about?
Definitely. When I got to see Billy Ray Cyrus [on "American Reject"] again, he gave some wonderful advice about the business.
On "America's Got Talent," being up on stage and getting that live feedback from Simon Cowell and from Howie [Mandel] and Mel [B.] and Heidi [Klum], those words, they stuck with me. I remember Simon when I went on "America's Got Talent Champions," and he and Howie said before he gave me the Golden Buzzer, "You really put yourself out on that stage."
When you really put your hard work and all your effort into something all for that moment — imagine going out on that stage or even acting, going out, you put so much time and effort into such a small amount of time, but all that amount of time is worth so much, so it's an amazing concept. Man, those moments and being on the set for "American Reject" are core memories for sure. [Laughs]
I have to know now, what did Billy Ray Cyrus tell you?
I remember the first time I met him, I think it was during Celebrity Fight Night [in 2018], and he was talking about — I was with my dad. We were talking about the ups and downs of the business.
It's awesome that my dad stuck with me throughout my "AGT" run. He was the one managing all my stuff with business and stuff. It's hard when you're in this, and a lot of people come and try to control you. I'm so happy that my parents, my family, were along with me for the ride. I think family is very important.
We were talking about that, and he applauded dad for that.
Her life has completely changed since competing on AGT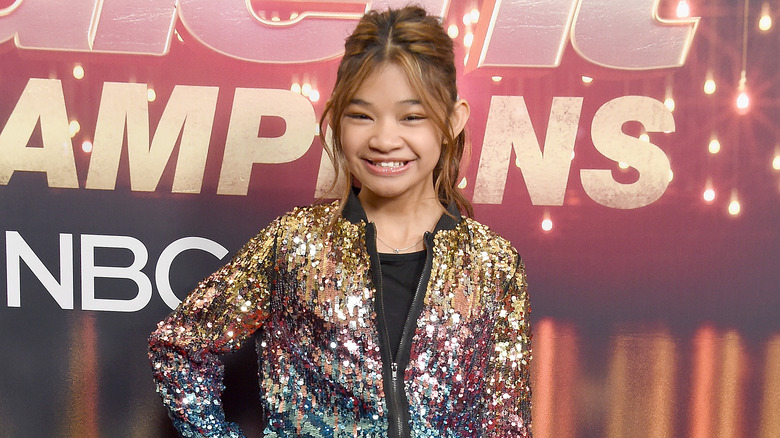 Gregg Deguire/Getty Images
How has your life changed since doing "America's Got Talent"? That was when you were really introduced to the world.
Exactly. Oh, gosh. My life has changed tremendously, but all in awesome ways. Like I said, after that day on "America's Got Talent," I was bombarded with requests, and I started traveling, and I have taken a new position and a new outlook on my career. I really want to do this for the rest of my life.
Some things that I'm looking forward to as of now [are]: I'm very interested in songwriting, and I am currently writing a bunch of songs [with] the goal of making an album one day. Creating music is my passion and being able to produce and do all that. I never would've imagined doing all that when I was younger.
What really hits you hard is when — I remember when I was younger, before I had a bunch of medical issues, I was doing cover songs. I remember going on Facebook and YouTube and seeing the numbers go up. They weren't as big as they are now since "America's Got Talent" [Laughs], but seeing that hard work, seeing all that effort, and remembering that feeling from before and now, it really makes you appreciate all of it. What a ride it's been. [Laughs]
You started on "America's Got Talent" when you were 10 years old. Is there anything that you would go back and tell yourself or wish you knew before you ever auditioned for the show?
Gosh. Honestly, I wouldn't change anything. I wish I could have told myself before I did my final performance. [Laughs] I was on "America's Got Talent," the finals, when I sang "Symphony." I was so nerve wracked, but I made the most of that moment. I really did. What I wanted to tell myself after the whole thing — I wish I could have told myself, "Good job. You did amazing. You are awesome."
When I was younger, I was such a perfectionist, and afterwards, I would always worry about, "Oh, no! What did I do wrong?" I wish I could have gone back and said, "Good job. Now take a rest. You did amazing." You always gotta remember to do that.
I feel like with live performances, that would be even more nerve-wracking. Even when I watch the show, I'm so nervous, and I'm not even there.
I think my parents were more nervous than I was. [Laughs]
Angelica Hale aspires to become 'a triple threat'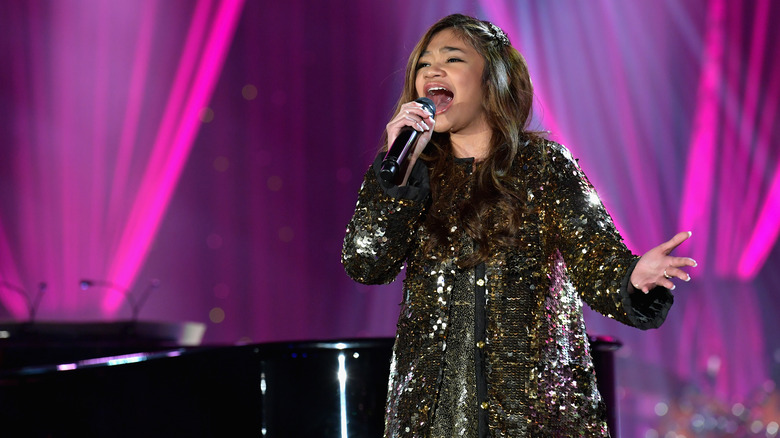 Amy Sussman/Getty Images
Do you have a favorite memory or something that sticks out to you from being on "America's Got Talent"?
My favorite moment was on stage when I found out I was runner-up, and my dad came up to me at the end of the show, and we took a selfie, and we were both crying tears. It was hilarious, but it was so sweet. I was hugging my dad, and I was hugging Darci [Lynne Farmer, the ventriloquist who won], and everyone.
I wish I could go back to that moment. It's so quick, but it felt like an eternity on that stage. It was amazing.

Is it safe to say after doing "American Reject," we're going to be able to see you act more? Is that something you want to pursue further?
Yes. I've been definitely — More this year, I've been pursuing my acting career a lot more, and I'm hoping to excel in that craft, and I want to become, like, a triple threat. [Laughs] I'm doing well on my acting and my singing, but oh gosh, my dancing. I need to work on my dancing, man, but for sure, my acting, you can definitely look out for a lot more stuff.
"American Reject" is now available on demand and for digital rental and purchase. Click here for more information about the film.