Why Shanique And Randall Didn't Feel Prepared For The Ultimatum - Exclusive
"The Ultimatum: Marry or Move On" is Netflix's latest reality TV dating show. The series centers around six couples on the verge of getting engaged. But while one partner is ready to make that commitment, the other still has reservations. That conflict is one that many couples may experience, but in "The Ultimatum," they're taken through an extreme process to resolve the issue. Through the journey, the original couples are separated and choose another partner from the group to live with as if they're in a relationship. The hope is that the new connection can offer them clarity on if marrying their original partner is the right choice.
Shanique Imari and Randall Griffin were one of the couples who went on "The Ultimatum" together. During an exclusive interview with The List, Imari and Griffin shared their experience going on the show. Although they knew what to expect to some extent, both agreed that there were ways they were not at all prepared for the experience.
Shanique didn't feel emotionally ready for The Ultimatum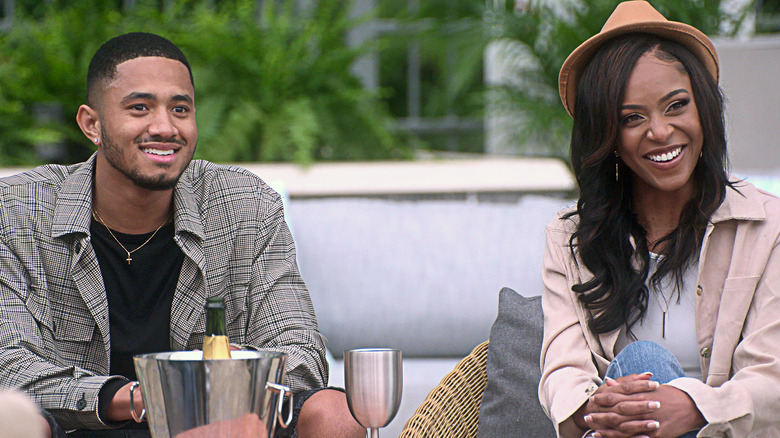 Netflix
Shanique Imari was the one who gave the ultimatum to her boyfriend Randall Griffin. She wanted to either get engaged or move on separately. But just because it was her idea doesn't mean she felt entirely prepared for going on "The Ultimatum." 
Imari knew being on the show would mean both she and Griffin would be living with other people. Though she said she thought she was emotionally ready for the experience, it quickly became apparent that she "definitely wasn't." No matter how prepared she thought she was, Imari said, "You can't plan for that. We didn't know who else was going to be a part of the experiment. I didn't anticipate forming the connections I did, especially so early on. I definitely was surprised by that."
Going through "The Ultimatum" process, Imari said she had to give up control. "It started to click a little bit more [and] made a little bit more sense that this is not going to be something I can control," she said. Imari added that while they went on the show to see if Griffin could get ready to commit, she also had to look inward and learn about herself. "You have to look at yourself and figure out if you are even ready for what you're asking me for," Imari said.
Randall went into the experience differently
Coming onto the show, Randall Griffin had a slightly different experience than Shanique Imari because he was not the one who gave the ultimatum. Griffin said he was initially closed off because the whole situation wasn't his idea. "I really didn't come in as open as I should've, and that is something that I do regret starting off, because I'm the one that was given the ultimatum," he explained.
In the beginning, Griffin didn't think they needed to go through the ultimatum process at all. He "thought everything was good" in their relationship before Imari issued the ultimatum to him. Then, going through the process, he said, "It was difficult because I was never put in a situation like that, and it was almost like a crash course of you having to grow as quickly as possible."
But during the "crash course," Griffin felt like he was able to open himself up and learn a lot from the experience. "Some crazy things do go down, but it is for the better, not for yourself but also for your partner. If you are meant to be together, then things will stay [and] stand the test of time, but if not, then maybe it did work out for the better," Griffin said.
Episodes 1-8 of "The Ultimatum" are now streaming on Netflix, with the finale and the reunion dropping April 13.