Gilbert Gottfried's Net Worth At The Time Of His Death Might Surprise You
s_bukley/Shutterstock
The man behind "the most iconic voice in comedy," Gilbert Gottfried, died Tuesday, April 12, 2022, his family has announced on Twitter. In the mini-tribute, it was revealed that the comedian suffered from a long illness, reportedly Recurrent Ventricular Tachycardia due to Myotonic Dystrophy type II, which is a heart condition that can lead to sudden death (via NBC News and NIH). Gottfried was 67 years old.
The actor, perhaps best known as the voice of Iago from "Aladdin," worked in Hollywood since 1980 (via IMDb). Fans may remember his work in movies like "Beverly Hills Cop II," "Problem Child" and "Look Who's Talking Too," as well as his appearances on iconic TV shows from "The Cosby Show," to "Night Court" to "Married With Children."
In fact, Gottfried worked up until his death, frequently taking part in late night show segments, making cameos on TV shows and roasting friends in the business on Comedy Central. USA Today reminds us that Gottfried was also the voice of the Aflac duck for quite some time — although he lost the gigi in 2011 after his tweets about an earthquake in Japan created a considerable backlash (via The Hollywood Reporter).
Ultimately, given his decades-long career as a comedian and actor, it wouldn't surprise many fans that he had accrued a fairly decent fortune. But the exact amount the star counted as his net worth may surprise you.
Gilbert Gottfried succeeded in his personal life too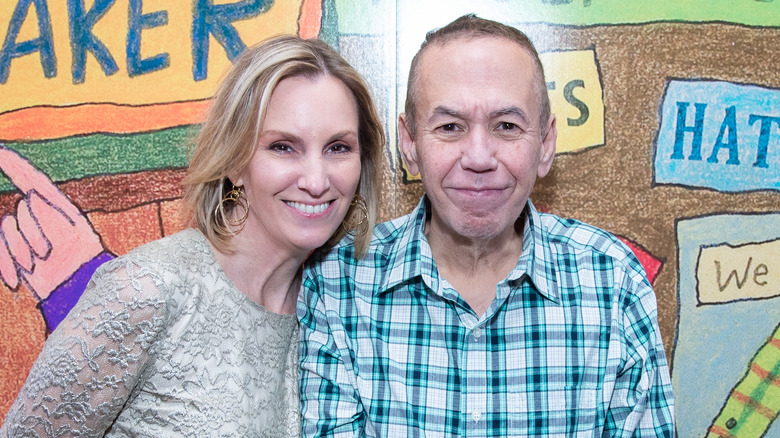 Mark Sagliocco/Getty Images
Celebrity Net Worth reports that the Brooklyn native, whose voice both irritated and entertained, amassed a considerable amount of money over the course of his celebrated career. 
Gilbert Gottfried started out modestly as a stand-up comedian in New York City and went on to star on a single season of "Saturday Night Live." As The Things states, the star enjoyed making money for the first time on the show, but was not a good fit for "SNL" and despised the job overall.
The good news is that the gig served as a springboard for Gottfried to go on to work he liked and he would gain steady jobs in the industry for decades to come. Meanwhile, the comedian married music executive Dara Kravitz in 2007 and the couple shared two children (via The U.S. Sun). The family lived in a lovingly-updated apartment in Chelsea in New York City, according to The New York Times, where the star kept his treasured monster memorabilia collection.
In the end, Gottfried's net worth at the time of his death was no laughing matter at $8 million.