Bridgerton-Inspired Clothing Items To Add To Your Cart Immediately
Netflix's "Bridgerton" has been praised for its setting, characters, steamy scenes, diversity, and fashion (via the New York Times). Based on a series of books by Julia Quinn, "Bridgerton" premiered on Netflix on December 25, 2020, becoming the streaming platform's most-watched show (per NBC News). Then, the second season dropped on March 25, 2022, and broke its own streaming records. The third and fourth seasons have already been announced by creator and showrunner Chris Van Dusen on Twitter. After Van Dusen confirmed additional seasons of the show, viewers began to wonder which "Bridgerton" sibling will take center stage in Season 3, though an official announcement has not been made as of writing.
While we may have to (im)patiently wait for Season 3 to come out, there is one thing that can keep us all distracted in the meantime: shopping! In particular, fans can look for clothes that feature details from the Regency era which features in the television series. "What makes 'Bridgerton' style so iconic is its femininity and romanticism," Liza Sakhaie told Elite Daily. Sakhaie is the founder of The Reflective, which focuses on modest fashion. She detailed what sets this era of fashion apart, saying, "Soft pastels, empire-waist gowns, corsets, collars, and florals all make a comeback."
If you want to embrace these gorgeous details yourself, we know where you can find some of the best clothes inspired by "Bridgerton."
Selkie's viral dresses check off all the Bridgerton boxes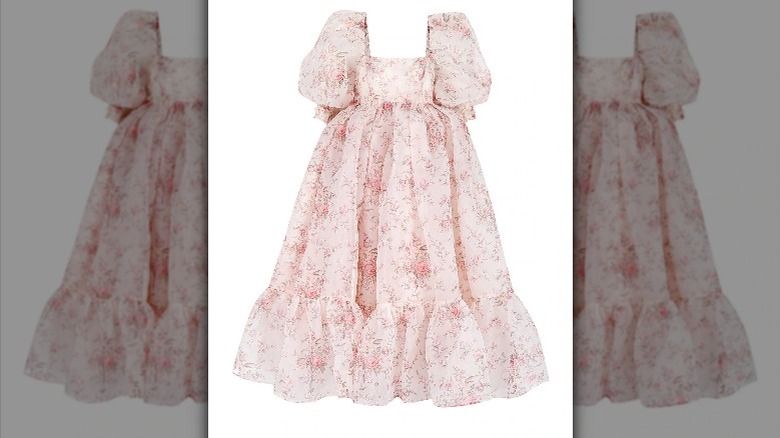 Selkie
When it comes to clothing items inspired by "Bridgerton," The Puff Dress from Selkie — which has been seen all over social media — is the perfect modern-day representation of Regency-era style (via Glamour). From the flattering neckline and skirt style to the iconic puffy sleeves, this is a true showstopper. Plus, it comes in an array of colors, patterns, and designs, helping it to match any birthday party backdrop or bachelorette party photo shoot. It's easy to picture Penelope Featherington or her (SPOILER ALERT) devoted readers in this piece!
LoveShackFancy has clothes that definitely fall into the Regencycore category
Another brand that boasts "Bridgerton"-esque details is LoveShackFancy. More specifically, the Norma Midi Dress is a viable option, with its hand-dyed material, lace detailing, floral embellishment, and feminine silhouette. Part of what makes items like these — that fall into the category of Regencycore, as seen on social sites like Instagram and TikTok — so popular is the fact that they are modest yet flirty. Just imagine this on Daphne Bridgerton as she twirled around the dance floor with Simon Basset!
Needle & Thread's elegant and delicate options are perfect for fans of Bridgerton
The Midsummer Lace Gown from Needle & Thread consists of florals, lace detailing, scallops, and embroidery, which are all staples for "Bridgerton" characters and now, for the fans as well. The dress is also wrapped with a ribbon in the middle, like a cherry on top of the perfect ensemble. We can, in particular, see the matriarch of the show's main family, Lady Violet Bridgerton, rocking this delicate yet powerful look at various events.
Corset-style designs should be considered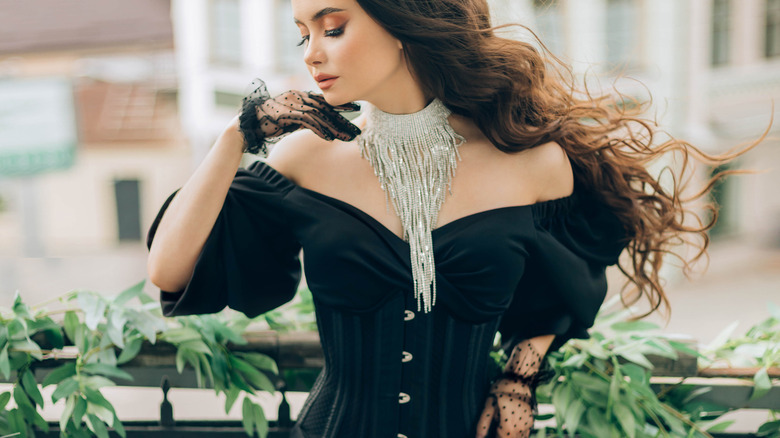 Ironika/Shutterstock
When one thinks of the outfits on "Bridgerton," modest designs come to mind. However, daring details can be added in, especially in today's modern age. You'll still get the same effect, especially with romantic accents, but you'll give yourself a bit of a refreshing update at the same time. A great example of this style is the Givenchy Corset Gown. The bodice looks like something from the Regency era, while the black material gives it some extra oomph. We would love to see the strong and sexy star of Season 2, Kate Sharma, in something like this!
Even Target has Bridgerton-inspired pieces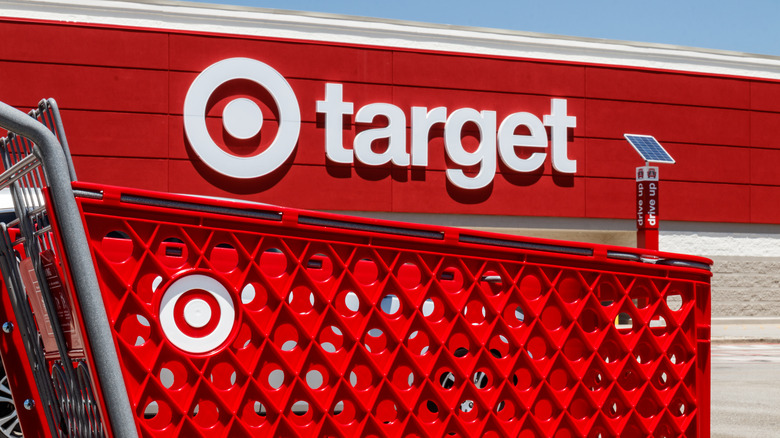 Jonathan Weiss/Shutterstock
Finally, for a more affordable and accessible choice, consider the Puff Short Sleeve Dress by Universal Thread, which is sold at Target. On one hand, it has those signature puff-sleeves and smocked waist, but it's also a casual cotton dress with pockets. This makes it ideal for running errands, going out on date night, and everything in between. Another bonus is that it comes in various prints and colors like black, blue, stripes, and green. Eloise Bridgerton, who prefers doing things her own way, would probably be a fan of this one.