The Kind Thing Meghan Markle Did For A New Mom In The Netherlands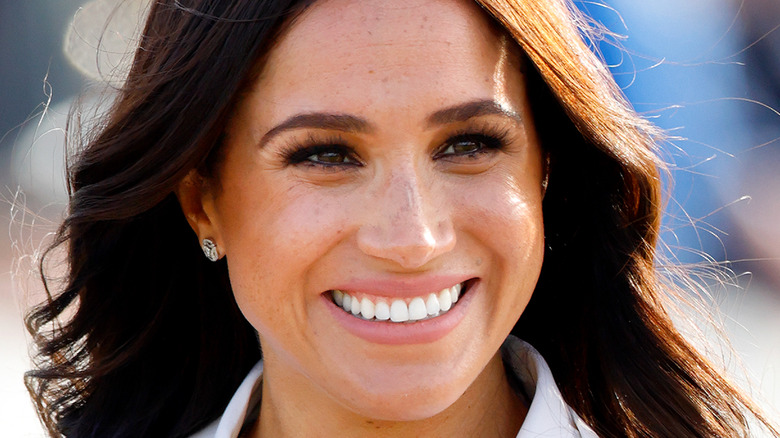 Max Mumby/indigo/Getty Images
Meghan Markle headed to Europe for the first time since leaving the British royal family, and the Duchess of Sussex immediately made headlines upon her arrival in the Netherlands. Meghan is visiting The Hague alongside her husband, Prince Harry, to attend the 2022 Invictus Games (per People). The pair were greeted warmly by athletes from Team Netherlands, and Meghan stunned in a gorgeous white-colored pantsuit. The Duke and Duchess of Sussex — who secretly visited Queen Elizabeth II prior to their arrival in the Netherlands — are expected to keep a full schedule while attending the Invictus Games.
Kicking things off on their agenda is this evening's reception, which will be hosted in The Hague (via Fox News). The Invictus Games themselves will get underway on Saturday, April 16, with events running through April 22. Meghan and Harry's attendance has brought some negative attention to the pair from those who still harbor anger over Harry's absence from Prince Philip's memorial service in March (per Vulture). According to the Independent, Prince Harry reportedly stated that he didn't attend due to concerns over security measures. 
Despite this flurry of dismissive headlines, Meghan is already drumming up positive feedback after she did this kind thing for a new mom upon the duo's arrival in the Netherlands.
Meghan Markle offered her coat to a new mother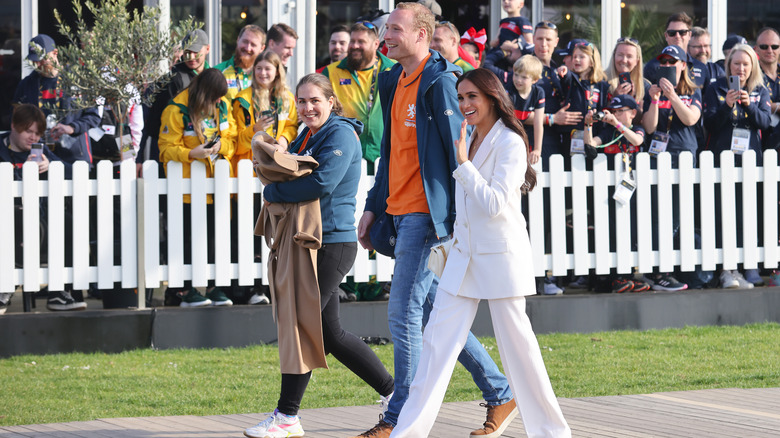 Joern Pollex/Getty Images
When Meghan Markle and Prince Harry arrived in the Netherlands for the 2022 Invictus Games, they were greeted by members of Team Netherlands and their families. As Omid Scobie reported on Twitter, one of the individuals greeting the Sussexes was a new mother, who was lovingly toting her newborn along for the occasion. Scobie went on to say, "Noticing the sudden drop in temperature, Meghan quickly handed over her coat to the mom to help keep the baby warm."
Though the exchange itself isn't featured in Scobie's video, the new mother can be seen walking alongside Meghan with the coat draped over the newborn in her arms. It was a sweet and loving gesture from Meghan, who is herself a mother of two children: son Archie Harrison, and daughter Lilibet Diana (via Glamour). Before walking inside, Meghan can be seen touching the woman's shoulder and leading her toward the door.
Despite prior reports of Meghan's bullying behavior, the Duchess of Sussex is often lauded for her kind and generous spirit (per People). Previously, Meghan and Harry made headlines for sweetly offering to take a picture of a couple on New Year's Day, and the duo often volunteer under the radar at various organizations (via Marie Claire).