Tina Fey Doesn't Go By Her Real Name. Here's Why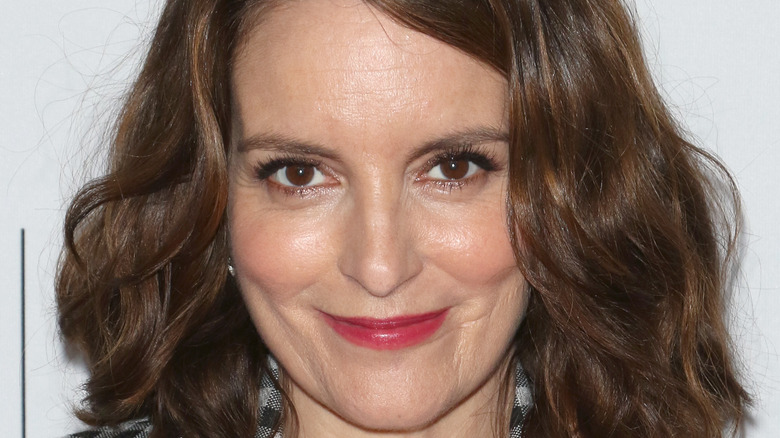 Jim Spellman/Getty Images
From playing Liz Lemon in "30 Rock," to becoming a "Weekend Update" anchor on "Saturday Night Live" and Ms. Norbury in "Mean Girls," Tina Fey has graced so many of our homes either as the funny-girl on screen or the quick-witted writer behind the laughs.
The "Unbreakable Kimmy Schmidt" co-creator got her start at Second City in Chicago, and her life and career underwent an incredible transformation over the years. In 1999, she made history by becoming the first-ever lead woman writer for "Saturday Night Live," according to her profile on Second City. In 2000, Fey emerged from behind the screen and made her on-camera debut as the charming and quirky "Weekend Update" anchor on the show before pursuing acting and writing work for film and other television projects. 
It may come as a shock to some, though, that the multi-hyphenate comedian, writer, and actress doesn't actually go by her legal first name. Rather, she used her given moniker as an inspiration for one of her most awarded and memorable characters (via Vogue). Here's the backstory of how Fey's first name evolved into the one we all know today.
Tina Fey was born Elizabeth Stamatina Fey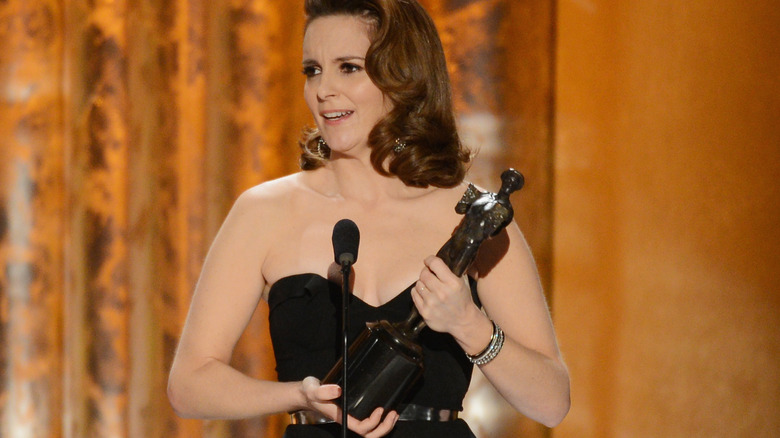 Mark Davis/Getty Images
Elizabeth Stamatina Fey, who we would one day know simply as Tina Fey, was born May 18, 1970 to Donald Henry Fey and Zenobia Xenakes according to Geneastar. Her mother's Greek ancestry inspired her middle name, which would later inspire her alias. In a conversation with The Quad, Fey reflected on her name. "My first name is Elizabeth, but I've always gone by Tina even in, you know, from elementary school on," she explained.
Fey's certainly in good company with other celebrities who have changed their names. Examples include Lea Michele, Lady Gaga, and Rihanna, according to Radar. But Fey was strategic about the shift, especially when it came time to enter the spotlight. By the time the "Bossypants" author was in high school, she had already dropped her given name to go by Tina — the latter-half of her Greek middle name — with the hope of sounding more hip, per Glamour UK. We think it's safe to say that the entertainment industry definitely approved.
Tina Fey's real name was an inspiration for one of her iconic roles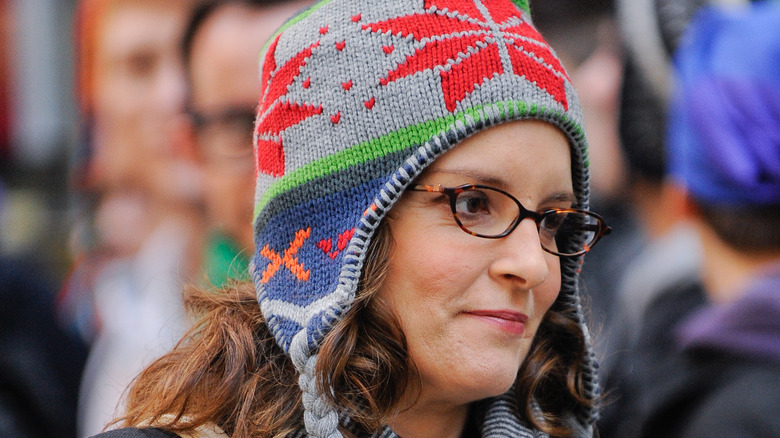 Ray Tamarra/Getty Images
Tina Fey has held a plethora of both big-screen and silver-screen roles, but perhaps the one she's most famous for is Liz Lemon. That is the character she played on "30 Rock," which ran from 2006-2013. Even though the situational comedy ended nearly a decade ago, people on Twitter are still talking about it now as one of the best television comedy series of this generation.
It's hard to credit "30 Rock" without mentioning Fey, the sitcom's creator, star, and writer. Her character Liz was inspired by her experience as the head writer during her tenure on "Saturday Night Live," as noted by The Atlantic. Fey personalized her iconic, dorky character even further by naming her "Liz," a shortened nickname of her real first name Elizabeth, according to Vogue.
In 2019, Fey was a guest speaker at Hamilton College's Sacerdote Great Names series. When asked about the possible similarities between herself and Lemon on "30 Rock," Fey recalled Lemon was like herself but "turned down to one" (via The Spectator). She also revealed that the similarities that stand out are the interactions with her fictional on-screen boss, Jack Donaghy, played by Alec Baldwin. Both friends and fans of each other in real life, Baldwin and Fey's characters mimicked her work-life relationship with "SNL" co-creator Lorne Michaels.
You know what they say — life imitates art.