Zelenskyy Has A Message For Biden About The Status Of Ukraine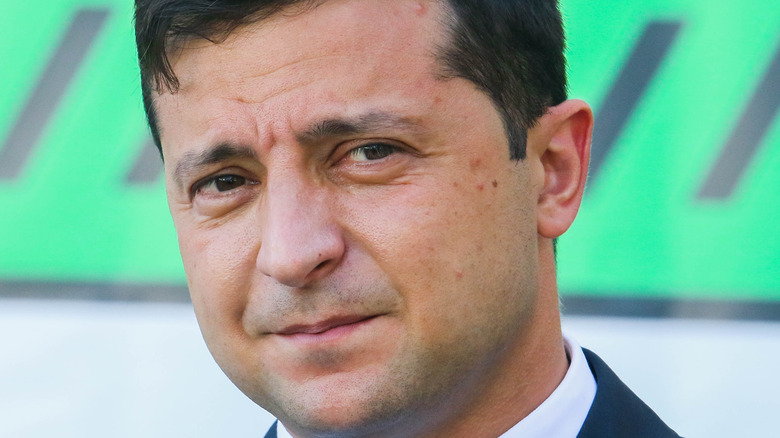 Oleh Dubyna/Shutterstock
Ukrainian President Volodymyr Zelenskyy is making it clear that he'd like to meet with U.S. President Joe Biden in person. Ukraine has been fighting off an invasion by Russia since February 2022, and the Biden administration has been lending its support to the war-torn country, sending more than 100,000 U.S. troops to NATO countries as well as approving $2.6 billion in assistance to Ukraine, per CNBC. 
In addition, the U.S. has hit Russia with tough sanctions, including a ban on Russian oil. Biden also had harsh words for Russian President Vladimir Putin, calling him a war criminal and vowing that he will "pay a very heavy price," per CNN.
But Zelenskyy — who has refused to evacuate his country – wants more than words, asking Biden to declare Russia a state sponsor of terrorism, a move that would affect not only Russia but countries still doing business with the nation, according to The Washington Post. 
"Adding Russia to the state sponsors of terrorism list would be the nuclear economic option and a precision strike against Putin's ego," former State Department official Jason Blazakis wrote in an op-ed for the Los Angeles Times.
While Zelenskyy awaits Biden's decision, he has invited the president to take a tour of the devastation that Russia has inflicted on the Ukrainian people.
Volodymyr Zelenskyy wants Joe Biden to visit Ukraine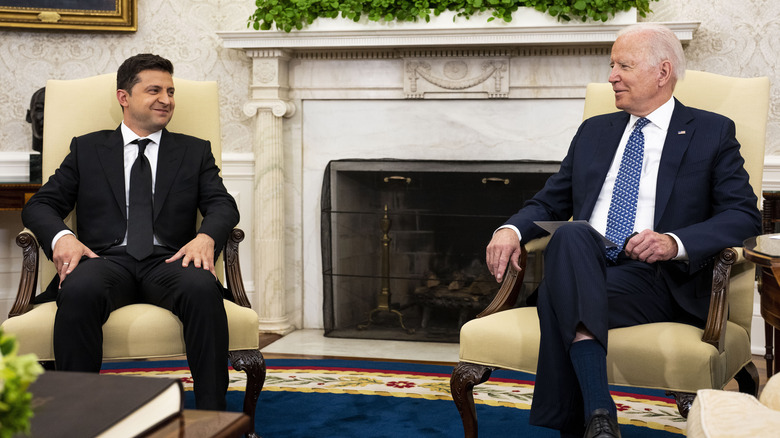 Pool/Getty Images
During an interview on CNN's "State of the Union," Ukrainian President Volodymyr Zelenskyy said he is hoping U.S. President Joe Biden will pay a visit to Ukraine. 
"I think he will. I mean, it's his decision, of course," Zelensky told Jake Tapper. "And about the safety situation, it depends. I mean that. But I think he's the leader of the United States, and that's why he should come here to see."
British Prime Minister Boris Johnson recently met with Zelenskyy in Kyiv, and other world leaders — including the presidents of Estonia, Poland, Latvia, and Lithuania — have also visited Ukraine to show their support for the country during its war with Russia, according to the New York Post.
It's not surprising that there are serious safety concerns about Biden traveling to Ukraine at this time. "They will not let me, understandably, I guess, cross the border and take a look at what's going on in Ukraine," Biden said during a visit to Poland.
While he won't be traveling to the country anytime soon, the Biden administration is working tirelessly to help the Ukrainian people. "[Biden] sits in the Oval Office and in the Situation Room on a daily basis, organizing and coordinating the world when it comes to the delivery of weapons," said White House National Security Adviser Jake Sullivan.