Why Viola Davis Is Facing A Ton Of Heat For Her Portrayal Of Michelle Obama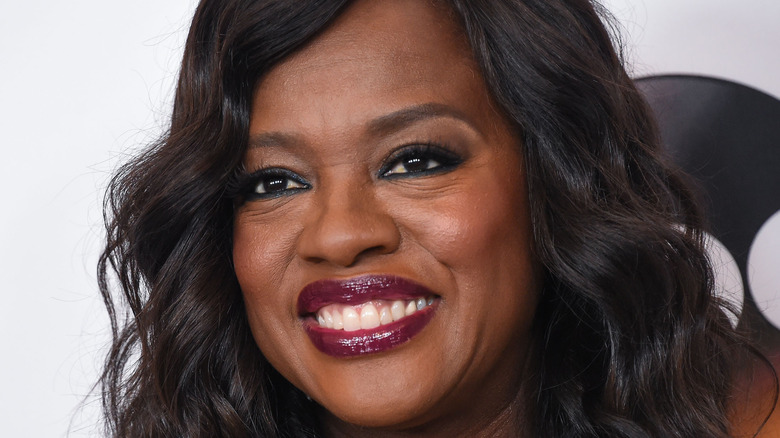 DFree/Shutterstock
"The First Lady" on Showtime is getting a ton of buzz. The series, which stars Viola Davis, Michelle Pfeiffer and Gillian Anderson, chronicles the lives of, you guessed it, first ladies, with Davis portraying Michelle Obama, Pfeiffer playing Betty Ford and Anderson as Eleanor Roosevelt. But in addition to glowing reviews of aspects of the show, like the recreated White House interiors, there is one thing that is not sitting well with viewers.
As TMZ reports, a choice Davis made in taking on the role of Obama has some people irritated. It seems the actress, who is best known from "The Help" and "How to Get Away With Murder," purses her lips way too much in the opinion of more than just a couple of Twitter users. Few folks would argue that the former First Lady does tend to affect this facial expression — but social media is convinced the actress took the look to the extreme.
One Twitter user shared a clip of a scene from an episode that shows Davis repeatedly pursing her lips. "I still can't believe she did this. She went way overboard, and no one corrected her to tell her how ridiculous it looked? Not the other actors?? The director? No one???" commented one flabbergasted viewer. And Twitter was only getting warmed up blasting Davis and "The First Lady" for the seemingly over-the-top take on Obama's trademark facial expression.
Twitter has a field day dragging Viola Davis but she has defenders as well
Twitter users seemed to overwhelmingly agree that Viola Davis' lip pursing could have been dialed back quite a bit during her turn as Michelle Obama on "The First Lady." "Viola Davis' mouth gets more exaggerated with every photo revealed from The First Lady," snarked one person, who also shared a gallery of still images from the show, all of which featured the actress giving us major pursed lips.
Other Twitter users pondered whether Davis intended the look as a satirical take on Obama, although according to Smithsonian Magazine, the Showtime series is a "dramatization."
Meanwhile, an official trailer from the movie reveals that indeed, the Oscar winner does employ lip pursing quite a bit, but this is not her only facial expression. That fact did not stop Twitter from dragging the star, with people describing her portrayal as "cartoonish" and noting her take on Obama's lips could have been more "subdued."
To be fair, plenty of Twitter users also defended the star, insisting she's a great actress. For instance, a fan tweeted, "Viola davis giving a rather bad performance in the first lady doesn't change the fact that she's one of the greatest actresses in history."