The Truth About Kornbread's Willow Pill Tattoo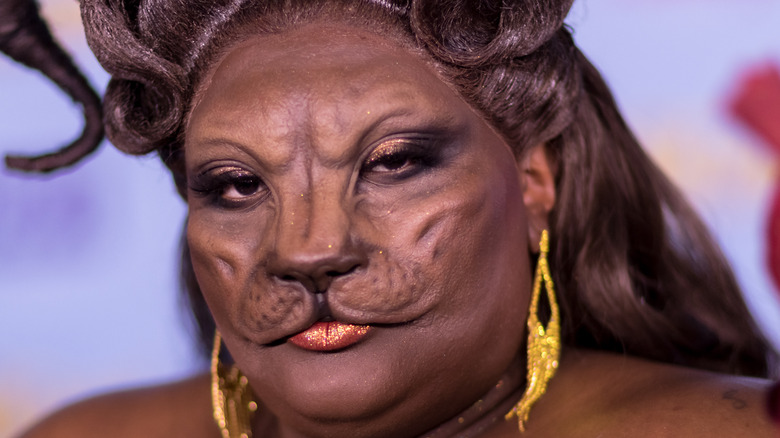 Greg Doherty/Getty Images
Fans were devastated when Season 14 frontrunner Kornbread "The Snack" Jeté was forced to leave "RuPaul's Drag Race" early after suffering an injury onstage. 
However, the inimitable drag queen more than made her mark on the competition, regardless of her relatively short tenure. In an exit interview with EW, Kornbread shared, with her trademark wit, "I want to do more TV and movie appearances ... I ain't stopping here; I'm going to still act a fool on Twitter. I got nothing but time, now!"
Moreover, the "Drag Race" star acknowledged that wallowing in her feelings about it won't change what happened, so why bother wasting any more time? Kornbread also made lifelong friends during her time on the show, notably revealing to Out that fellow contestant, and transgender woman, Kerri Colby was one of the first people to whom she came out as trans. 
"She's one of my favorite human beings on the planet and extremely sweet, extremely funny, and extremely humble," Kornbread gushed. 
One of her biggest friendships on the show, though, was undoubtedly with Willow Pill, another contestant who subsequently came out as trans. Kornbread is so fond of her former co-star, in fact, that she got a tattoo of Willow on her thigh. 
The lovable duo became fast friends on Drag Race
As EW notes, Kornbread "The Snack" Jeté and Willow Pill were so close that the injured contestant included a message just for her in her exit video, with Kornbread encouraging Willow to ditch the flip-flops (she didn't take her advice, as Kornbread acknowledged). 
She did, however, loan a dress and wig to Willow for another look, admitting, "I was looking at Willow, laughing, because she was funny as hell, but also because she was wearing my outfit the whole time. She's such an idiot, like, who thinks of this!?"
As a video shared by the official "Drag Race" Twitter account demonstrates, Kornbread was very helpful to Willow in the "Werk Room" when she had trouble warming up her hands to sew costumes. The truth about the illness Willow Pill has is that it affects her motor skills, making it hard for the contestant to grip a pair of scissors, for instance. 
Kornbread showed kindness to her fellow competitor throughout their tenure on "Drag Race," and, evidently, it meant a lot to Willow, who was trying to put on a brave face. 
Kornbread solidified their bond with a colorful tattoo of Willow Pill
In case there was any doubt about how much Kornbread "The Snack" Jeté loves her Season 14 sister, Willow Pill, the South Carolina native inked a permanent reminder on her leg. Kornbread shared a side-by-side of the colorful tattoo alongside Willow's look that inspired it on Twitter, writing, "You've heard of Pillow on a bed?! Here's Willow on the Bread." 
Kornbread gushed that Willow has changed her perspective on life entirely, noting she got the tattoo to showcase her friend's "resilience." 
Fans and fellow "Drag Race" stars alike were delighted. "Oh, my god, it IS RuPaul's Best Friend Race," wrote one, referring to a classic moment from the show, while finalist Daya Betty, who sadly isn't sitting right with "Drag Race" fans," wrote simply, "Iconic." 
At the Season 14 reunion special, Willow joked she was going to tattoo her friend's busted ankle on her butt to return the favor, per EW. In an interview with the outlet, Willow confirmed Kornbread did tell her about the tattoo in advance. 
She explained, "Kornbread and I are close in a way that I don't think social media or the internet will understand. We both have dark pasts, we're both struggling human beings who are just kind of sad, tragic drag queens together. [Laughs] We both have a ditzy, whimsical spirit to us in drag, but behind the veil it's dark sludge and disgusting rottenness." 
Willow added, "For her to get a tattoo of my whimsical side, it's beautiful."